SAN ANTONIO — Keeping San Antonio clean is the mission behind Centro San Antonio as its ambassador teams continue to disinfect the public surfaces in the downtown area during the coronavirus pandemic.
---
What You Need To Know



Aguero battled drug addiction


Centro San Antonio crews help sanitize downtown


Aguero says the job has kept him on his path to sobriety
---
In June, the organization began deploying new disinfecting technology called Motorscrubber Storms. The technology sprays a COVID-19 fighting disinfectant through a hand wand attached to a backpack reservoir. It's a tool Jacob Aguero uses every morning as part of his assignments downtown.
Jacob Aguero sanitizes a recycle bin as part of his job with Centro San Antonio (Sarah Duran/Spectrum News)
"It strategically attacks COVID-19 and sanitizes everything to make sure it's safe and good to go for the people who come down here," said Jacob Aguero, a Centro maintenance ambassador.
Taking care of downtown is Aguero's passion. The 27-year-old says his job allows him to give back to a city that has given him so much in the past.
"It helps me stay sober. It helps me be a better person and it allows me to do these things," Aguero said.
Aguero knows downtown like the back of his hand. Not because his job requires him to know the area but because he once lived on the streets.
"I know what it's like to not change your socks for two weeks. I know what it's like to eat out of a trash can. I don't live my life like that anymore," he said.
Aguero said he had a rough upbringing and his parents both dealt with their own addictions. By 18, he says he was addicted to heroin and depended on a needle to get him through the day.
"Drugs rewarded me and drugs gave me the drive I needed or at least what I thought I needed, so I ran with it," said Aguero.
He says his turning point came after witnessing his father enter recovery. Aguero decided to check himself into a rehabilitation center, for the second time, and stuck with it for three months. It was during that time, he says, an ambassador from Centro San Antonio visited the facility and spoke to patients about his experience in the workplace. Shortly after, Aguero applied.
"I'm here, [employed] for seven months now and I'm excelling faster than I can even fathom. I'm learning so much from this place," he said.
Now, Aguero wants that same opportunity for others. Throughout his shift, he'll participate in outreach with the homeless. In his off time, he'll also roam around with his camera to take pictures of homeless residents who live downtown.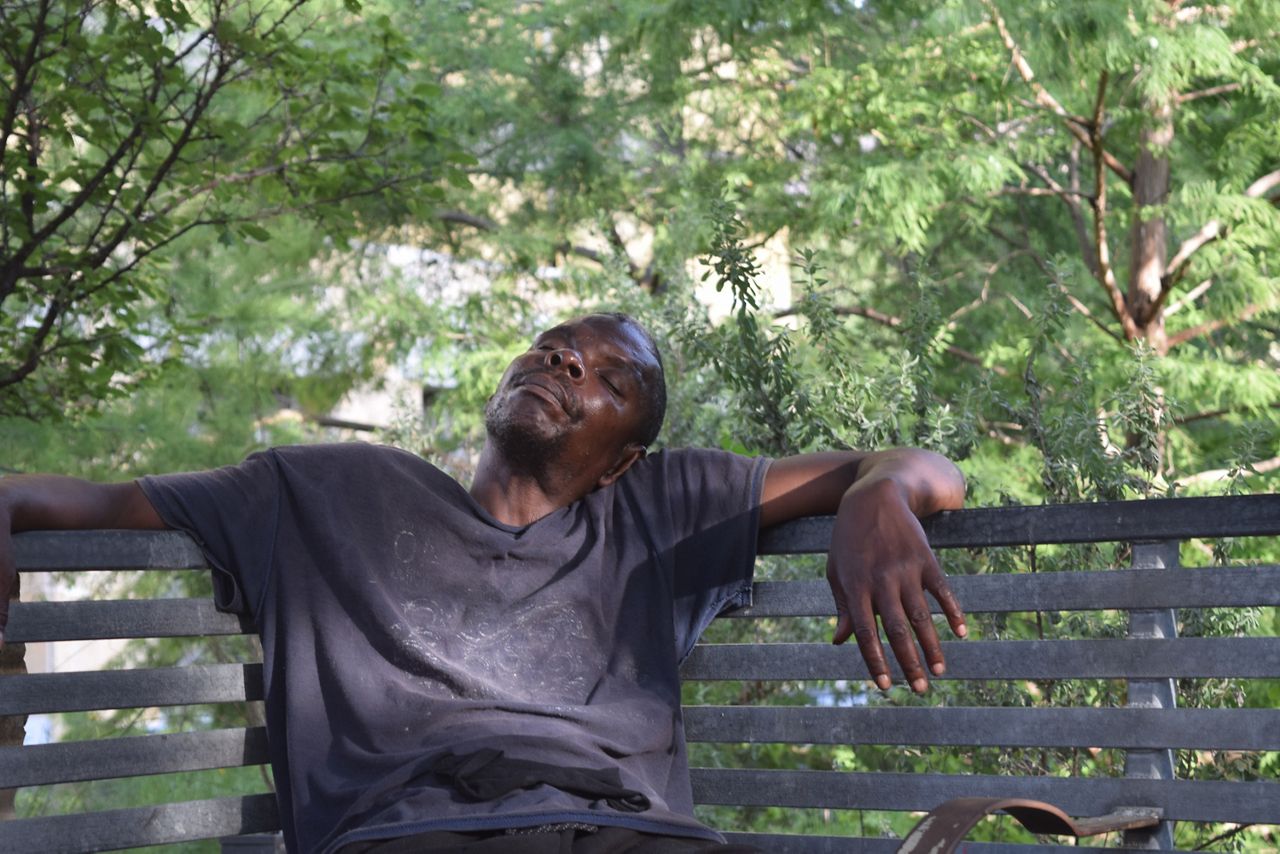 A person who is homeless sits on a bench in San Antonio (photo credit: Jacob Aguero)
"It makes you feel good when you go up to them and say, 'Hey, may I take a picture of you?' and they are all for it. They are so excited about it and it shows all they want is someone to talk to," he said.
He hopes that by giving homeless people a chance to talk, in return, they will listen to Aguero's story and be inspired by it to seek out resources.
"Sometimes it happens slowly. Sometimes it happens faster and just don't lose hope I feel like is the main thing I can say," Aguero said.