BEXAR COUNTY, Texas -- Top Texas Republicans are calling on the chair of the Bexar County GOP to resign. It comes after she floated a conspiracy theory about the death of George Floyd.
In a since-deleted Facebook post, Bexar County Chairwoman Cynthia Brehm asked for her friends' thoughts about whether Floyd's death was staged to damage President Trump with black voters. There is no evidence to support that claim. Floyd died last week after a white police officer kneeled on his neck for nearly nine minutes.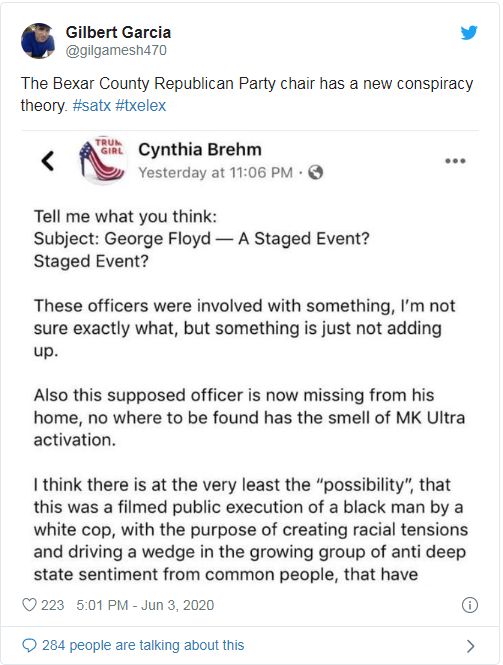 Bexar County GOP Chairwoman Cynthia Brehm's since-deleted Facebook post floating a conspiracy theory concerning the death of George Floyd is shared via a tweet.
Brehm told Capital Tonight that she didn't write or agree with the post but that a black conservative activist friend asked her to post it. That person disputed Brehm's claims.
Gov. Greg Abbott has called for Brehm to step down.
"These comments are disgusting and have no place in the Republican Party or in public discourse," John Wittman, a spokesman for Abbott, said in a statement.
Other Republicans, including both Texas senators, the chairman of the state GOP and the Republican congressmen who represent Bexar County have also called for her to step down.
Brehm says she has no plans to do so and that everyone has a right to free speech.
"They [Abbott, Texas GOP Chair James Dickey] do a lot of things, too, that I don't agree with but I don't ask for their resignation," she said.