TEXAS -- We're all having to think of unique ways of getting our food or groceries nowadays, with some turning to smartphone apps. But new Facebook Groups called Runner City aim to cut out the fees many apps charge and make it a one-to-one process just between the driver and the consumer.
The fees charged by many apps like DoorDash, GrubHub, Uber Eats and Postmates mean many restaurants don't benefit as much off these to-go orders as you may think.
According to a new class action lawsuit filed in the U.S. District Court for the Southern District of New York, delivery apps "charge restaurants fees ranging from 13.5 percent–40 percent of revenues, even though the average restaurant's profits range from 3 percent–9 percent of revenues. In return, restaurants get little value."
This is why platforms like Runner City can help the restaurants, the consumer, and the delivery drivers. The restaurants keep the full profits, the delivery drivers keep their tips, and the consumer doesn't have to pay an exorbitant fee.
Several "Runner City - Request a Delivery" Facebook groups are now live and are located in major cities around Texas like Austin and San Antonio. The groups are quickly gaining traction. This is how they work: think of it as a delivery app without the actual app itself, with consumers directly communicating and coordinating with their "Runner" (delivery driver).
Consumers post in the group where they need a pickup (H-E-B, takeout restaurants, etc.) and a Runner will comment that he or she is available. The consumer messages the Runner that responds, then negotiates a tip and exchanges details.
Many of the Runners on the page are temporarily or permanently out of work due to the COVID-19 pandemic shutdowns around the cities. According to the Facebook page's About Me section, the gig cooperative group was made "to empower our unemployed local community. All Runners work independently on tips for pickup and deliveries, while saving small businesses from losing profits by fee gouging delivery apps."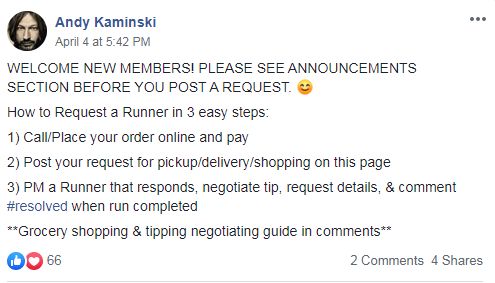 A screenshot of a post from Andy Kaminski in a Runner City Facebook group explaining the delivery process
The Austin group has more than 5,300 members currently and that number is increasing daily. One of the Runners making the deliveries is Austinite Heather Cox. Her job search is on hold due to COVID-19, so she's making the best of the free time she has now.
"You've got people who are immunocompromised, can't leave the house, people who don't have a car, people who have kids and going to the store is kind of a hassle right now. You have to wait in line or sign up for delivery in a certain window. It's more helpful to have someone who, like me, has no strings attached," Cox said. "I've got no kids, I'm healthy, I'm ready to go, I've got a car. It's like, what else am I gonna do?"
Cox recently responded to a request on Runner City from Jinny Suh, who wanted to deliver food to a friend who had a family member pass away.
"If it were normal times, I would absolutely have been at the hospital with her. I would have been at her house comforting her and being there for her. But obviously with the things going on now, I couldn't," Suh said. "A cousin of hers put together a meal train so I signed up on there. I wanted to make sure that I could provide what I could which is; I think for my circle of friends the comfort is through food. That's like our love language. When a friend told me about this group Runner City, I decided to try it out and I've been a huge fan since."
"I got in touch with Jinny and I was like, 'Oh my gosh, like, I got to help both her and her friend.' And like, it was just, I'm dropping off food but like, it made a big difference I felt like," Cox said.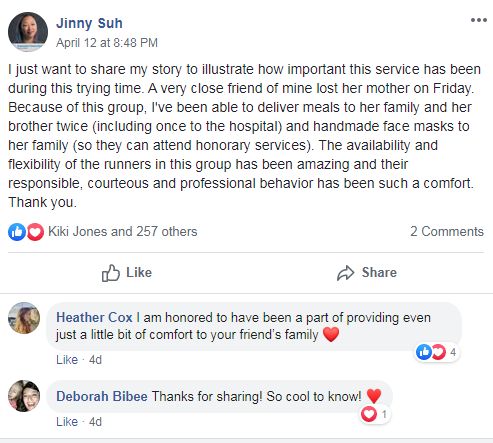 A screenshot of a Facebook post from Jinny Suh describing her positive experience using the Austin Runner City Facebook group and her Runner responding with appreciation
The Facebook group states: "It is important to keep the integrity of our mission a priority to ease the minds of new joining members that want to try it out." Runners must have a valid license, title, and insurance.
"As someone that needs the delivery, you're like what if the person just runs off with my stuff or they never deliver it?" Suh said. "And you learn to trust people, and people really do want to help, and that's really nice to know during this time."
Something else Suh highlighted about the Facebook group is the ability to connect with the Runner to make special requests or problem-solve if an issue arises.
"One of the drivers I've had, I actually had them come to my house to pick up handmade masks that I made and take it over with the food to the friend. So, you know that's the kind of stuff you can't really do when it's through an app, because there's no ability to kind of modify things and so this is really great during this time when we're all trying to stay safe and healthy at home," Suh said.
Cox and Suh chatted on the phone while Cox waited for food at the restaurant, but they "met" for the first time on the video chat interview with Spectrum News, making their experience even more personal.
"Austin is a small big city, right, we're a community. We reach out, we care about each other. And so the fact that she was able to tell me about what was going on with the situation and I totally identified and I was like, 'Yes, let's do this, let's make this happen.' And it was a win-win-win all around. She felt better, I felt better, he felt better. I mean, it was really heartwarming," Cox said.
Runner City is available in Austin, San Antonio, Waco, Houston, Dallas and Corpus Christi. Facebook search "Runner City - Request a Delivery" to find the group in your major city.