SAN ANTONIO -- Reynaldo Barrientos walked through the doors of Jefferson Bodega draped in Houston Astros and Texans gear.
Luke and Lisa Horgan operate Jefferson Bodega
Bodega integral to West Side neighborhood
Has made items like toilet paper and eggs available
"They got a good variety right here. My kids love it, man," Barrientos said, facing the candy section. "I have three daughters. I have a son, and when we come over here, man - they hit this spot right here. Number one."
The West Side bodega is not your ordinary convenience store — it's filled with Japanese candy, a wide selection of local beer, locally-produced art and most important to Barrientos, wine for his spouse.
"Come on here with my wifey and stuff - bam - that's the stuff to hit," Barrientos said, pointing to the wine.
New York native Luke Horgan moved to San Antonio when he was 15 and went on to graduate from Jefferson High School, which is a few blocks from the bodega. After working for HBO and USAA, Luke Horgan and his wife Lisa Horgan own Jefferson Bodega. Thousands of bodegas can be found in boroughs all of over New York, which has a greater meaning for Luke Horgan.
"Bodega, to me, is a special term. It's basically the place on the corner that basically has your hookup," Luke Horgan says. "They always got some weird things that are always surprising, and every bodega is a little bit different, — but it's also a key part to the neighborhood."
Now this unique store has played a key role during the coronavirus pandemic.
"They are anxious that they don't have the goods they need to feed themselves and their families," Luke Horgan says. "And that's a terrible thing. That feeling - I know that feeling."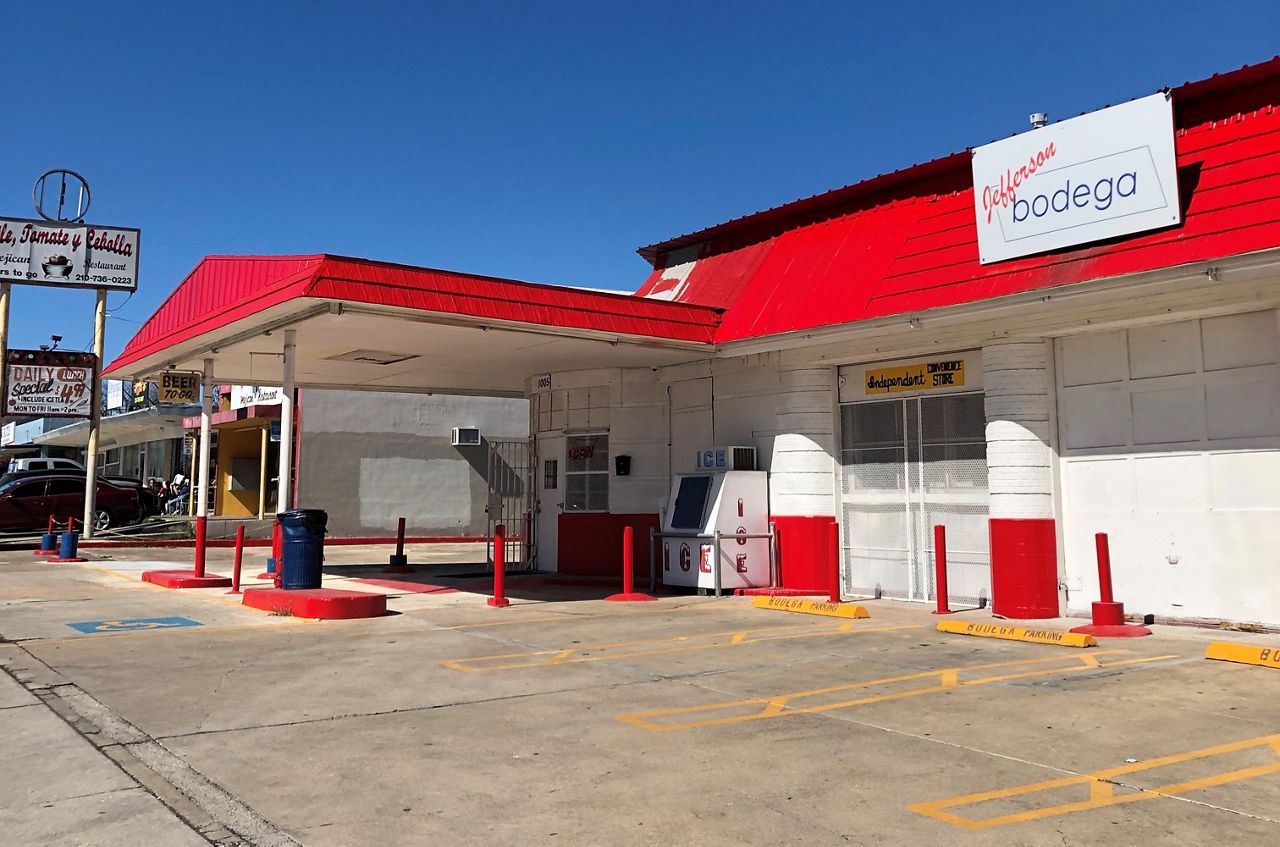 The exterior of Jefferson Bodega in San Antonio, Texas, appears in this image from March 2020. (Jose Arredondo/Spectrum News)
Which is why the Horgans are selling beans, bread, milk, eggs and toilet paper.
"Really we are a convenience store. Eggs were $3.99 a dozen when we had them," Luke Horgan said. "So we are actually in the crisis where we are dropping our prices."
The bodega gave away 100 rolls of toilet paper to neighborhood businesses for free and also helped distribute brown bag lunches.
As the Horgans unboxed eggs and milk, first-time customers walked in hoping the rumors were true: they had bread, milk and eggs.
Luke Horgan had some advice for anyone needing a source of strength during this pandemic:
"Come in and get recharged. Get back out there to the fight. Your families need you, your jobs need you, people need you out there, and right now is our time to be strong," he said.