AUSTIN, Texas – It wasn't the Luck Reunion we're used to, but it was exactly what many of us needed Thursday night. The 8th annual event was expected to host 4,000 attendees in Willie Nelson's Luck, Texas, backyard and feature several big-name artists, but it went a little differently this time around due to health concerns surrounding the COVID-19 pandemic.
The Luck Reunion team and its partners completely innovated the experience and transformed it into a live-streamed concert that could be seen from anywhere in the world. At any given time, there were approximately 60,000 viewers tuned into the five-hour broadcast, and those watching generously gave more than $170,000 to Austin nonprofits HAAM, The SIMS Foundation and Farm Aid. The impact of Luck Reunion's 2020 event has stretched far beyond what anyone could have expected.
The virtual event was called 'Til Further Notice, and it included an impressive lineup of 21 big-name acts with 21 big-name Skype handles, a switchboard and a host. Several of the artists who would've performed at the original event were included in the show. Each performer was given a slated time to go live, and between 10 and 25 minutes were allotted to each artist's call-in set. Many of the musicians filmed themselves as they performed from their living rooms, bedrooms and home studios. The concert was warmly hosted by Asleep At The Wheel's Ray Benson, who was stationed at Arlyn Studios in Austin for the live streaming.
Live performances began at 6:15 p.m. CST with Ida Mae kicking off the show. Paul Simon, Woody Harrelson and Neil Young were among the special appearances sprinkled into the night. The biggest highlight, of course, was the grand finale by Willie Nelson and his sons Lukas and Micah.
Although Luck Reunion 2020 didn't go as originally planned, the new platform brought together musicians and communities from around the world to celebrate each other and to help those in need - all of which is intrinsic in the Texas music scene.
'TIl Further Notice was live-streamed on Facebook, Twitch and LuckReunion.com.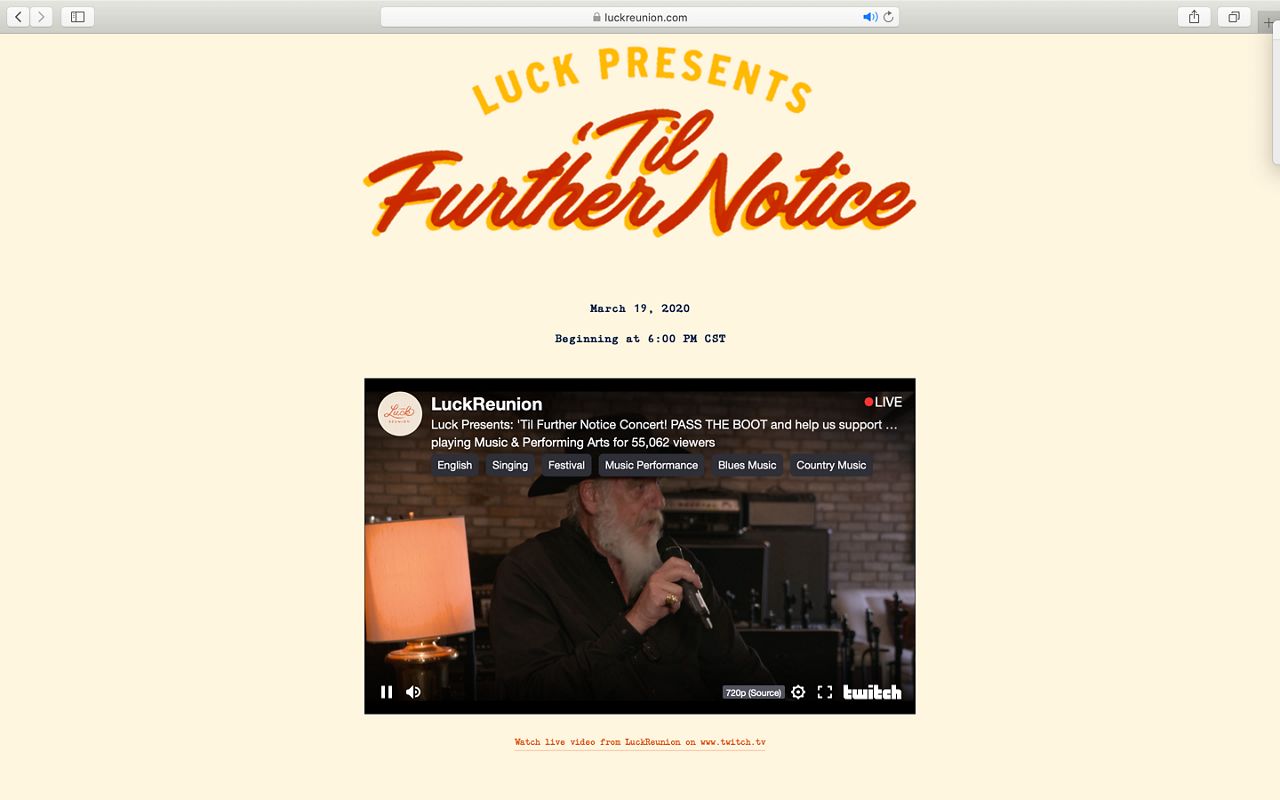 A screen shot of the 'Til Further Notice event on March 19, 2020. (Courtesy: Luck Reunion)