MANOR, Texas -- Career and Technical Education programs prepare Texas students for jobs of their choosing. Sometimes they even get to graduate as licensed professionals, without any debt. The Manor Independent School District is going beyond the curriculum by giving students the opportunity to learn soft skills, that may be hard to learn without practice.
Mustang Manes Salon a student-run salon in Manor
Some high school students graduate as licensed professionals
Currently 64 students taking cosmetology courses at Manor Senior High Schools
The district is celebrating the opening of the "Mustang Manes Salon," a student-run salon welcoming the public three days a week. Under the supervision of an instructor, the students provide services like haircuts, hair styling, hair coloring, manicures, pedicures, and facials at discounted prices.
"Working at a salon or at their own salon, they are going to meet clients that they don't know. That's what's going to grow their industry. Their clients are their walking billboard. Opening to the public is not only a good thing for our area, but it also gives that student that real-world experience, in meeting in new people and keeping and growing their clientele," Yakeida Murphy, lead cosmetology instructor, said.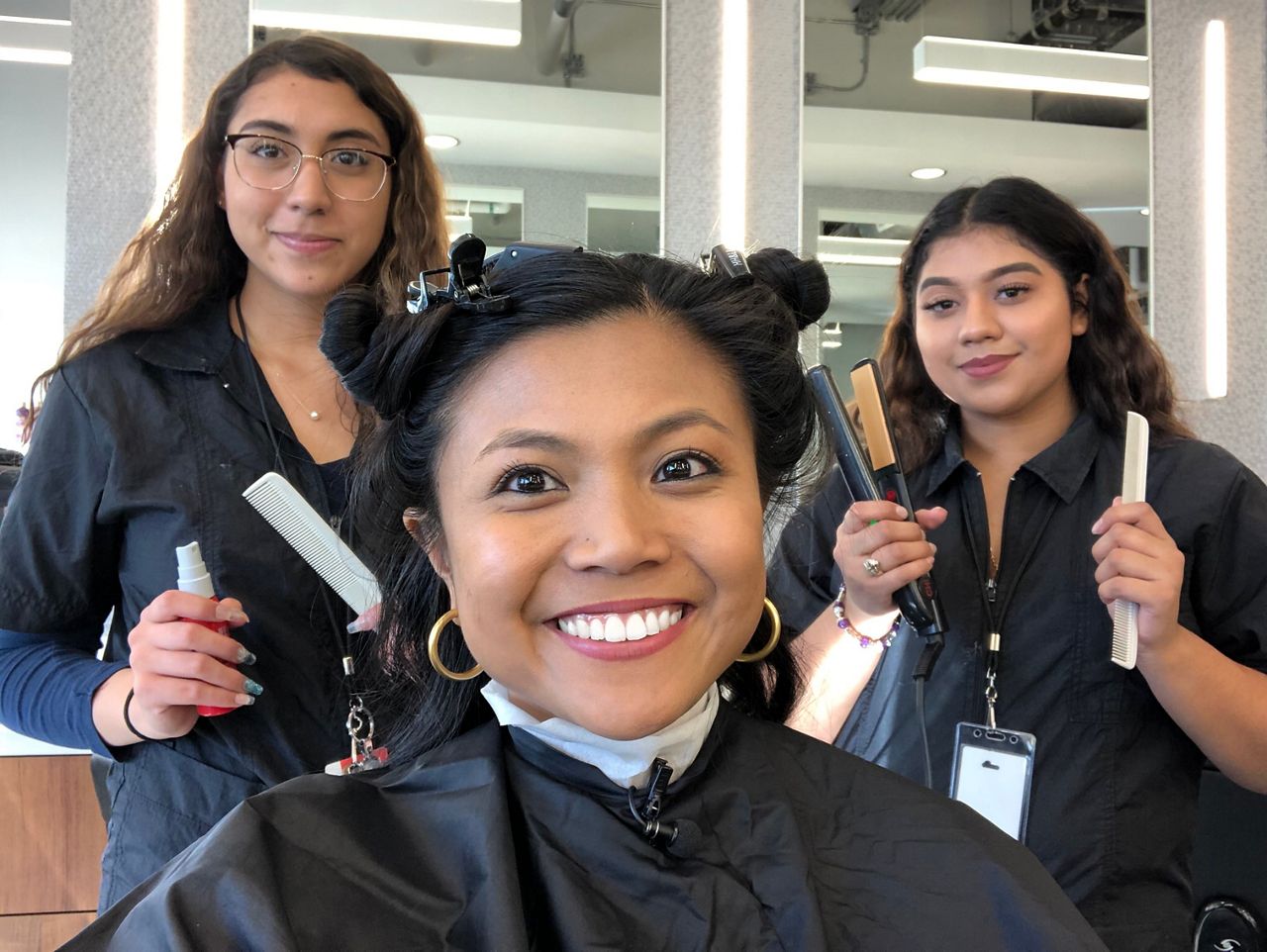 Spectrum News reporter Reena Diamante gets her hair done at Mustang Manes Salon in Manor, Texas, in this image from March 2020. (Reena Diamante/Spectrum News)
There are 64 students taking cosmetology courses at Manor Senior High School, who are are working towards fulfilling requirements with the Texas Department of Licensing and Regulations. The teens must work 1,000 hours by the end of their senior year and will need to pass their practical exam in order to earn their license.
"It's pretty cool in a way, I feel like really like mature and responsible that I'm doing all of those things and still be in high school," senior Litzy Suaste said.
The 17-year-old was doing a full, acrylic nail set for Manor resident Cathy Wolfe. Wolfe told Spectrum News she likes to shop local and thought it would be a good idea to be part of the educational experience for these high school students.
"I think this is just so great for them. I didn't have this when I was in school. It's preparing them for the real world and the real people, fun and not fun. I think it's good, it's good experience," Wolfe said.
Murphy said some of the seniors have expressed an interest in working their way through a four-year-college, but other students, including 17-year-old Daisy Vasquez, said once they get their license they are going to try to work immediately at a salon. She hopes one day she gets to open her own.
"I'm going straight to a salon, trying to get a job. By [then], I'm going to be used to talking to people and I'm not going to be nervous anymore," Vasquez said.
"It's a school. The students are learning, and it's something that is safe and the community will love it once they start coming in," Murphy said.
The salon is now open at Manor Senior High School at 14832 FM 973 in Manor, Texas 78653.