KYLE, Texas -- Calling all artists in the Texas Hill Country: The City of Kyle wants your submissions for its annual "Art The Halls" installment.
Kyle now accepting artwork for "Art The Halls" installment
Paintings, photos and sculptures accepted
Submissions due by February 7
Paintings, photography, and sculptures are accepted and will be juried. Selected items will be on display in the main hallway of Kyle City Hall from March to October 2020.
"We noticed that our walls looked a little drab and wanted to make City Hall more inviting versus just a traditional office space," said Special Events Coordinator Sarah Watson.
The hallway leads to where residents pay their water bills or court fines, or get general information about the city.
"This hallway probably gets the most foot traffic," Watson said. "I think it blends business with community where you come here to do your city business and pay your water bill, but then you also get to see kind of the cool things going on around town as well."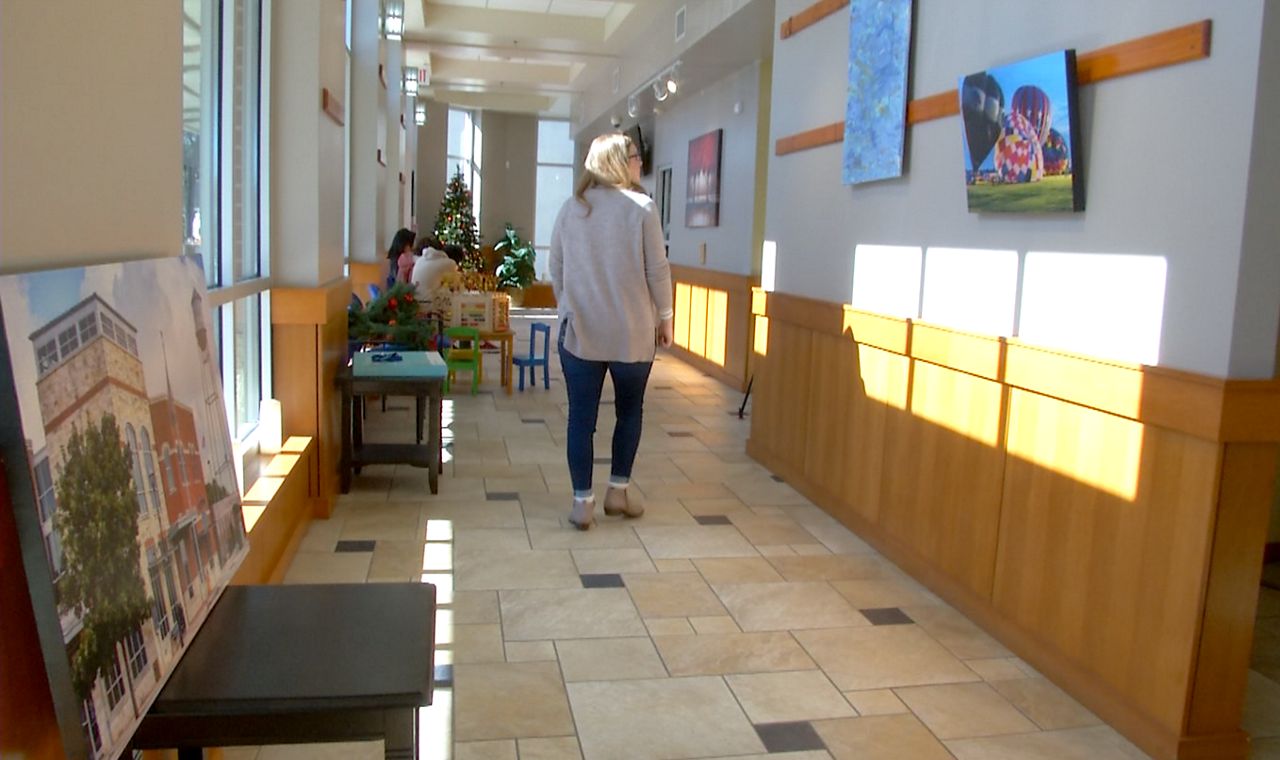 Kyle Special Events Coordinator Sarah Watson admires art inside Kyle City Hall in this image from January 2020. (Stacy Rickard/Spectrum New)
Since starting Art the Halls, the city has seen an increase in artist submissions and will typically showcase 20-25. Watson was able to show Spectrum News a few of the pieces of art that were in last year's installment by artist Aimee Kalmus and photographer Steve Snyder.
"We have seen different fluctuations between acrylic artwork or photography. It varies each installment, but they keep getting better and we keep getting more and more applications," Watson said.
Painter Miki Kokudo's art is no stranger to City Hall's walls, as her work has been showcased there since the beginning.
"It's really nice that people can appreciate art in many places. Like just normal, everyday life place. Like just go to the City Hall and then you see art. I think that's kind of, you know, a nice thing," Kokudo said.
Before exploring her artistic side, Kokudo pursued a degree in chemistry while living in Japan, which led to a teaching career.
"I always liked art. But you know, I knew it's not very practical to be doing art and can't make money. So I went to more science area," Kokudo said. "After I did a teaching in Kenya, I realized what I really want to do and my passion is art. So I wanted to go back to school to study art."
Nearly 30 years ago, that passion for art led her to America.
"I moved to United States to like a really fresh start to study art, and yeah I followed the my dream," Kokudo said. "I really like when I'm painting, it's really my world. And I just be alone in the studio and then just devote my time to painting."
Kokudo's art decorates her home in Dripping Springs, but soon she hopes to see it back in Kyle City Hall.
"As long as, you know, I can show my paintings in the public places, that's really great. And once in a while, I might sell something," Kokudo said.
Submissions are due by February 7.​ Artists looking to enter their work to Art the Halls can use the online submission form, here.