AUSITN, Texas – Central Texas family members of the nine Americans killed in a suspected cartel ambush in Mexico are asking those following the tragedy to start having a bigger conversation about violence in the region. They say this massacre provides a snapshot of the damage caused by the cartels and they want people to analyze how the relationship between the United States and Mexico contributes to it.
9 women and children were killed in the ambush
Family says everyone killed had dual-citizenship
Funerals began Thursday
Three sisters - Bridgette LeBaron-Schynoweth, Gabriela LeBaron, and Estephania LeBaron-Papanicolaou - remember the good times while looking through pictures from a 2008 family reunion at Colonia LeBaron in northern Mexico.
The women grew up visiting the community that was founded by their grandfather in the 1920s, fundamentalist Mormon Dayer LeBaron.
"We're really connected as human beings to where we are from, and we were raised in Mexico," said LeBaron-Papanicolaou.
Today the siblings reside in Austin, Texas. LeBaron and LeBaron-Papanicolaou have dual American-Mexican citizenship. LeBaron-Schynoweth has American citizenship but she spent much of her youth in Mexico. When the sisters moved to the United States more than three decades ago, they left behind their Mormon upbringing.
PHOTO: A sign announces the entry to Colonia LeBaron, one of many locations where the extended LeBaron family lives in the Galeana municipality of Chihuahua state, Mexico, Tuesday, Nov. 5, 2019. (AP Photo/Christian Chavez)
On November 4, the adopted Texans received messages from cousins still living in Mexico that nine of their family members were gunned down by suspected cartel members. Right now a motive behind the ambush against women and children is unknown.
On growing up in Mexico, LeBaron says: "The cartels were pretty benign compared to what they are today."
The eldest sister said when she spent her childhood there in the '80s, Mexican drug lords weren't the menace the public is witnessing today.
According to Mexico's Interior Ministry, more than 33,000 murder investigations were opened up last year alone. It was an all-time record high. Since 2006, 150,000 murders, mostly related to drug violence, have been documented.
"My family in Mexico wants to live a normal, peaceful life and not worry so much of whether or not they are going to get gunned down," said LeBaron-Papanicolaou.
Which is what happened to nine of their relatives in the attack that is now receiving international attention.
Three women and six children, all dual-citizens according to family members, were slaughtered while driving a route familiar to the large, extended LeBaron clan. They were traveling with additional family members that survived the attack in a convoy of SUVs when the assault happened in broad daylight.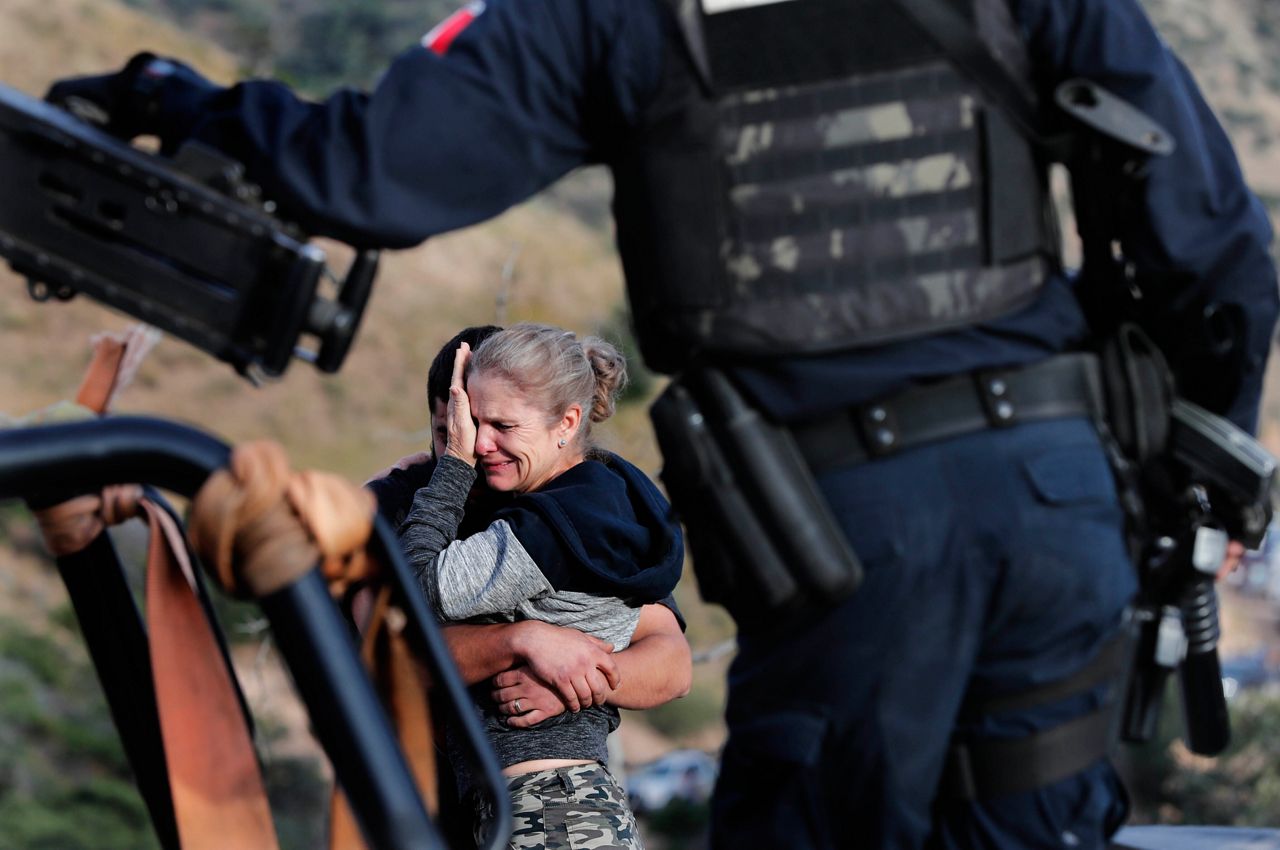 PHOTO: Framed by heavily armed Mexican authorities, relatives of the LeBaron family mourn at the site where nine U.S. citizens, three women and six children related to the extended LeBaron family, were slaughtered when cartel gunmen ambushed three SUVs along a dirt road near Bavispe, at the Sonora-Chihuahua border, Mexico, Wednesday, Nov 6, 2019. (AP Photo/Marco Ugarte)
"These kind of things are happening everywhere," said LeBaron, "Our families are not the only victims of horrific crimes."
LeBaron-Papanicolaou wants the international interest in this tragedy to broaden and bring attention to other victims affected by cartel violence.
"We're talking about them," she said, "(Our family) also recognize that they are the face to a lot of other tragedies happening to other Mexicans there."
"There are a lot of people who want to simplify this and say, 'Oh just go wipe (cartels) out.' First of all, I want to say that that tactic, although it feels good to your ego, that tactic doesn't work. It has proven to be a failure over and over again," LeBaron said. "If we try and escalate this and battle the cartels, the cartels will retaliate in the most brutal way. And they won't retaliate just against our family, they will retaliate against everybody."
LeBaron-Papanicolaou says the fact that the people killed this time were dual-citizens is symbolic of how in her eyes, this is a two-country problem.
The sisters insist a dialogue is needed on how to deal with the cartels and the drugs they sell to Americans eager to buy on the northern side of the border.