The Onondaga County redistricting commission on Wednesday approved a map with new legislative districts in a four to two vote.
One of three maps, it divides several municipalities into new districts.
"We offered what we thought would be an attempt at a compromise, and would be a map people believe in," said Dustin Czarny, Onondaga County Democratic elections commissioner.
"We made changes based on population, which we were required to do under the law, and those changes reflect the population changes over the last 10 years," commission chair Kevin Hulslander said.
The commission meetings were marked by conflict between Hulslander and Czarny. Czarny pointed out that the public comments overwhelmingly asked for the redistricting process to be extended.
Hulslander said he disagreed with the comments, and the comments were simply parroting Czarny's rhetoric.
Czarny then tried to propose a motion to add more public hearings over a two-week period — it was never voted on.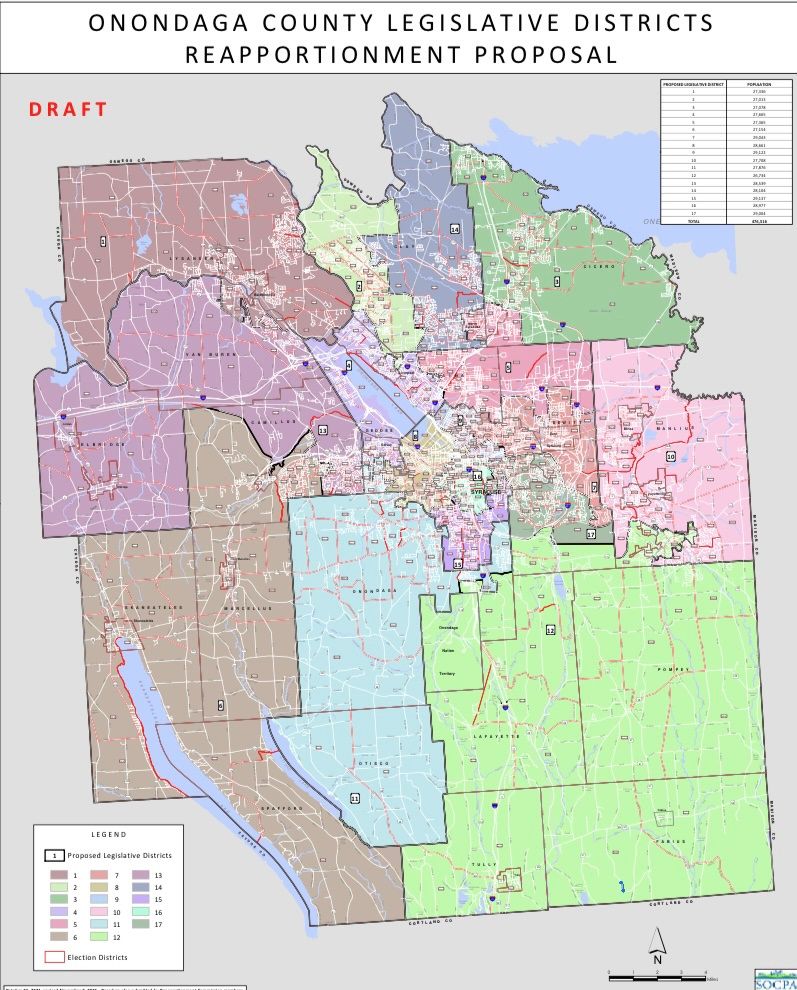 Courtesy of Onondaga County
"And read the transcripts of the hearings, and I know most of those comments, with respect to Dustin's narrative, were that we rushed the process, and we didn't rush the process. Three weeks is a long period of time," said Hulslander.
"There are three avenues that can happen here," Czarny said. "The county Legislature can reject the map, send it back to us and come up with a different map. Or they can accept it. If they accept it, the other two avenues for people who want to fight the maps are to do a permissive referendum, or put the maps on the ballot for the next general election, or do a lawsuit, or both. As a commission member, I would not be a part of that lawsuit because I would be sued, as well."
The map now heads to the county Legislature for a vote.