Syracuse is notorious for its winter weather but the summer months also provide us with our fair share of severe storms.
Lightning, straight-line winds and hail are threats that we have to warn the public about each year. A tornado though is more of a rarity.
Despite covering tornado warnings in recent years, only 2 tornadoes have ever been confirmed in Syracuse since 1950 when records began.
On this day an EF-0 tornado struck around 7 p.m. According to reports in the National Centers for Environmental Information's 08/1990 Storm Data Publication, "The first touchdown was in the Village of Lakeland where portions of three roofs were lifted off."
The second touchdown of this tornado was at the New York State Fairgrounds where the fair was well underway. "Portions of two roofs were torn off horse barns, a brick wall collapsed, and straw was imbedded and packed into the lamps of two streetlights."
Cars and businesses along the midway were damaged.
The third and final touchdown was at Schiller Park in the City of Syracuse "where trees were uprooted and one house was damaged."
The result was an estimated $25,000 worth of property damage. Surprisingly, no injuries or deaths were reported.
This EF-0 tornado traveled a total of 6 miles but with multiple touchdowns, it was estimated to have only been on the ground about 20% of the time with a path width of about 35 yards.
It was an active day statewide and this was just 1 of 6 tornadoes confirmed in Upstate New York on this date. Stretching from Western New York to the Finger Lakes to Central New York, the Mohawk Valley and the Capital Region.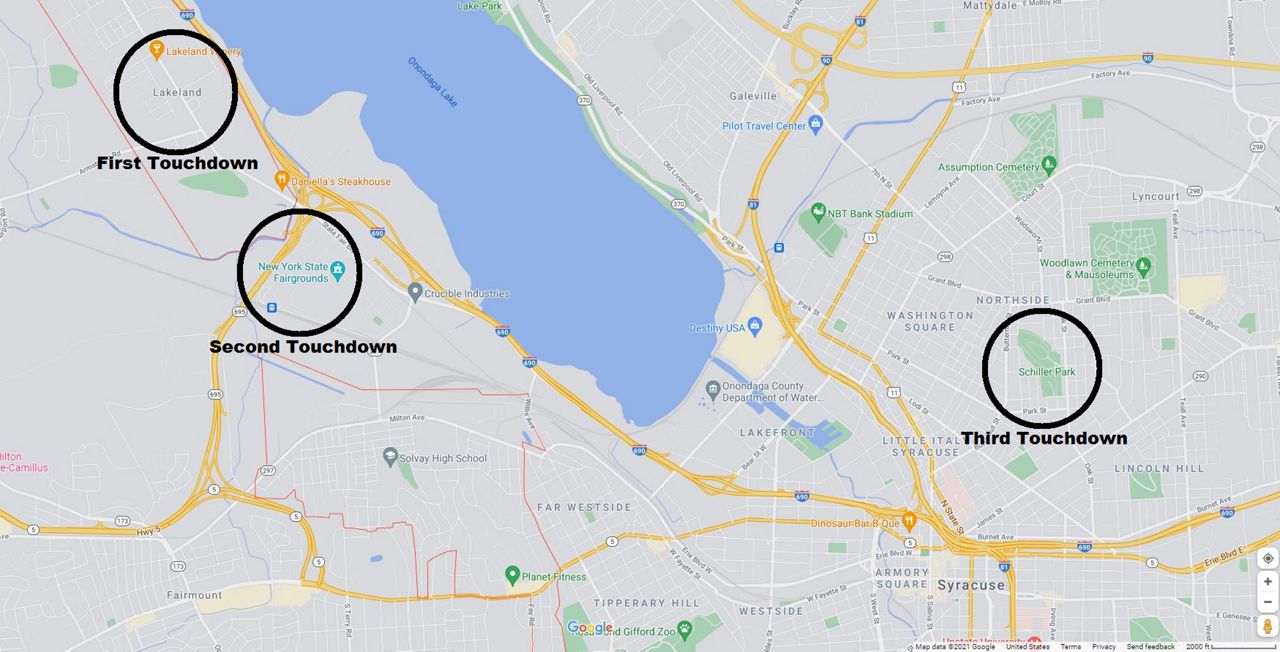 At approximately 2:40 PM the strongest and costliest tornado to hit Syracuse touched down. This came almost three years to the day after the first confirmed tornado in the city.
Despite having a smaller path width of 20 yards, this EF-1 tornado traveled for 0.3 miles and left an estimated $500,000 worth of property damage in its wake.
In addition to uprooted trees and damage to a fire department building, reports from the NCEI's 08/1993 Storm Data Publication state that "A large truck bay door was ripped off as were the ceiling tiles from inside the building. Minor structural damage also occurred to nearby buildings."
Outside of Onondaga County a lightning strike killed 11 cows and injured 3 in Parish in Oswego County.
These were the only reported deaths and injuries as severe storms rolled through.
1993 was a year better remembered for the snowstorm that took place in March, the infamous Blizzard of '93.
There's no doubt that 90s weather hit Syracuse hard. Who could forget the Labor Day Storm in 1998 which had devastating impacts across all of Central New York and came as the New York State Fair was wrapping up, killing two on the fairgrounds.
These seemingly "once in a lifetime" events all occurred in the same decade. Hopefully, it will be many more years before we see anything of the sort again.