The ongoing story of migrants being bused to upstate New York is a tale of conflicting welcomes.
Some county leaders have been dead set against hosting migrants and angry that New York City is sending them upstate.
There are local leaders like Albany Mayor Kathy Sheehan who said Monday that the city of Albany is a "proud sanctuary city," and to that end, welcomed its first bus of asylum seekers.
And there are county leaders like Democrat Dan McCoy who are eager to assist but have been frustrated about, what his office described, as a lack of coordination with and communication from New York City.
The good news? Those wrinkles are being ironed out Wednesday.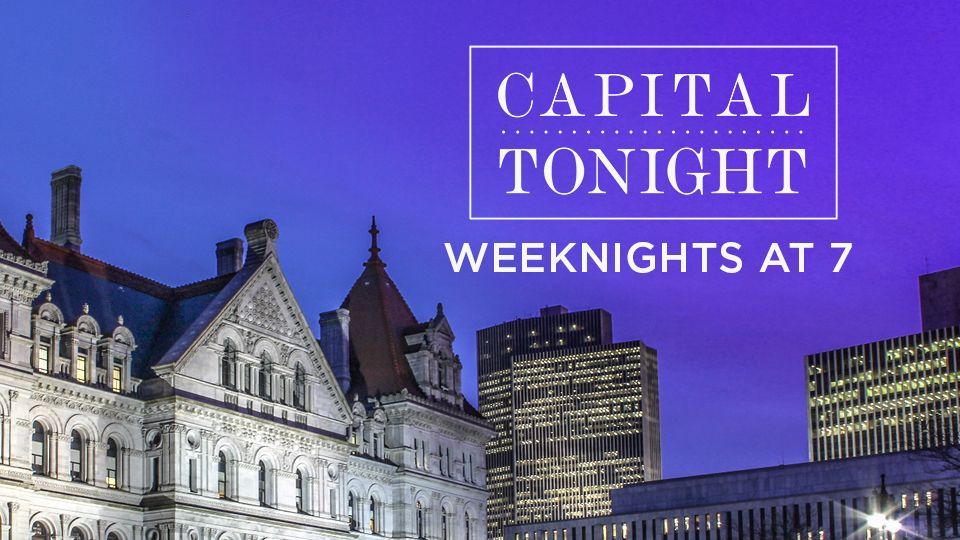 According to City Hall, staffers from the office of Mayor Eric Adams met with staffers from the office of County Executive Dan McCoy, a meeting confirmed by McCoy spokesperson Mary Rozak.
"After initial challenges with communication, I am happy to report that we have an agreement for better communication and coordination with New York City as asylum seekers are relocated," Rozak emailed Capital Tonight.
On Tuesday, according to the Times Union, McCoy was threatening to sue New York City to stop additional buses from arriving if the Adams' administration refused to coordinate its efforts with Albany County.
Fabien Levy, the press secretary for the Office of the New York City Mayor, sent the following emailed statement to Capital Tonight in response to McCoy's complaints.
"New York City has done and will continue to do its part, but we need counties, cities, and towns across the state to do their part as well, especially when New York City is willing to pay for shelter, food, and more. In most areas, we're not even asking localities to help manage 1/4 of 1% of the asylum seekers that have arrived in New York City, and again with New York covering the costs," Levy wrote. "We will continue to communicate with local elected officials as we open move to other localities."
Describing the situation as a "humanitarian crisis," Levy explained that New York City has served over 70,000 asylum seekers and opened more than 150 emergency sites, including nine large-scale humanitarian relief centers.
Sheehan has had a more consistently positive experience working with New York City than county executives reportedly have, which is good news, considering more migrants were expected as soon as Wednesday afternoon.
"They've been in touch with us and coordinating with us with respect to letting us know how many, when the buses leave (NYC), and that just allows us to let the community-based organizations who are working with us know where to be, when they need to be there so that they are available when these asylum-seekers arrive," Sheehan said.
"We have a total of 79 asylum seekers who are staying at the Ramada Inn in the City of Albany," Sheehan told Capital Tonight. "I know that the city of New York is looking at another hotel in (Albany) where we could have additional asylum seekers that would be arriving as soon as today to that location."
Sheehan wouldn't disclose which hotel is being discussed. She did say that she's spoken to several of the asylum seekers.
"The first thing they said is 'where can I work?'" she noted. "These are individuals who want to work. They came here for opportunity and for jobs. They want to stay in this country."
Asylum-seekers are one class of migrant to the U.S. People who are fleeing violence, oppression and religious killings have a legal right to earn asylum. If their stories check out, they will be granted asylum which allows them to live in the United States and not be deported.
It's common to wait months or years for the outcome of an asylum hearing.
It's why many asylum-seekers legally seek a work permit called an Employment Work Authorization Document (EAD). The current waiting period for an EAD is 150 days or more. Gov. Kathy Hochul and others, including Sheehan, are urging the federal government to speed up that time frame.
"We want them to be able to work within 30 days of filing that application," Sheehan said. "We have employers up here who need workforce and we have individuals coming here who need to work. This is the perfect time for us to be advocating for shortening that time frame."
Once individuals begin to work, they can move out of temporary hotels and shelters and begin paying taxes. But first, they need to apply for asylum. In Albany, there are multiple community-based organizations working with migrants, including the Immigration Law Center at Albany Law School and the Columbia County Sanctuary Movement.
"CCSM and allied organizations are part of a historic mobilization to welcome asylum seekers to the area. We are working with our partners to coordinate legal services, connect immigrants to ESL classes and obtain more food, clothing, and hygiene items," said Diana Cruz, co-executive director of the Columbia County Sanctuary Movement.
"Our organizations and the mayor are committed to ensuring a smooth transition for our new neighbors who have endured tremendous journeys to call Albany home. We encourage our communities to join us in these efforts."
Sarah Rogerson, director of The Edward P. Swyer Justice Center at Albany Law School, had a similar sentiment.
"From assessing the legal needs of impacted individuals to advocating for laws and policies to improve the legal landscape for our new neighbors, we are guided by the collective wisdom of our former asylum clients and our partners welcoming the most recent arrivals," she said. "Asylum is a legal pathway to immigration status in this country and we will do whatever we can to help people along their path."
The organizations are working to record the stories of the migrants, and ensure they are prepared for their individual asylum hearings.