Binghamton Mayor Rich David called the arson of the Our Space playground at Recreational Park a cowardly and criminal act, and promised that the playground would be rebuilt.
Local and state fire investigators determined that the overnight fire was arson, David said, and it damaged just about all of the fully accessible playground — the largest of its kind in the state.
"It's a symbol of community spirit," David said. "It is a symbol that today is in ruins."

Fire crews were called to the park around 12:45 a.m. Monday morning.
Families stopping by hours later were left in tears, seeing what was once a community staple now reduced to ashes.
"To see this devastation, it's a mess. It's truly a mess. This is a park for kids. More kids in this neighborhood come to this park than any park here," said Stephanie Harris, Binghamton Resident.
"It was really fun. We would run though all here, and we would go on the swing, and I really liked the memorial in the middle," said Anthony Buemi, Binghamton Resident.
Our Space Park was added to Recreation Park back in 2016 through various community donations and volunteers.
To date, it was the largest fully accessible playground of its kind in New York.
"It was a labor or love and the fact that someone would target something that was so positive, so meaningful, so symbolic, is beyond disturbing and concerning," saiid Rich David, (R) Binghamton Mayor.
On any given day, children of all abilities could be seen laughing, smiling, and enjoying it together.
"It took so much blood and guts and muscle to build this and it was such a beautiful place, and we took our pictures here, and it's so sad and it just breaks my heart. There's so many evil people out there," said Paula Buemi, Binghamton Resident.
Following two peaceful protests in the city hours earlier, most of the crowd dispersed.
Binghamton Police say a handful of individuals stuck around and are investigating who set the fire.
"I hope this doesn't reflect what went down yesterday, because from what I've heard, it was glorious. They did what they had to do but an evil person did this," said Harris.
Mayor Rich David has since committed to re-building the park immediately, and is making it a top priority.
"We are not going to be defined by this one act. We are not going to be deterred by this cowardly act of destruction in this community. That rebuilding begins today," said Harris.
No arrests have been made in the arson, but David said the investigation is ongoing, and pleaded with anyone with information to come forward.
Businesses and private citizens have reached out to the mayor to pledge support in rebuilding, and David directed monetary donations to the Community Fund for South Central New York, which already had a pre-existing account set up for the playground prior to its 2016 construction.
"We are not going to be defined by this one act," David said, "this cowardly act of destruction in our community."

A GoFundMe has also been set up.

"Our beloved Rec Park was burned to the ground-people on my street told to evacuate, so scary," the Binghamton school's director of special education wrote on Twitter. She lives near the park and her husband is the one who made the 911 call about the blaze.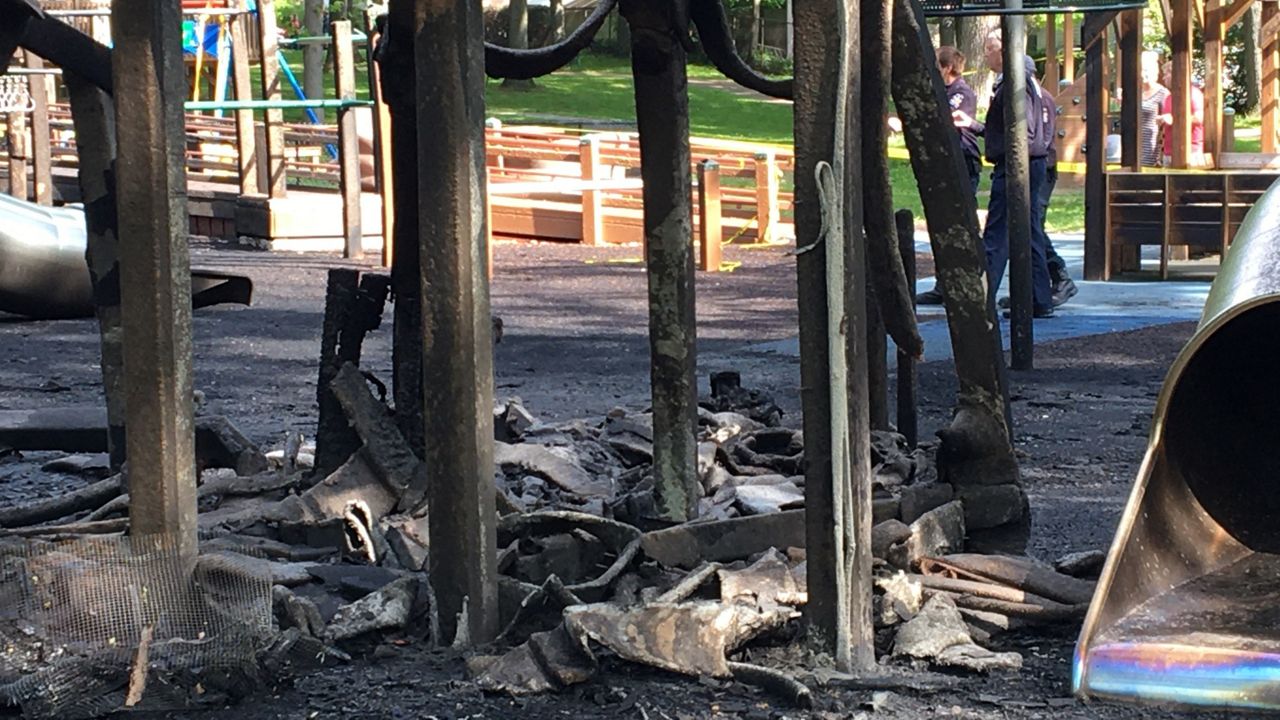 David did not connect the two police brutality protests that remained peaceful throughout Sunday to the arson. Hours after the protests ended, David said an estimated 75-100 people caused damage to businesses on the city's west side.

"It is a testament to the spirit to ensure a safe protest to mourn. We are a country in mourning right now based on the death of George Floyd," the mayor said. "I want to take the opportunity to thank those who protested, who marched, and the organizers who made sure those were safe protests that ended without incidents."
David said he believed the 1,000-person march from Binghamton High School to Recreation Park was the largest such protest in the city's history.