Tribal leaders implored lawmakers Wednesday to give them a sense of certainty when it comes to federal laws that may benefit their citizens.
The leaders of Maine's four tribes told the Judiciary Committee that they are often ineligible for benefits that help all other Indigenous people — 570 tribes — across the country.
"The problems the Wabanaki Nations face are not different from the issues other tribes face, but our exclusion from federal beneficial laws has handicapped our ability to adequately respond," said Passamaquoddy Chief Rena Newell.
The tribes in Maine do not have the same rights as other tribes across the country because of a 1980 settlement that states no federal laws will apply to the tribes if they might affect state law.
House Speaker Rachel Talbot Ross (D-Portland) is seeking to change that with LD 2004, a bill that would give the tribes access to 151 federal laws that have passed since 1980.
"This will allow the Wabanaki Nations to become the economic engines that all of Maine desperately needs," she said.
The bill stops short of granting full sovereignty, an effort that stalled last year when Gov. Janet Mills threatened to veto the measure.
But it would remove uncertainty the tribes now face because there have been times in the past when state government has prevented them from getting grants or participating in programs because of concerns about potential legal conflicts, tribal leaders said.
On Wednesday, an attorney for Mills testified in opposition to the bill, describing it as "unconstitutionally vague."
"I don't think the Maine Legislature can enact a bill that fixes this issue," said Mills' attorney Jerry Reid.
Reid said Mills is interested in working to address many of the issues raised by tribal leaders. But he argued that there are far fewer than 151 beneficial federal laws that would help Maine tribes, saying some of them address abandoned shipwrecks, nuclear waste and probate courts.
"If this bill were enacted, litigation is not a probability it is a certainty," he said. "This bill would usher in a new era of conflict, confusion and litigation."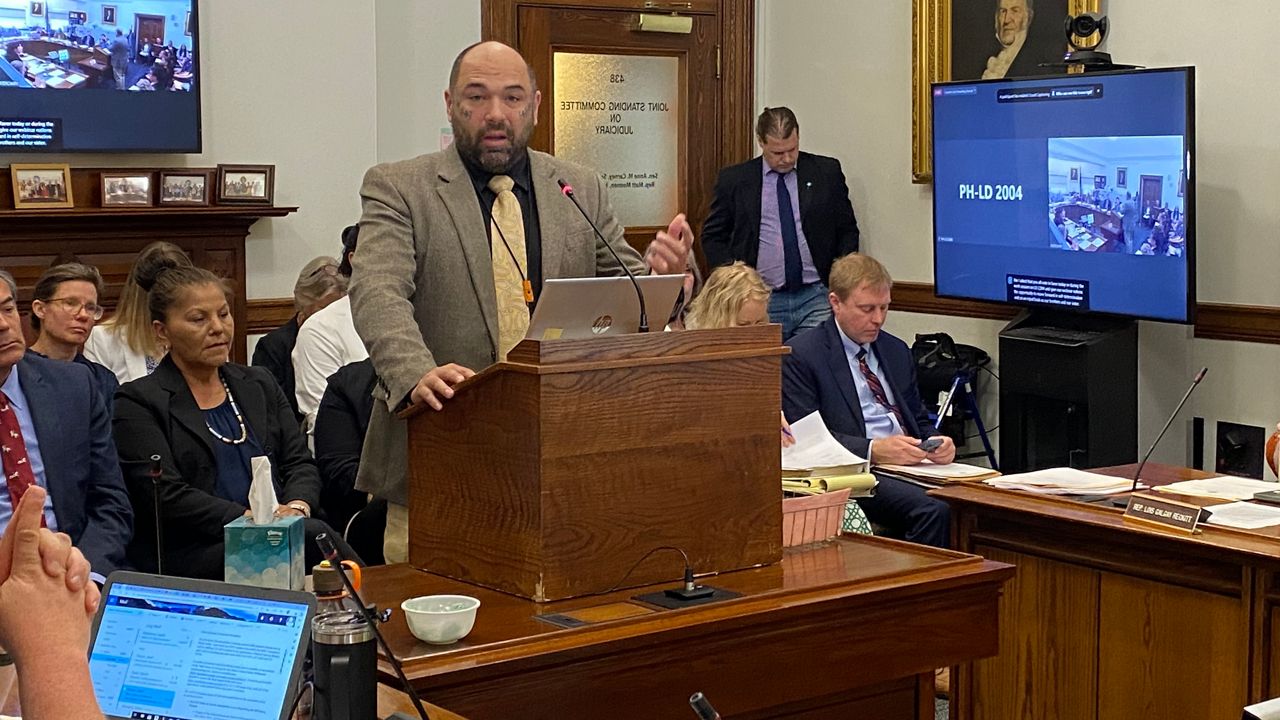 (Tribal Rep. Aaron Dana of the Passamaquoddy Tribe said a bill considered Wednesday would help build a stronger relationship between state government and tribal leaders. (Susan Cover/Spectrum News)

The new bill goes further than a previous proposal by U.S. Rep. Jared Golden (D-Maine) in Congress that aimed to allow the Passamaquoddy, Penobscot, Maliseet and Mi'kmaq tribes to benefit from federal tribal legislation moving forward. Instead, it would apply retroactively to existing federal laws, as well as any future federal laws.
Maine Attorney General Aaron Frey testified neither for nor against the bill, saying that it would likely be better to consider each of the 151 laws individually to see how they might apply in Maine and what might be done to make them most beneficial to the tribes.
The Talbot Ross bill has garnered bipartisan support, with House Minority Leader Billy Bob Faulkingham (R-Winter Harbor) and Sen. Rick Bennett (R-Oxford) signing on as co-sponsors.
State lawmakers aren't expected to act on a more sweeping bill aimed at granting the tribes full sovereignty. That proposal is likely to be carried over and reintroduced in 2024.
For the tribes, it has been a long, frustrating battle since they traded some rights to the state under an $81.5 million settlement that was signed by President Jimmy Carter.
That settlement for the Passamaquoddy, Penobscot and Maliseet, along with a 1991 agreement for the Mi'kmaq, put the tribes in Maine on a different path from tribes elsewhere across the country. The other federally recognized tribes have greater autonomy and partner with the federal government.
Passamaquoddy Vice Chief Joseph Socobasin said the time has come in Maine for the tribes to get access to federal benefits.
"For the first time since 1980, we would be able to benefit from laws passed by Congress on equal footing with every other tribe in the United States," he said.
The Associated Press contributed to this report.