State and local officials are bracing for extreme cold weather expected to strike the Pine Tree State Saturday morning, with temperatures everywhere expected to plunge well below zero.
The National Weather Service is predicting record-breaking cold weather Saturday morning, with still air temperatures colder than minus 10 statewide, and extreme windchill values diving to as low as 64 degrees below zero in the state's northernmost locations
"An Arctic cold front will push into the forecast area late this evening into the the first part of tonight," The NWS office in Gray posted to Facebook today. "Behind this front will be a near record breaking cold airmass with wind chill warnings in effect from Friday through Saturday morning."
The NWS has also issued a blizzard warning for areas of northern Maine from 1 a.m. Friday to 7 p.m. Saturday. Snow may only accumulate up to an inch, but winds gusts may hit 50 mph with wind chills as low as 60 degrees below zero.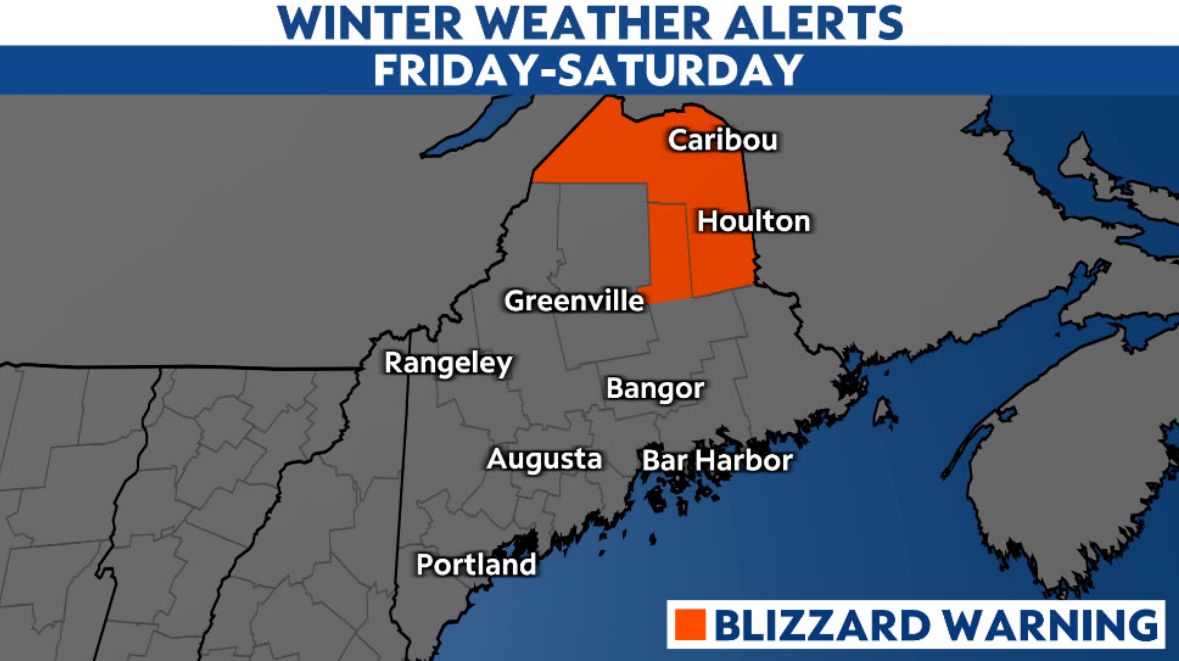 The predictions have prompted Gov. Janet Mills and the Maine Emergency Management Agency to issue a warning to Mainers.
"Please take extra precautions, be careful if you go outside, and be sure to check on your family, friends, and neighbors to make sure they are okay," Mills said. "MEMA will be working closely with county emergency agencies and local partners to support warming centers."
To prevent hypothermia and frostbite, the Maine Center for Disease Control and Prevention suggested "wearing layered clothing, gloves, hats, and proper footwear to reduce skin exposure. This is an important precaution to take, even if only outside briefly."
MEMA offered the following tips to prevent water pipes from freezing:
Keep garage doors closed, if water supply lines run through it.

Keep kitchen and bathroom cabinet doors open, allowing plumbing access to warmer air.

Don't change settings on the thermostat. "A cold snap is not the time to set back the thermostat at night to save a few bucks on your heating bill."

Even if you won't be home for a while, leave the heat on and set no lower than 55 degrees.
MEMA also recommended for the long term to "add insulation to attics, basements, and crawl spaces to maintain higher temperatures in those areas." MEMA also recommended sealing windows and doors to guard against drafts.
Frozen pipes can be thawed out by running the faucet or applying heat to pipes using anything that doesn't use an open flame, such as an electric heating pad, an electric hair dryer, or a portable space heater. MEMA cautioned keeping flammable materials away, especially while using a space heater. Be sure to check all other pipes, not just the ones known to be frozen.
MEMA also advised Mainers to:
Avoid staying outside for long periods of time.

Have an emergency kit in vehicles with "blankets, a first aid kit, food and water, a cellphone charger, and a flashlight with extra batteries."

Remember to operate portable generators outdoors and away from open windows. Make sure smoke alarms and carbon monoxide detectors are working.

Check on neighbors who might need assistance.

Keep extra batteries for "medical or life support devices."

Keep pets inside.
Sylvia Harkins, resource specialist for the Southern Maine Agency on Aging, said seniors statewide should make sure they have plenty of heating oil or fuel, and that paths to outdoor filling spouts remain clear. It's also a good idea, she said, for seniors to make sure they can stay in contact with relatives.
"We encourage people to be proactive, and to prepare," she said.
Municipalities throughout the state have responded with announcements of warming shelters available this weekend.
In Portland, the city will have its regular day shelter space available at the Oxford Street Shelter.
In addition, the Salvation Army gymnasium at 297 Cumberland Ave. will be open on Friday, Feb. 3 from 3 p.m. to 8 a.m. Saturday, Feb. 4. The gym will open again on Saturday at 3 p.m. until 8 a.m. Sunday, Feb. 5.
Daytime warming shelters will also be available at the Portland Public Library, at 5 Monument Square, from 10 a.m. to 5 p.m. weekdays and 10 a.m. to 3 p.m. on Saturday.
The First Parish Church, at 425 Congress St., will also be open from 8 a.m. to 4 p.m. Friday and Saturday.
"While our shelters remain at capacity, we recognize the urgent need for those who are without shelter in these extreme temperatures," said Interim City Manager Danielle West. "We are thankful for city staff from across several departments who have answered our call as well as the assistance of our community partners and volunteers to ensure that this life saving measure is taken during this weather emergency."
In Lewiston, a warming shelter will be available this weekend at Calvary United Methodist church at 59 Sabbatus St. Trinity Jubilee Center, at 53 Spruce St., will also be open with hot breakfast and lunch.
Augusta will open the Civic Center at 76 Community Drive as a warming shelter. The south entrance will be staffed to assist people on Friday and Saturday from 7 a.m. to 7 p.m., and from 7 a.m. to noon on Sunday. The city will provide transportation within city limits. Call the city's emergency warming center hotline at (207) 620-8001 to learn more.
In Bangor, the city has announced expanded hours at five official warming centers throughout the city, including:
Bangor Area Homeless Shelter, 263 Main St., (207) 947-0092 (6 p.m. to 7 a.m., open to anyone 18 and older)

Brick Church Warming Center, 126 Union St., (207) 989-5401 (8 a.m. Friday through 6 a.m. Monday, open to anyone age 18 or older)

Mansion Church Warming Center, 96 Center St., (207) 249-9154 (6 p.m. to 7 a.m., open to anyone age 18 or older).

Shaw House, 136 Union St., (207) 941-2874 ext. 3 (open 24 hours a day, seven days a week to anyone under 21).

The Well (formerly Jericho Road), 146 Center St., (207) 990-1711 (7 a.m. to 6 p.m., open to anyone age 18 or older).
The city also listed additional center, including:
Hope House, 179 Corporate Drive, (207) 217-6713 ext. 1 (open 24 hours Thursday – Sunday to anyone age 18 or older).

Bangor Area Recovery Network, 142 Center St., Brewer, (207) 564-4444 (open to everyone)

Together Place, 2 Second Street, (207) 941-2897 (8 a.m. to 4 p.m. Friday, 6 a.m. to 5 p.m. Saturday, open to everyone)

Unitarian Universalist Church/Needlepoint Sanctuary, 120 Park Street, (207) 505-1510 (Thursday 6 p.m. to Sunday, open to everyone)
The city also noted the Bangor Public Library, at 145 Harlow St., was open Friday from 10 a.m. to 8 p.m. and Saturday from 8 a.m. to 5 p.m. Health Equity Alliance, at 304 Hancock St. Suite 3B will also be open Friday from 10 a.m. to 5 p.m. The city may also open Bangor Parks and Recreation's offices at 647 Main St. if necessary.
In Gardiner, officials announced the Gardiner Public Library, at 149 Water St., will be open on Friday from 10 a.m. to 5:30 p.m. and Saturday from 9:30 a.m. to 12:30 p.m. The Boys & Girls Club of Kennebec Valley, at 14 Pray St., will also be open Saturday, from 8 a.m. to 6 p.m.