CINCINNATI — In the dark, cool autumn air, thousands of runners bursting with energy and anticipation took their places in front of Paul Brown Stadium. After a year and a half of waiting, just one word would set them free, "Go!"
Cheers and crowds roared through city as Cincinnati's Flying Pig Marathon got underway, back in person for the first time since 2019. The return to tradition marked with tears and reunions for many finishers who said they felt like they were celebrating a bit more this year.
The pandemic canceled 2020's Flying Pig. Organizers decided May's 2021 race would run virtually amidst the rollout of vaccinations, though the announcement also came with a glimmer of hope.
Runners would have the chance to run again in October, with organizers combining the Flying Pig Marathon with the annual Queen Bee half marathon in the fall. The in-person race would return on Oct. 31, and some familiar runners promised to return.
Alex Gold, who came in third in his first Flying Pig in 2019 said he wanted to return to run alongside the friends he met in that race, some of the other top finishers, J.T. McKay and Jack Randall.
"It's just not the same when it's virtual so it really means a lot that they were able to put it on," he said.
The 26-year-old from Peebles, now living in Cincinnati, capped off his return with an emotional win. Finishing with a time of 2:26:29, Gold outran his rivals turned friends to earn his first Flying Pig title.
"I love this city so this race is what made me fall in love with it in the first place," he said.
Caitlin Keen, 29, the first woman to cross the finish line, did so with tears in her eyes and an overwhelming sense of joy. Keen, who grew up in Hyde Park but now lives in Ft. Worth Texas, said she hadn't run a marathon since her Olympic Trial in February 2020.
With a time of 2:43:45, she finished nearly three minutes faster than her winning race in 2018, smashing her own expectations.
"I can speak for a lot of us when I say it took a little more motivation it took a lot more time to get back on the horse and get going again," Keen said.
The winners weren't the only finishers who felt this 2021 race brought a little more to celebrate. Natalie Quinn finished her first half marathon since 2017 alongside her friends in the hopes it would bring a bright spot to a difficult year and half.
"My mom passed away in January so this is for her," she said.
Out of town runners, like Lorrie Newhouse of Indiana and Isabelle Krystynak of California, said they were celebrating the chance to cross another state's race off their lists and another opportunity to meet and befriend runners from across the country.
"We met at the hotel," Newhouse said, after taking a picture with Krystynak.
The two struck up a conversation after Newhouse noticed Krystynak was wearing something from a previous race. It turned out the two had unknowingly crossed paths only a few weeks ago, at a marathon in Hartford, CT. Both are hoping to run a race in all 50 states.
"It's a really good way to travel and there's a really good running community and a lot of other people that are trying to do it as well," Newhouse said. "I've met a lot of people and made some really good friends traveling the country and seeing some really cool parts of the country."
Race organizers felt the camaraderie and emotion as well as Iris Simpson Bush, the President and CEO of Pig Works welcomed runners back.
"I cannot tell you how happy and thrilled we are to be here with you today," she said.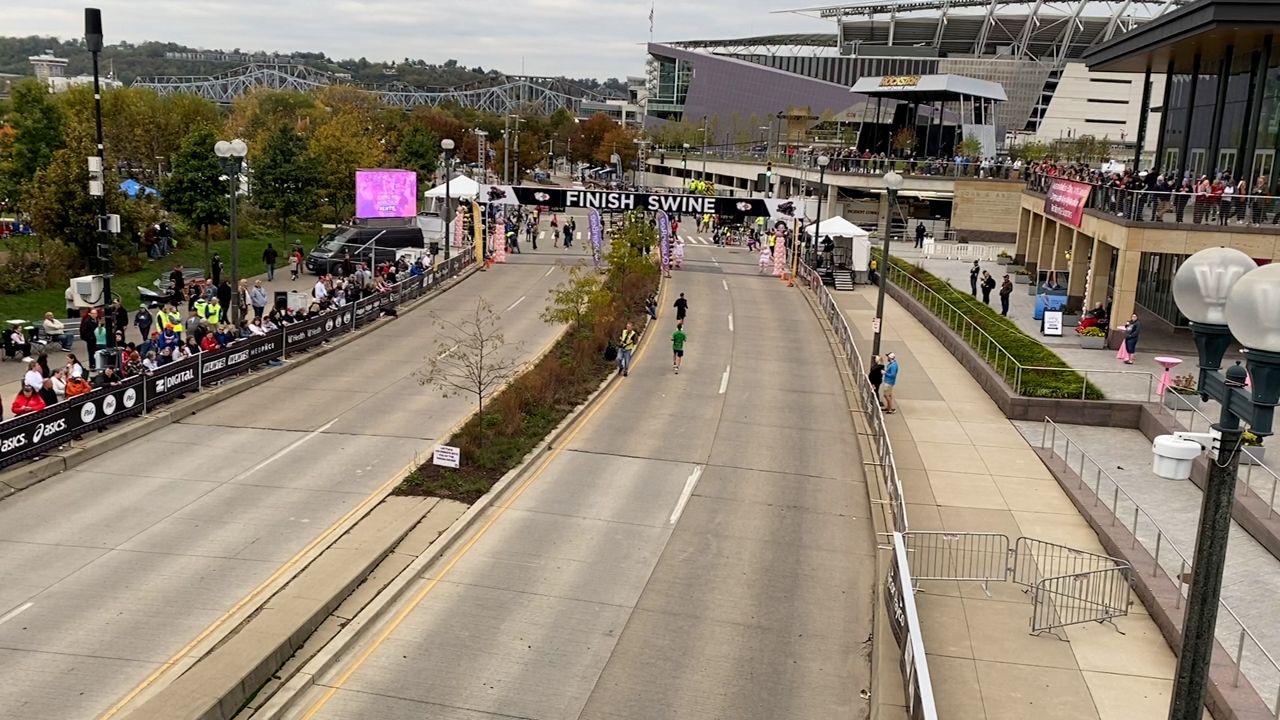 Despite the excitement, the race did not attract the same crowds it would normally see. In 2019, more than 43,000 runners took on one of the Pig Works races associated with the marathon. In 2021, just under 16,000 participated.
Race organizers expect a return to the norm next year as the Flying Pig plans to return to its normal schedule.
"We will see you the first Sunday in May!" Simpson Bush said to runners. "Thank you!"
Samuel Montclair, 30, and Daniella Townsend, 34, won the half marathon. Montclair set an event record of 1:09:53, and Townsend won her second race with a time of 1:21:02.