AUSTIN, Texas — Veterans make up roughly 5% of the population in Texas, but about 7% of the homeless population according to the Office of Housing and Urban Development and the U.S. Census.
State data shows after a nearly ten year plummet, in 2019 the number of homeless veterans started to inch back up again across the state. Now even more veterans are facing housing insecurity in 2021 as the pandemic continues and rent prices are on the rise.
Bobby Withrow is one of those veterans. Today he is taking a walk through the Field of Honor in Georgetown, Texas. Surrounded by hundreds of flags dedicated to veterans like himself, he says he feels at home.
"It's more not really talking to anybody, it's talking to everybody here," he said.
Withrow served 12 years in the Navy and five years in the Texas State Guard. Now his call to duty is helping his fellow service men and women through his nonprofit Texas Fallen Project.
"What I do, who I represent, are their [Vietnam veterans'] sons, their grandkids," he said.
But one of his biggest battles has been trying to find a home. For the past two years he's been living in his brother's apartment in Round Rock.
"I can't spread out, I can't do anything," he said.
He shares a room with his two dogs and his wife, who is also a veteran.
"I was chief petty officer in the Navy, a senior chief in the Texas State Guard, she was only like an E6, or something like that, I don't know, haha," Withrow joked.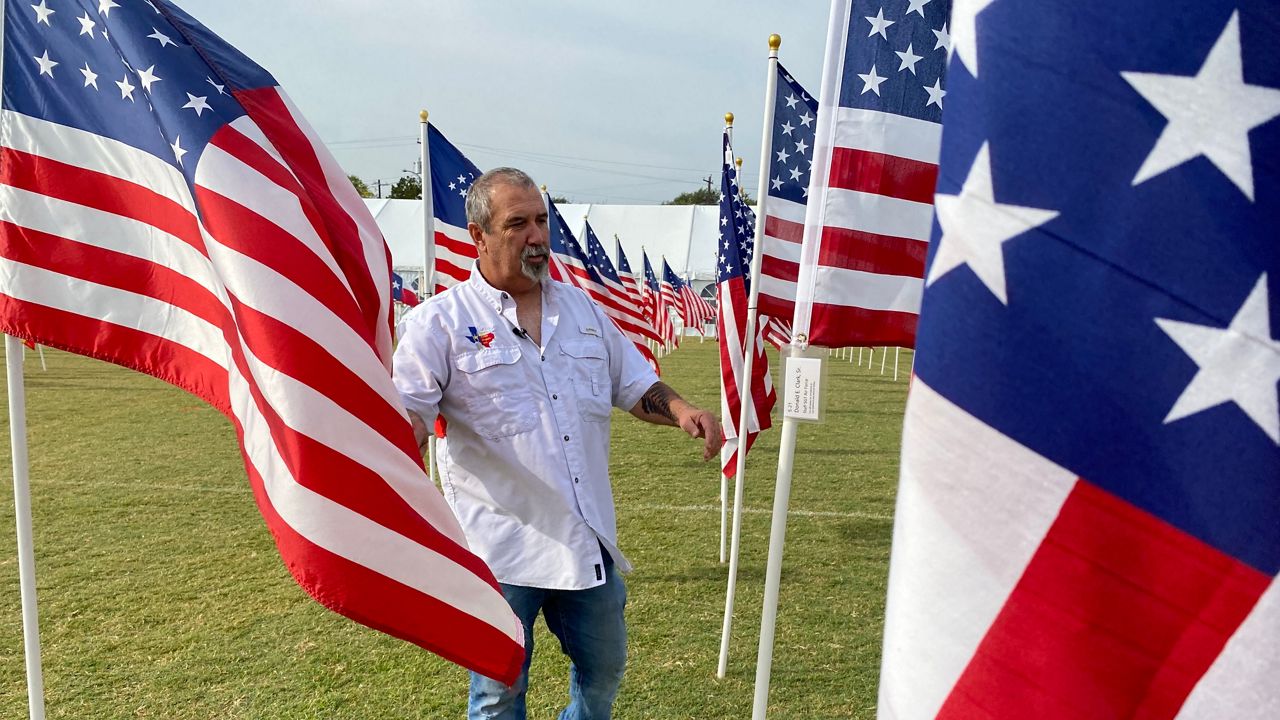 Withrow drives his wife to her bartending job in Pflugerville every morning. He's collecting disability because of knee injuries, but it doesn't pay much, so money is tight. The truck he's driving was a gift.
"There's just a lot of amazing people," he said.
An annual report on homelessness across the U.S. found the unemployment rate for veterans in Texas is 4.6%. About 6.5% of veterans live in poverty. The VA says those numbers are even higher for veterans with disabilities.'
A VA report also shows women and veterans of color are also more likely to experience poverty and homelessness in those populations is increasing at a higher rate as well. The VA announced they have distributed more than 105,000 subsidized housing vouchers to veterans as part of a partnership with HUD.
Under a new state law, developers competing for low-income housing tax credits would get an incentive for building within two miles of VA services and giving preference to renting to low-income veterans.
Texas Housers Staff Attorney Elizabeth Roehm knows all about the housing tax credit program. She says the new law amends the rules for Texas Department of Housing and Community Affairs' allocation plan, which scores and distributes federal funding to low-income housing developments.
"They're not final yet so this could change," she said.
In an email, A TDHCA spokesperson declined our request for an interview, but says the new law went before the governing board on November 10 for approval. If approved, it will be sent to the governor for final review. We are waiting to hear the results of the meeting.
This new law would award one point on the tax credit scorecard if a developer met the requirements. Roehm says a developer can score up to 200 points. This bonus point would only apply to a development in a county with a population of one million or more or less than four million.
"This could, you know, give a point boost here and there, which, you know, could possibly be like what would be a tie-breaker for a couple of projects in a certain area," she said.
For veterans like Withrow still searching for housing, he says programs like these couldn't come soon enough.
"I'm blessed to have my mom still, I've got my brother, I've got sisters," he said. "I know I have a place to stay, but some people don't."