AUSTIN, Texas -- It's an unfortunate situation worshippers have had to think about more than once over the last few years: once again this past weekend an active shooter scenario unfolded inside a church.
Texas law allows firearms to be carried in places of worship
White Settlement church shooter taken out by armed, trained congregant
Some churches prefer people leave guns at home
The 2015 shooting inside a Charleston, South Carolina, church and the 2017 shooting that claimed the lives of 26 congregants at First Baptist Church in Sutherland Springs got many churches thinking about their security - as well as Texas lawmakers.
Legislation that took effect in September, enacted in response to Sutherland Springs, clarifies the position of Texas law on the possession of firearms in places of worship, allowing licensed handgun owners to legally carry in church.
But the decision to have "lay people" concealed carrying as part of a church security team and plan isn't something every church is on board with.
"Within our legal bounds, we prefer not to have guns in church," said Reverend Katheryn Barlow-Williams, part of the clergy at Central Presbyterian Church in downtown Austin.
Barlow-Williams said her church board took the position of preferring church members to leave their firearms at home.
"We don't want to operate from a position of fear, we want to operate from a position of faith," said Barlow-Williams. "And that's not to say that other churches don't have faith - they have a security guard or they have a security team - we just always want to be walking that road of faith, forgiveness, love and hope."
The suspect in Sunday's shooting at a church in White Settlement, a Fort Worth suburb, was taken down by armed congregant Jack Wilson. Rev. Barlow-Williams was quick to point out that Wilson was trained. With a military background and being the owner of a gun range, he wasn't just any person with a gun.
Central Presbyterian meets regularly with a security consultant on ways to better secure their facility and be ready in the case of an emergency. Logistically it doesn't involve "lay people" carrying a gun playing a role in it.
It's not just a logistical issue for Barlow-Williams, but a theological one, believing in a lord and savior that preached non-violence.
"He was being arrested and about to be crucified, Peter picked up a sword and Jesus said put it back down," cited Rev. Barlow-Williams.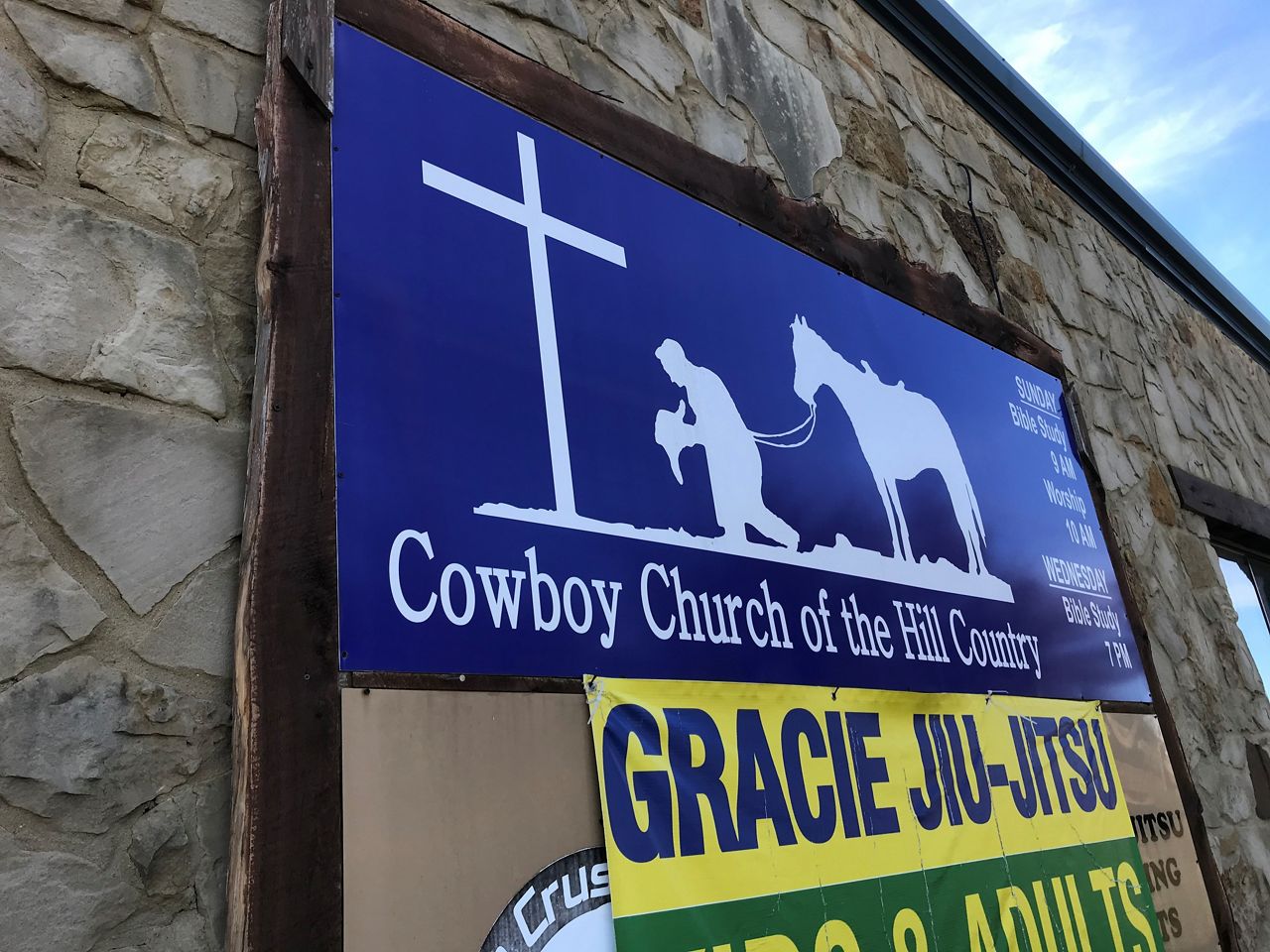 The exterior of Cowboy Church of the Hill Country appears in this image from December 31, 2019. (Matthew Mershon/Spectrum News)
"Whenever you start looking across the scripture, you find some places that talk about protecting the innocent and the value of human life," said Jerry Kelley, pastor at Cowboy Church of the Hill Country in Dripping Springs.
In a perfect world, Pastor Kelley also wouldn't want to see guns in his church, but Kelley said we don't live in a perfect world. It was only three years ago when there weren't any, but now the small congregation located in a strip-mall off US-290 has a security plan with select congregants holding onto concealed carry firearms.
While Central Presbyterian is located just blocks away from Austin Police Department headquarters, Kelley said his congregation is located miles away from a local law enforcement office and they can't rely on an immediate response from a sheriff's deputy assigned to their area.
"If we have to call - quite honestly - you're probably already in a bind and you probably need a way to do everything you can to protect the innocent lives of your congregation," said Kelley.
It's a situation of rather being safe than sorry for Kelley.
"I think the main thing is be as prepared as you can be and hope and pray you never actually have to act."