SAN ANTONIO -- A newly spray-painted mural memorializing the life of George Floyd was created to move the conversation forward when it comes to racial injustice faced in the black community.
The mural, created by artist Roger Maximo, is a headshot portrait of Floyd. He was killed while in police custody more than a week ago in Minneapolis.
"I just want it to symbolize peace and progression," Maximo said.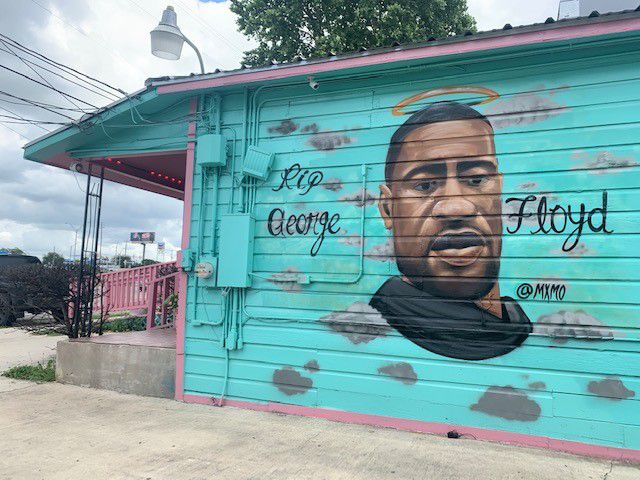 A mural created to memorialize George Floyd appears at Big Poppas Tacos in San Antonio, Texas, in this image from May 2020. (Sarah Duran/Spectrum News)
Maximo's piece is outside Big Poppas Tacos, which is already colorful and full of art. However, this is the first mural at at the East Side eatery.
"Just having him here with a lot of company is just something that eases my mind," said Jacob Gomez, owner of Big Poppas Tacos.
Gomez says he feeds hundreds of people daily. He hopes the mural will spark conversation about Floyd's tragic death, racial injustice, and ways to create change.
"He needs to be heard," Gomez said.
The George Floyd mural is Maximo's latest work. He is also the artist behind the popular Kobe Bryant mural painted at WingIT restaurant in Universal City.
RELATED: Kobe Bryant Murals Provide Comfort for Grieving Fans in San Antonio
The exterior of Big Poppas Tacos, which includes a George Floyd mural, appears in this image from May 2020. (Sarah Duran/Spectrum News)