JUNCTION, Texas — More than 85 percent of the 254 counties in Texas have reported at least one coronavirus case, including rural counties where testing has not been as accessible as in urban areas. To help with that effort, Gov. Greg Abbott has deployed more than 1,200 military personnel to administer mobile test collection sites. But there are still rural communities where the case count remains zero.
What You Need To Know



Some rural counties still have no coronavirus cases


More testing could find cases in those counties


National Guard has tested people in 160 so far
Nestled between the North and South Llano Rivers lies the city of Junction. Junction is the county seat of Kimble County, where the population is just over 4,500. For weeks, Kimble County has had zero confirmed COVID-19 cases.
"I don't think we're doing anything any different than other rural county in Texas. I hope, I pray that after (Tuesday) we still remain at zero," Kimble County Judge Delbert Roberts said.
In a place with a prominent junction of highways, one group passed through this week. The Texas Army National Guard deployed on Tuesday a mobile test collection site at the Stevenson Community Center in Junction. One goal is to reach communities with limited resources to ramp up testing, according to the Texas Division of Emergency Management (TDEM).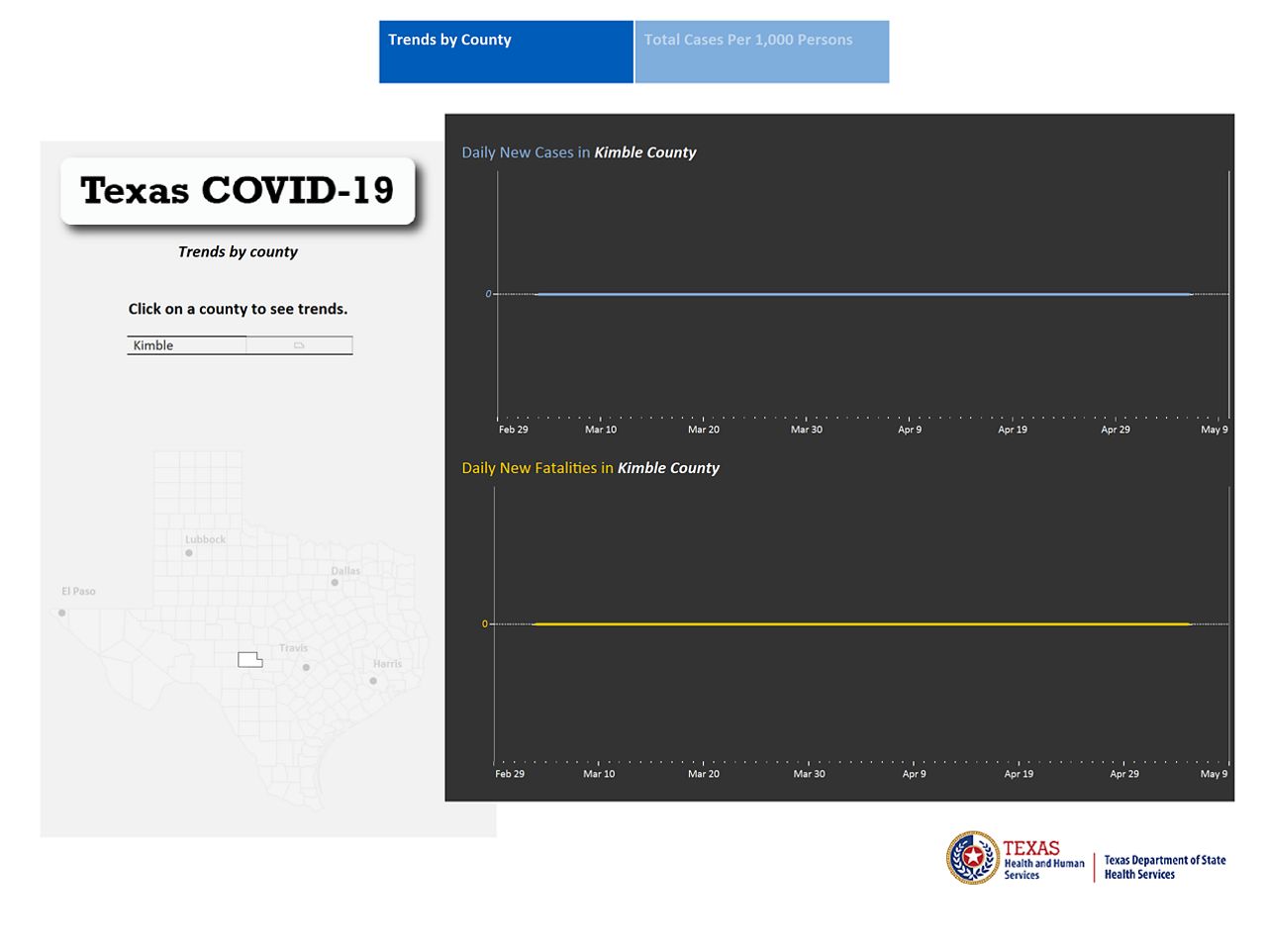 Trend generator from DSHS for Kimble County. (Photo: TDEM)
The tests are free and open to anyone. Junction resident Joan Fling was among the dozens who scheduled an appointment and said she did so because she wanted to help the community.
"I think everybody's taking it serious and they've been doing what they were supposed to do. It's a very good community. Everybody is willing to do what they have to, to keep from having any here," Fling said.
Before Tuesday, there were eight coronavirus tests conducted in Kimble County, according to state data. By the end of that day in Kimble County, National Guard teams collected 59 specimens at the mobile test collection site, according to a TDEM spokesperson. Roberts said while he believes county residents have been largely following the state and national directives aimed at containing the coronavirus, he acknowledged how testing plays a role.
RELATED | The U.S. May Face a Second Wave of Coronavirus Infections

"It has been the lack of testing. I think it's very possible that there are carriers of it in our community. But there again, if those folks are following the regulations, that's probably why they haven't given it to the rest of the population," Roberts said.
The National Guard has mobilized in rural and suburban communities as part of Gov. Abbott's pledge to bolster testing in Texas. So far, the soldiers have collected more than 11,600 specimens and served about 160 counties across Texas. Some epidemiologists believe expanded tests will be crucial as state leaders reopen parts of the Texas economy.
"Testing is key. It's really the basis of everything, because you don't know what's happening in a community if you're not able to test the people that should be tested— which isn't necessarily everybody— but you want a good sample of people so that you know what's happening," Dr. Catherine Troisi, an infectious disease epidemiologist at UTHealth School of Public Health in Houston, said.
RELATED | UT Researchers say Texas Has Likely Hit its Peak in COVID-19 Deaths
A TDEM spokesperson told Spectrum News it is possible for teams to return to certain counties if requested, and the determination will be made between local officials and partnering state agencies. In Kimble County, there are still testing sites at the Frontera Healthcare Network clinic and Kimble Hospital. There was a time though when Junction residents had to drive about 50 miles away to Kerrville to get tested.
"I don't know how else we could attempt to continue on the path we're continuing on and adapt to changes on a daily life without having the numbers to go by," Roberts said.
Texans can locate the nearest COVID-19 test collection site by visiting this TDEM map.
An appointment is necessary in order to visit the National Guard's mobile test collection sites and you can do so by visiting this website or by calling (512) 883-2400.