SAN ANTONIO -- Spectrum News has spent the last two weeks getting a glimpse inside the lives of various Texans who are passionate about a particular presidential candidate. They all have a story to share, unique to their individuality, and values they care about greatly.
Our journey begins in Hays County at the home of Lisa Reyna Loe, who supports former Vice President Joe Biden. After the 2016 presidential election, Loe began volunteering in political campaigns that were geared toward her values. Ahead of the 2020 Democratic primary, Loe has spent much of her free time canvassing across the country and phone banking in her own backyard.
"My family is threatened every single day," said Loe. "I'm Mexican American, I have a disabled child, I have a daughter who's reproductive rights are being threatened. So, I can't be a bystander. I need to get up every day and I need to fight for my family and families like mine."
WATCH: Meet Joe Biden Volunteer Lisa Reyna Loe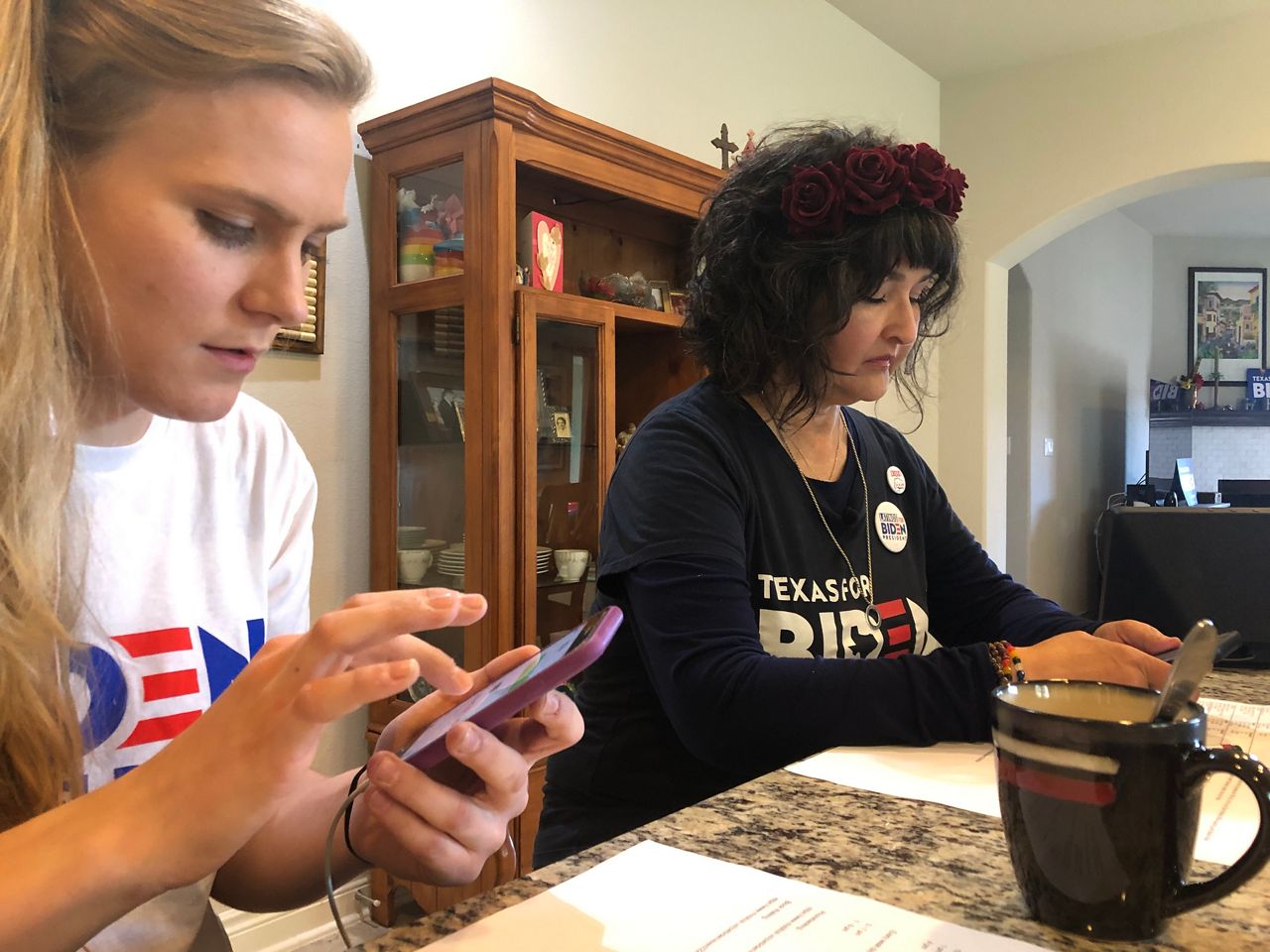 Joe Biden volunteer Lisa Reyna Loe appears with another Biden volunteer in this image from February 2020. (Chris Grisby/Spectrum News)
Like Loe, Bishop Rosa Wilson is fighting for equality. Bishop Wilson and part of her congregation at Greater Faith Institutional Church took to the streets of San Antonio's East Side to rally voters to Elizabeth Warren's campaign.
"Elizabeth grew up on the ragged edge of the middle class in Oklahoma. Guess what? Everybody here on the East Side is growing up on the ragged edge," said Wilson. "She came up without much and she understands economics, so she's the woman to pull us up and give us what we need - that we will be a great America."
WATCH: Meet Elizabeth Warren Volunteer Bishop Rosa Wilson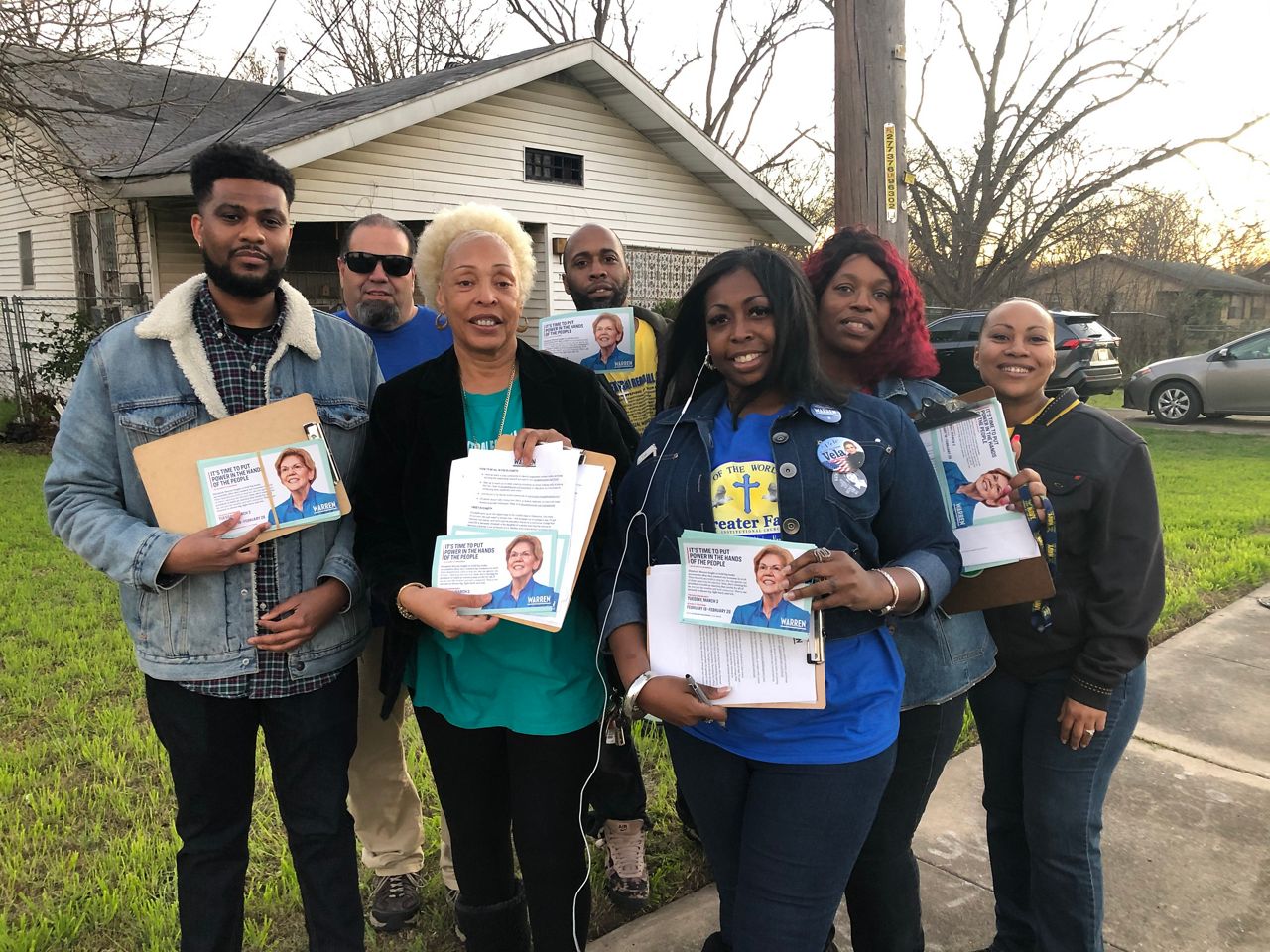 Bishop Rosa Wilson, along with members of her congregation at Greater Faith Institutional Church, canvasses a neighborhood in support of Sen. Elizabeth Warren in this image from February 2020. (Chris Grisby/Spectrum News)
Meanwhile just west of downtown San Antonio, Bernie Sanders supporters rallied at the historic Casa De Cuentos to encourage working-class families to vote for the longtime senator. Supporters like Rick Trevino say his democratic socialist platform levels the field of opportunity for everyone.
"We all know the role money plays in politics, and the reason I think a lot of us are behind Bernie is because number one, we can trust him," said Trevino.
WATCH: Meet Bernie Sanders Volunteer Rick Trevino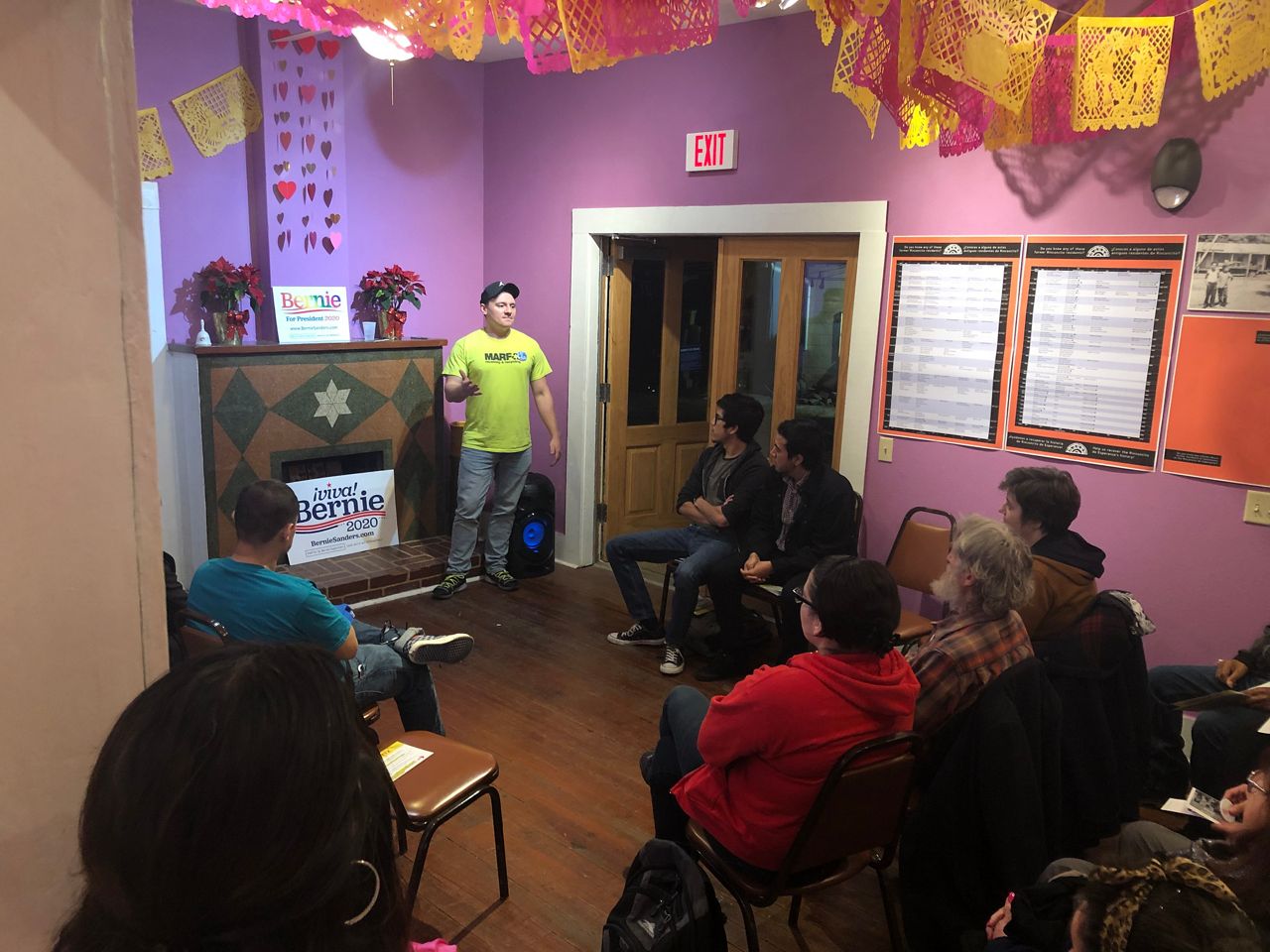 Rick Trevino, who supports Sen. Bernie Sanders for president, presides over a rally at the historic Casa De Cuentos in San Antonio, Texas, in this image from February 2020. (Chris Grisby/Spectrum News)
Trust goes a long way too for recent college graduate Oren Fisher. Like Loe, Fisher has been using money out of her own pocket, traveling across the country to canvass and reel in voters. Fisher, though, says Mayor Pete Buttigieg is the ideal candidate for president.
"It wasn't so much that I discovered him. I had kind of lost faith in the idea that one person could save us, or could make some big change that would just spread around to everybody else," said Fisher. "It was actually the people that were around him."
VIDEO: Meet Pete Buttigieg Volunteer Oren Fisher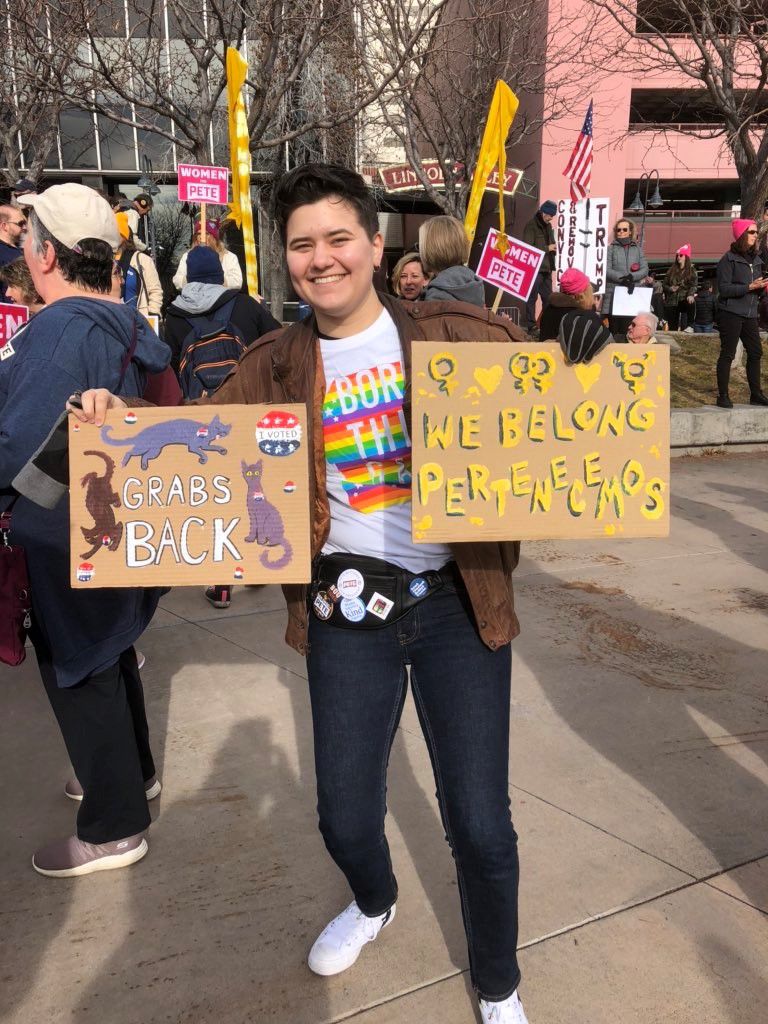 Mayor Pete Buttigieg volunteer Oren Fisher appears in this image from February 2020. (Chris Grisby/Spectrum News)
Texans supporting the former mayor of New York, Mike Bloomberg, are running full steam ahead. In just the last few weeks, Bloomberg has opened up more field offices between San Antonio and Austin than any other presidential candidate. The Texas organizer for the Bloomberg campaign, Terry Bermea, says Bloomberg is the only candidate that can go toe-to-toe with President Trump. Their team is busy getting volunteers on the ground.
"Working to recruit as many volunteers as we can to join our efforts, and then go out into the field and talk to Texans about why Mike Bloomberg is the only choice for president," said Bermea.
WATCH: Meet Mike Bloomberg Volunteer Terry Berma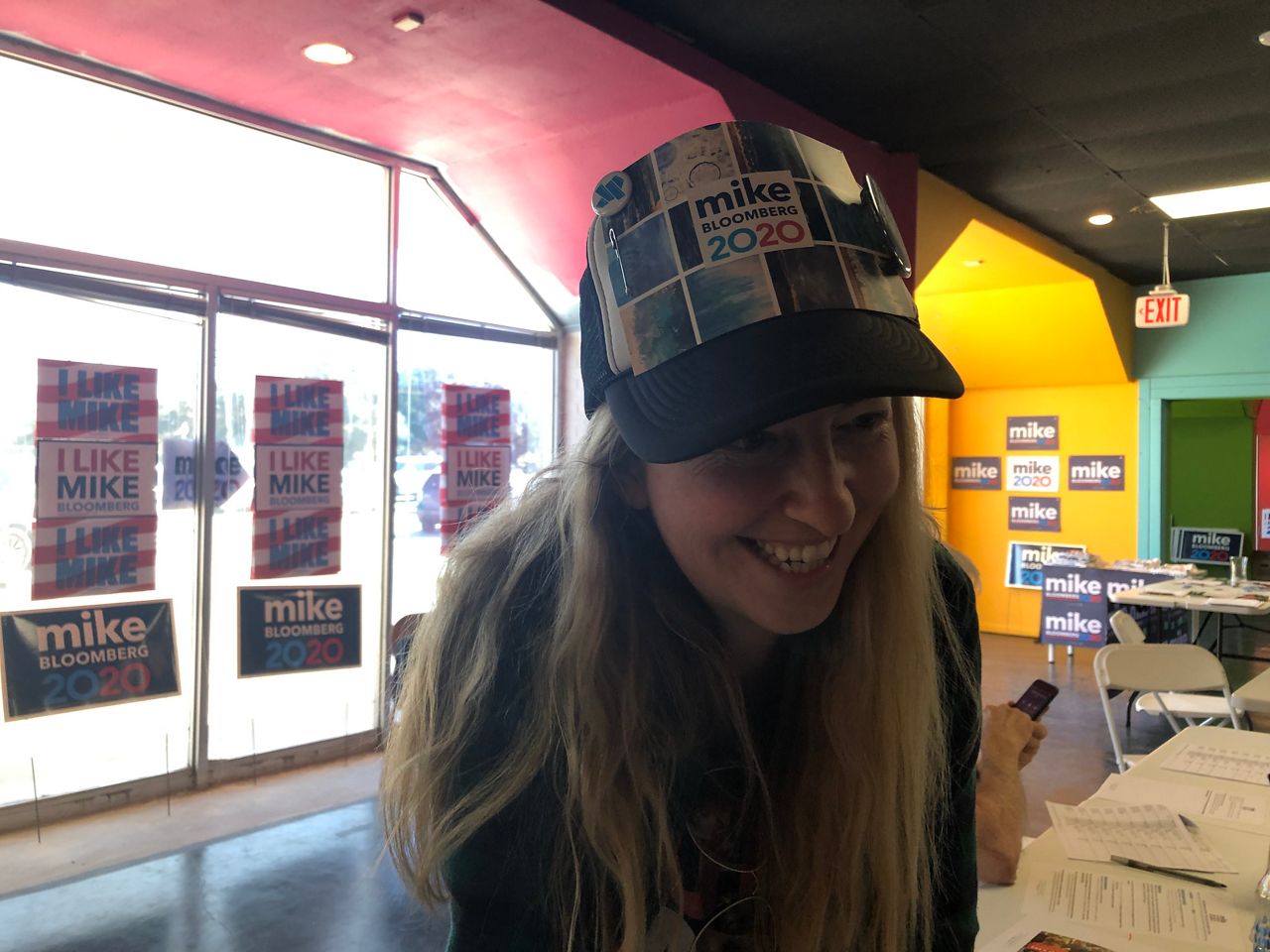 A Mike Bloomberg volunteer appears in San Antonio, Texas, in this image from February 2020. (Chris Grisby/Spectrum News)
Spectrum News made multiple attempts to get in contact with Tom Steyer and Amy Klobuchar volunteers. We never received a response.