LOCKHART, Texas – All-State is the highest honor a student musician can earn, and one Lockhart ISD student has managed to not only make the All-State choir two years in a row, she's also earned first chair both times.
Peterson takes after her older sister who was also in choir
Has made first chair at All-State choir twice
Currently performing in "Addams Family" at Lockhart High School
Kathryn Peterson is a senior at Lockhart High School. She and more than 15,000 others competed to earn one of the 256 spots in the Texas Music Educator Association's All-State choirs. After four auditions including district, region and area levels, she earned a first chair spot in the top choir, All-State Mixed. This is the second time she's done so.
"The first year, I wanted to just make a choir, because my sister had made the Treble Choir and I was like, 'Well, now I have to make it or else, I don't know, I'll be a disappointment.' And then my senior year, this year, I felt like I had to do it again, and there was no way I could improve. So I was just scared. But I made it and I'm still just — it's just an amazing opportunity and I am at a loss of words, every time," Peterson said. "5A schools compete against 6A schools. And so, Lockhart was against the San Antonio schools."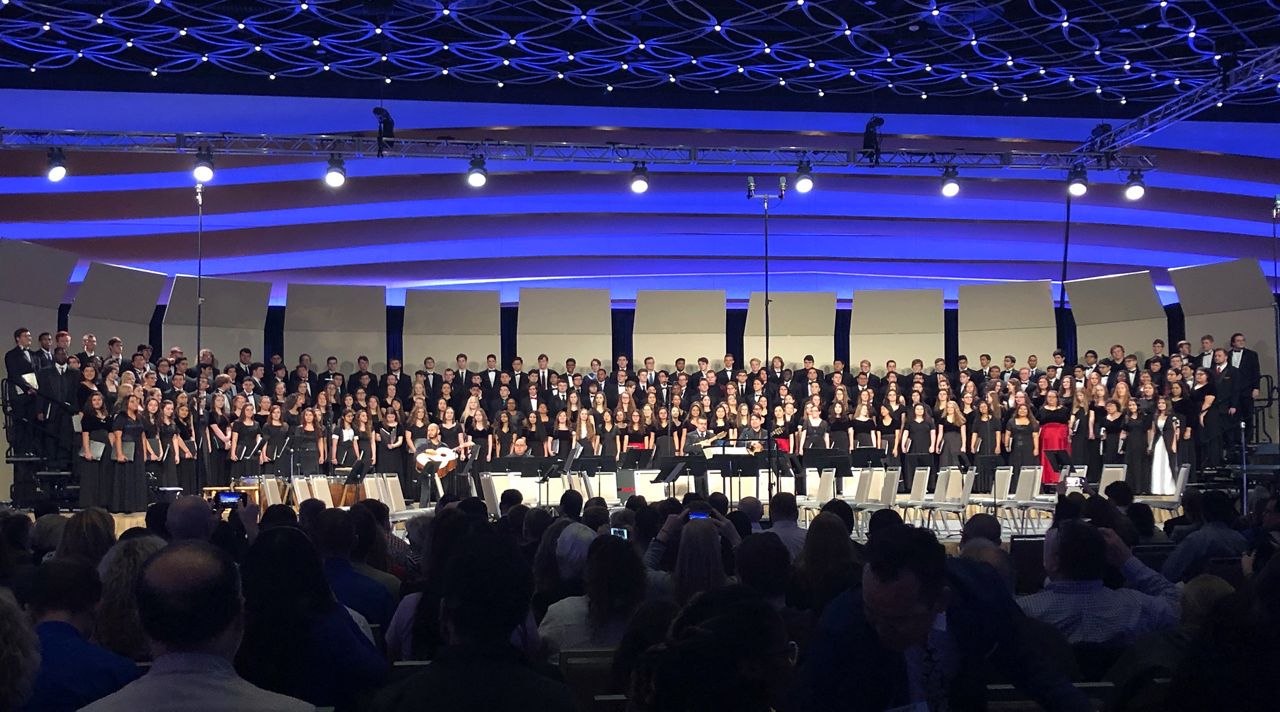 The 2019 All-State Choir. (Courtesy: Tim Peterson)
And while her impressive vocal skills may not have come from her parents, Peterson said it's still all in the family, as it was her sister that inspired her to sing.
"I grew up with her singing classically in the house and so growing up I would try to sing. I was like 'Do I sound like her yet?' And my parents were always like 'No, not yet.' Growing up there was always talk like, anytime I would meet someone who knew my sister they would always ask if I was a singer or if I was going to follow in her footsteps. And when I was younger I was like, 'I am not going to be a singer. I'm not going to do it,' and then I just gave in and I did it," Peterson said.
Peterson and her sister Victoria are the only two students from Lockhart to make the All-State Mixed Choir since records have been kept in the 1970s. After graduation, Peterson hopes to be at a Texas school, or perhaps one in Ohio or Indiana. Funny enough, a performance major wasn't her first choice— chemistry was.
"One day, we were singing on the stage and I realized that I would have more fun going into vocal performance than chemistry. I still love chemistry but it's just, it's not as fun as the thrill of being on stage and being transported into a different world," Peterson said.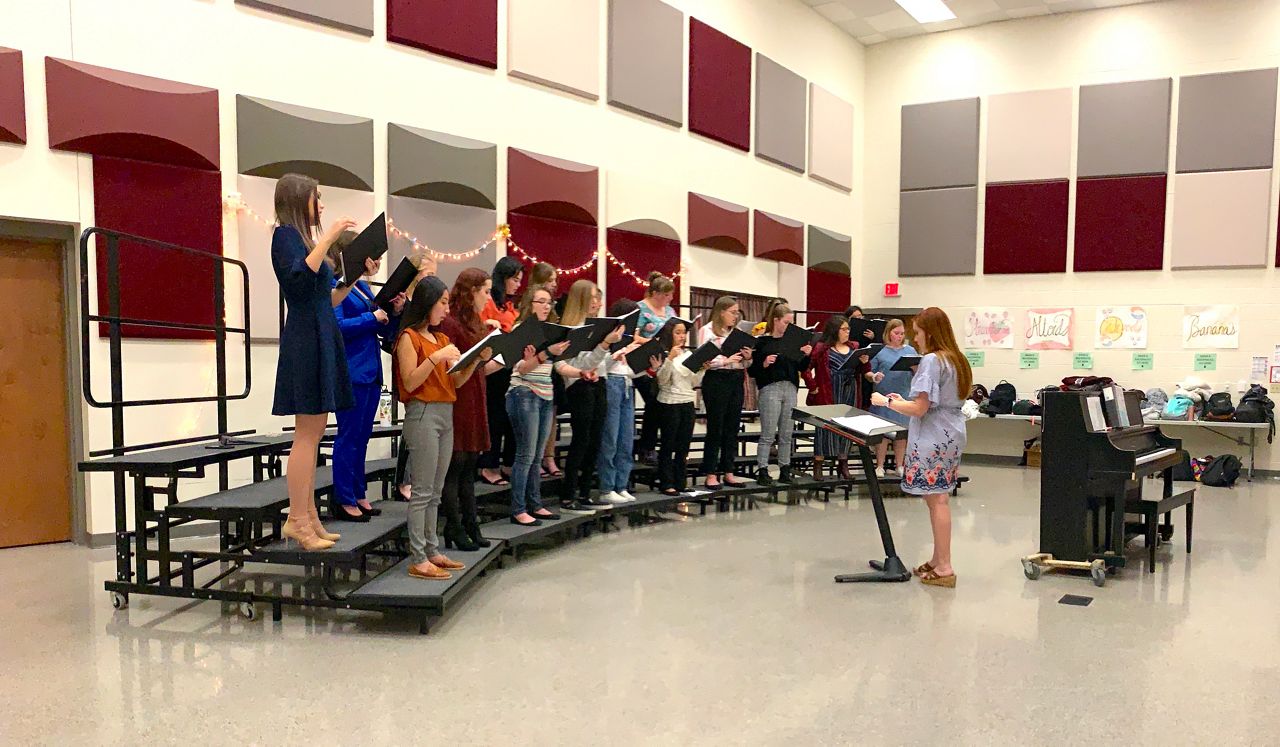 Choir teacher Ashley Branson directing the choir students. (Stacy Rickard/Spectrum News)
Ashley Branson, Peterson's choir teacher, said while it'll be hard to lose her next year, she's proud to have been a part of her musical journey.
"I'm excited for this to be a program that Kathryn's able to say that she came from and the legacy that it's going to eventually have. So I'm ready for that. I'm ready for the graduates to be able to say I came from Lockhart High School choir," said Branson.
While Branson has only been at the school a couple years, she's seen firsthand the talent and dedication Peterson brings.
"She goes to camp, she has a private lesson teacher that she works with, Leo Garcia. This is something that she works on just about every day. This is a huge undertaking and I think she's very, very deserving of that first chair placement. Making it just to Area is a huge deal, but for her to make her first chair is amazing," Branson said.
Peterson is currently auditioning at colleges and preparing for the All-State concert in February.
"I think everyone should find a little outlet to perform and release all of their energy. The arts are awesome," Peterson said. "Performance has been a part of my life for so long that I think it's just second nature at this point."
Lockhart High School is currently putting on a production of Addams Family, where Peterson plays Alice Beineke. You can catch the show at 7 p.m. on Jan 23-25 and Jan 30-Feb 1.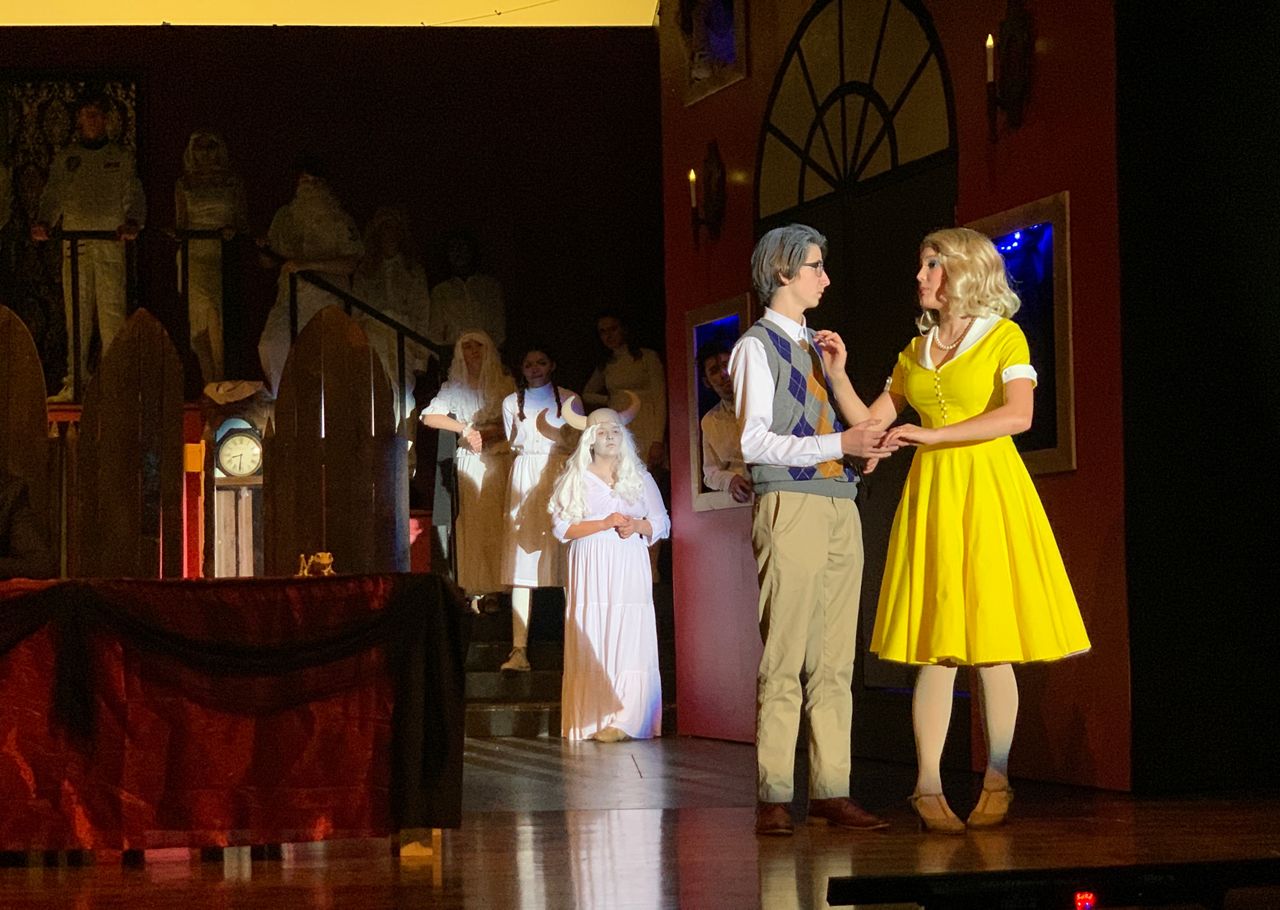 Peterson playing Alice Beineke in the Addams Family. (Spectrum News)