SAN MARCOS, Texas -- Muralists in San Marcos have gotten into the Christmas spirit, spray painting some familiar characters on a wall near the downtown square.
Located between CCI Computer Services and Stinky Dawg
Muralist David Perez paints over previous work in alley
The holiday mural is in the alleyway between CCI Computer Services and Stinky Dawg, off S LBJ Drive in San Marcos.
David Perez is one of the muralists who worked on the festive Christmas scene.
"Grinch themed with a Whoville background," Perez said. "It's just something that we thought of doing that would be identifiable with people. There wasn't really much thought. All these walls work themselves out as we paint."
He and his fellow artists got together before the holidays to figure out what image they wanted on a big wall near the square.
"We said 'Hey we should do something for Christmas. What can we do?' We were kind of like digging through our paint to see what we have," Perez said. "'Well I got a bunch of reds and greens, so we could do this.'"
Perez said they typically paint murals on the large wall that will stay up a few months. In the past, there's been scenes featuring movies like Alice in Wonderland and Nightmare Before Christmas. The wall across the alley will switch out more often, because of its smaller size.
"That's why the walls change so much, is because we don't have a lot of spots to paint. You know, if we had more spots to paint we wouldn't have to go over this stuff all the time," Perez said.
Perez is grateful to the owners of CCI Computer Services for allowing him to create murals on their business.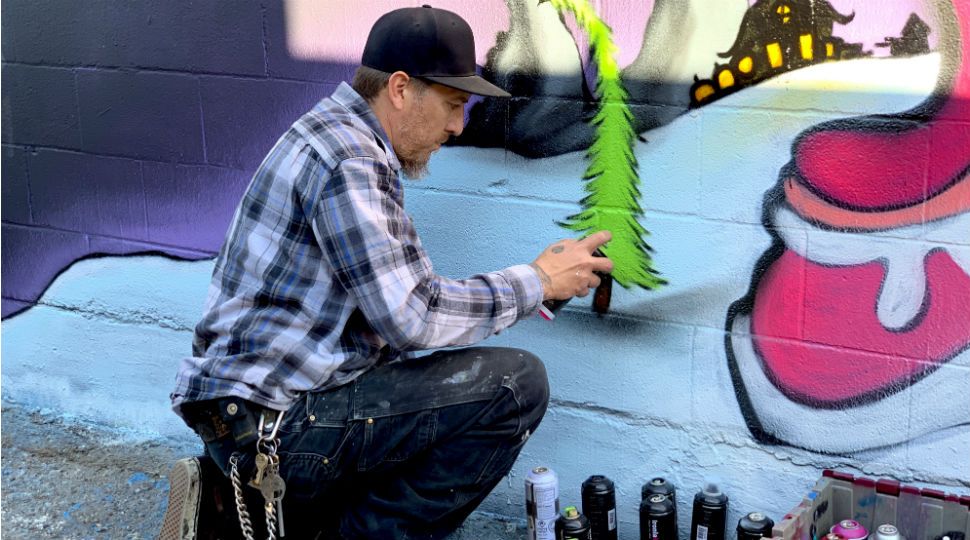 "We appreciate the business owners letting us paint here and that's kind of why we keep the graffiti clean is just to keep them happy. I came and weed-eat everything and cleaned up the trash and I usually do their parking lot just to give back and say thanks," Perez said.
While he isn't getting paid to paint, Perez said he's happy to have the community's support.
"It'd be cool to get paid to do it but we just want to have fun and not jeopardize our spot, so we always take care of it and make sure we clean up after ourselves," Perez said "It's been nice having the support. It makes us have more fun when people come by and they're like 'hey thanks.' We're like, man, that's cool. That feels better than any money we could have gotten."
Perez said he initially got into this type of spray paint art as a kid.
"My art history comes from probably skateboard graphics and old school graffiti influence from the 80s," Perez said. "I grew up in San Antonio, so there were always spots that people were painting when I was a kid."
When Perez initially started on the Grinch-themed mural, someone had tagged it with white spray paint. He said with the popularity of places like Castle Hill, it's expected someone may go over your work.
"There's just rules, and they don't know the rules. You know, you don't write on mural walls it's just out of respect for the artists," Perez said. "Be respectful. If they ever wanted to paint here, we'd be more than happy to give them a spot to paint, you know, to build their skills, but like we don't want to attract trouble or seem like we're attracting trouble."
The Grinch mural features the big green guy himself, Cindy Lou Who, Max, and a sign welcoming you to Whoville.
"We still keep the traditional lettering, the background. But we also incorporate themes that we think the community would appreciate," Perez said.
Perez says the mural will likely remain up a little past the holidays, until he thinks of the next character that will find its home on the same wall.