AUSTIN, Texas — At Thursday's San Antonio City Council A Session, the Sick and Safe Leave Ordinance (SSLO) became an official piece of local civic law.
Ordinance goes into effect Dec. 1, 2019
Victims of domestic abuse or sexual assault fall under SSLO
SSLO policy applicable to all businesses regardless of business size
The city council approved the measure 8 to 3. District 3 Rep. Rebecca Viagran and District 8 Rep. Manny Pelaez voted against the public policy. Before casting a "no," District 10 Rep. Clayton Perry predicted that the current version of the SSLO would eventually be legally challenged.
READ MORE | City Leaders Expect Legal Battle for Paid Sick Leave Ordinance
"Is this a now legal document?" Perry asked from the dais, "Or is it a little less illegal?"
Perry told the packed chambers, very little has changed since the original ordinance was passed last year.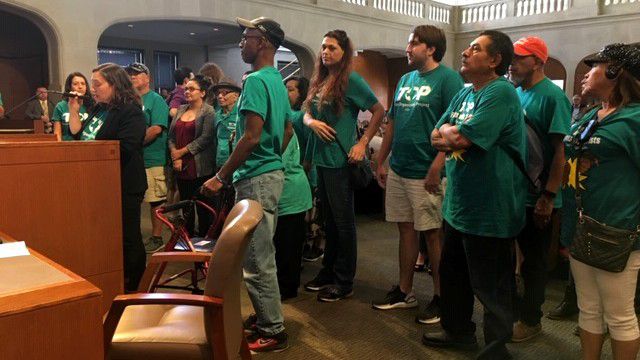 Photo of activists at San Antonio City Hall on Oct. 3, 2019 (Spectrum News)
"I think we're just putting lipstick on a pig here." Perry said. "This still has some major issues in it. Now it's really up to the courts to make a decision."
Reporters asked Mayor Ron Nirenberg if he would be willing to consider a delay to rolling out the SSLO.
READ MORE | City Seeks Input on Proposed Paid Sick Leave Ordinance Changes
"No. We entered the process in good faith. We brought together all the stakeholders, many of whom the plaintiffs would be represented by," said Nirenberg, "So we believe we came up with a consensus document that moves forward in the spirit of the original petition, but also addresses concerns that have been levied by members of the business community."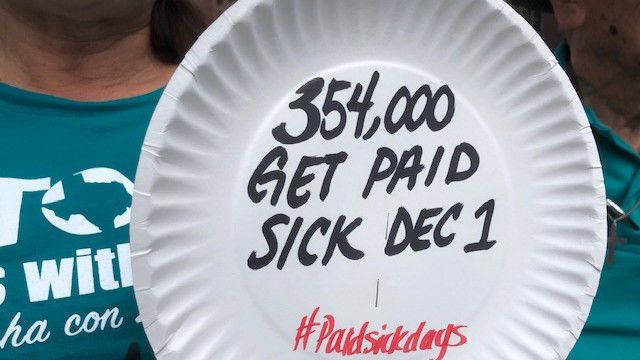 Photo of activists holding a sign at San Antonio City Hall on Oct. 3, 2019 (Spectrum News)
Attorney Roland Gonzales represents the Texas Retailers Association, Association of Convenience Store Retailers, and South Texas Merchants Association. Following Thursday's ordinance approval, Gonzales said "nothing has changed" with newly drafted SSLO. He also said regardless of the revisions the ordinance is "unconstitutional."
In July's lawsuit filed against the city, Gonzales wrote, "Paid Sick Leave Ordinance is preempted by the Texas Minimum Wage Act and the Texas Labor Code, and violates Intervener Plaintiffs' rights under the Texas Constitution to due course of law, equal protection, freedom of association, and freedom from unreasonable searches and seizures."
Texas Organizing Project labor leader Joleen Garcia celebrated the 8-3 vote and said regardless of the threat of any new lawsuit against the pro-worker policy, she will continue to defend the issue which impacts the estimated 354,000 San Antonians currently without sick paid benefits at work.
"We stand by the ordinance we just passed," said Garcia, "We're gonna continue to defend it all throughout any challenges that come our way."
The lawsuit filed this summer is currently on hold. Business and city lawyers are scheduled to go before a judge on November 8th.
Highlights of Sick and Safe Leave Ordinance:
The SSLO goes into effect December 1, 2019 for all businesses with employees who work within San Antonio city limits.
Businesses that offer at least 56 hours of paid time off will meet the minimum standards as long as their employees can use it for qualifying circumstances indicated in the ordinance.
The definition of an employee includes people who work temporary, seasonal, part-time, and full-time for pay within the San Antonio city limits.
Employees who work more than 50% of their time outside of San Antonio are covered under this ordinance if they work at least 240 hours within San Antonio city limits during the course of a year.
Upcoming Info Sessions:
October 16 – Urban Ecology Center 1:00 – 3:00 pm
November 4 – Central Library 5:30 -7:30 pm
November 7 – South Side Lyons Senior Center 4:00 – 6:00 pm