AUSTIN, Texas — It's beginning to feel a lot like Christmas in Austin.
You can drop off coats at ZIPS Dry Cleaners on South Lamar
Coat donations accepted until the end of the year
Need several sizes for children
While the cool weather reminds many of the holidays, it's also a reminder of a great need — warmth. One Austin ISD staffer wants to change that for 100 of her students.
If you didn't know any better, you would think Travis Heights Elementary School's Dianna Perez works for Santa Claus.
"It is kind of like Santa's workshop. It's busy, but there's a need," she said. "I love it and I thrive on chaos and right now it's happening, as you can see."
Perez is the school's parent support specialist, who serves as the liaison between the community and students.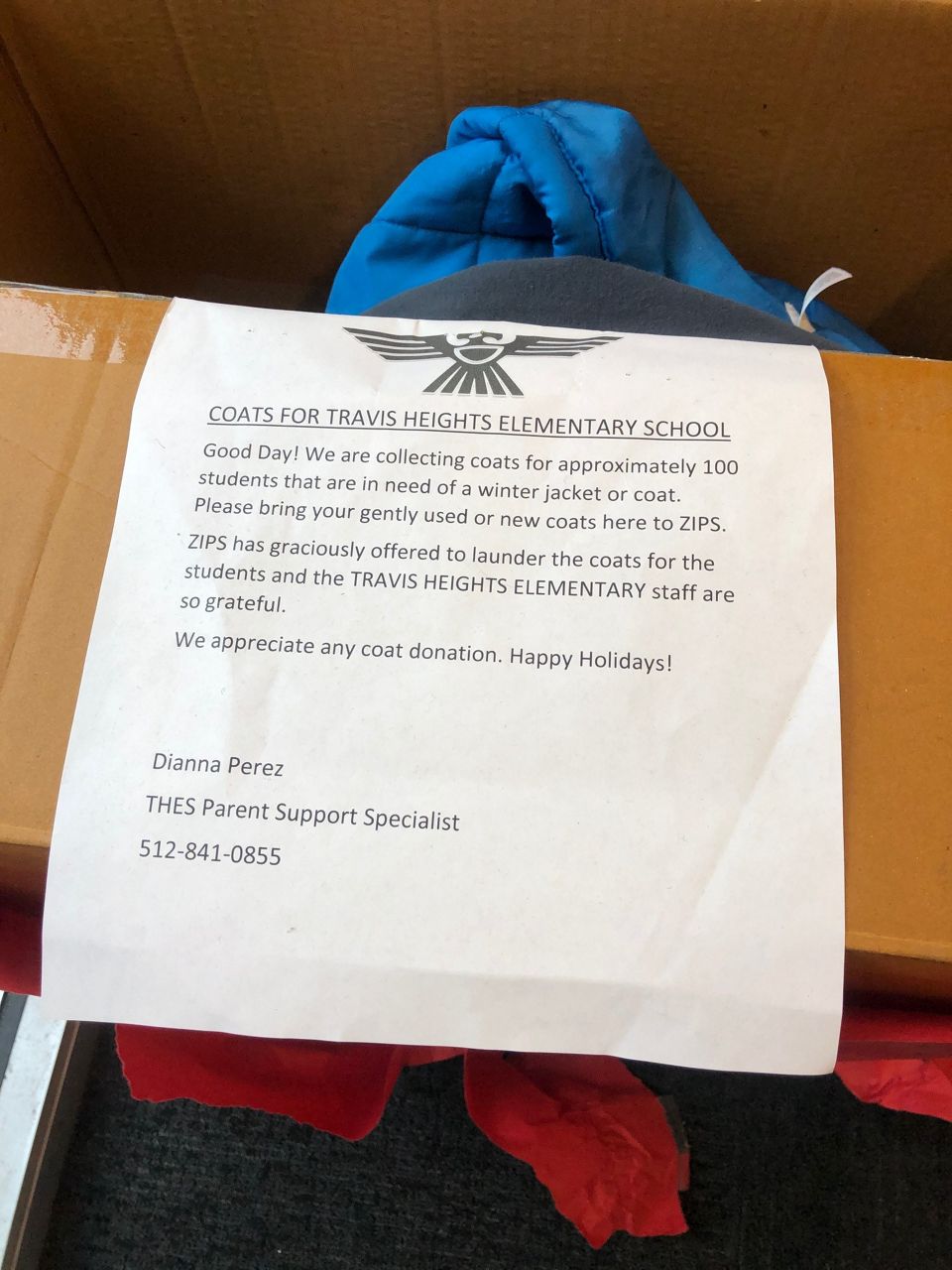 Photo of a sign asking for coat donations (Victoria Maranan/Spectrum News)
With gift-wrapped boxes stacked up, clothes, food and other necessities carefully organized in her office, it looked like a lot of work. But Perez doesn't mind because it's in her blood.
"I, myself, being from a single mom growing up, five kids, I know what it's like to need a food basket," she recalled. "I just feel like we just have to give, give, give."
To Perez, the need was hard to miss. Her office is situated right by one of the school's drop-off areas.
"Some of them are in far greater need than I can help them with, but I'm trying desperately," she added. "They say, 'don't take your work home' but I can't help it because I think about these people all the time."
When freezing temperatures swept through the city in November, Perez took matters into her own hands.
"Kids were coming with that walk from South Congress without jackets and they'd come in here bitterly cold," she tearfully shared. "So I layered them for the trip home and that's the lightbulb that went off, that we need a coat drive of our own."
That drive was matched by parents, teachers and the rest of the community — including a nearby dry cleaner.
Jason Frick of ZIPS Dry Cleaners on South Lamar said helping Perez collect coats was an easy sell.
"I'm born and raised Austinite, so I personally love giving back to the community," said Frick.
"He said, 'hey, we'll clean them for you.' I was like, so excited," Perez said. "I'm not gonna lie. I cried."
A donation box greeted customers as soon as they stepped inside ZIPS. So far, nearly 60 coats have been dropped off.
"For the dry cleaner to do that, for ZIPS to say 'we'll do all of them, just keep bringing them no charge' was just amazing," Perez gushed.
"Being able to provide that for somebody is just so meaningful to us," Frick responded.
"It makes me happy to do this job," Perez said. "It's a blessing and that's what community's about."
If you would like to donate, ZIPS Dry Cleaners plans to keep the donation box out at its South Lamar location until the end of the year. Some of the sizes that are still needed are 4Ts for kindergarteners and various sizes for 5th graders.