AUSTIN, Texas -- If you've long-suspected that the Capital City has some of the worst drivers in the state, a new report is confirming your fears and frustrations, but also reveals that a lot of other cities have it much worse.
Austin ranked as having worst drivers in Texas, 30th in U.S.
San Antonio ranked 2nd worst in Lone Star State
QuoteWizard report looked 2 million driver data points, including accidents, speeding tickets, DUIs 
Detroit recognized by company's report as America's best driving city
Austin drivers are indeed the worst in Texas, but ranked 30th in the country, according to the report by QuoteWizard, a company that offers online interactive marketing for insurance companies.
I-35 Through Downtown Austin
Ahead of the Fourth of July holiday, QuoteWizard said it used 2 million driver data points to determine which of America's 75 most populous metro city areas have the best and worst drivers, and how the cities stack up against each other.
The company sampled incident stats from users of its website, along with data points from 2016, to quantify driver standards for comparison.
QuoteWizard said it then weighted incident counts for each city with its occurrence percentage, to determine the final rankings -- which are the sum of weighted means calculated from these parameters:
Accidents
Speeding tickets
DUIs
Citations (running a red light, using a cellphone while driving, etc.)
"It's pretty aggressive here, even if there's just like a walk sign on the cross walk. There's always people who are like running the red light so as a pedestrian you have to be super careful," said Madison Mortimer, who is originally from Arizona.
"We've been at the top of many 'best of' lists, but this isn't a good list to be on," said Spectrum News Traffic Reporter LeAnn Wallace. "From a DUI standpoint, I'm sure police will tell you we have somewhat of a party culture in town with all the live shows and festivals we host. As far as accidents go, I think some of it has to do with all the new people moving to town being unfamiliar with the roads."
Spectrum News spoke to some Texans, who blamed all the people moving to the Lone Star State from across the country.
"There's a lot of new people coming into the City. It's had extreme growth, tremendous growth, over the past few years. There's a lot of new people coming in and, you know, driving practices might change people might not know the city as well as the locals do," said Mason Johnston, an Austin resident.

"The best thing to do is just to be defensive driver all the way around because you don't know if you're going to get a Californian or if you're going to get a New York driver, or Boston drivers," said Danielle Lemieux, an Austin resident. "I just feel like Texas drivers are all over the place."

San Antonio came in at second worst in the state, and 48th for the most challenged driving experience in the country.
Dallas, Houston and El Paso rounded out the top 5 Lone Star cities with bad drivers.
"One of the problems is that Austin drivers are either going 90 or 9 mph around town. And God helps us if it sprinkles, or if there's ice on the road," said Spectrum News Anchor, and long-time Austin commuter, Todd Boatwright. 
For the worst driving experience in the country, look no further than Sacramento, according to QuoteWizard.
The capital of California earned the new distinction as the "capital of bad drivers," due to the highest rate of traffic citations in the country. They're also close to the top for accidents and DUI's, the report found. 
At the top of the list for most favorable drivers in the country, Detroit was recognized by QuoteWizard as America's best driving city.
The Motor City was found to have the lowest accident rate and second lowest amount of speeding citations according to the data collected.
Full List (Worst to Best):
Sacramento, CA
Salt Lake City, UT
Riverside, CA
Richmond, VA
San Diego, CA
Los Angeles, CA
Columbus, OH
Omaha, NE
Denver, CO
Bakersfield, CA
Portland, OR
Virginia Beach, VA
Bay Area, CA
Charlotte, NC
Fresno, CA
Greenville, SC
Minneapolis, MN
Cleveland, OH
Boston, MA
Durham, NC
Wichita, KS
Atlanta, GA
Columbia, SC
Phoenix, AZ
Washington, DC
Greensboro, NC
Charleston, SC
Tucson, AZ
New Orleans, LA
Austin, TX *
Kansas City, MO
Cincinnati, OH
Boise, ID
St. Louis, MO
Hartford, CT
New York, NY
Seattle, WA
Jacksonville, FL
Colorado Springs, CO
Milwaukee, WI
Pittsburgh, PA
Oklahoma City, OK
Baltimore, MD
Nashville, TN
Dayton, OH
Albuquerque, MN
Rochester, NY
San Antonio, TX *
Madison, WI
Tampa, FL
Chicago, IL
Memphis, TN
Albany, NY
Bradenton, FL
Dallas, TX *
Lexington, KY
Philadelphia, PA
Buffalo, NY
Indianapolis, IN
Houston, TX *
Knoxville, TN
Grand Rapids, MI
Louisville, KY
El Paso, TX *
Honolulu, HI
Birmingham, AL
Tulsa, OK
Las Vegas, NV
Baton Rouge, LA
Allentown, PA
Little Rock, AR
Miami, FL
Orlando, FL
Providence, RI
Detroit, MI
* Texas Cities
For more on how QuoteWizard came up with the list, visit their website.
-- Austin is Still the Best --
Austin may have some "mobility challenges," but it still earned the top spot on U.S. News & World Report's 2017 list of the "100 Best Places to Live in the USA."
MORE | Austin Ranked No. 1 on US News 'Best 100 Places to Live' Ranking for 2017
U.S. News said it analyzed 100 metro areas in the U.S. to find the best places to live based on quality of life and the job market in each metro area, as well as the value of living there and people's desire to live there.
Austin ranks as No. 1 in 2017 with an overall score of 7.8 out of 10.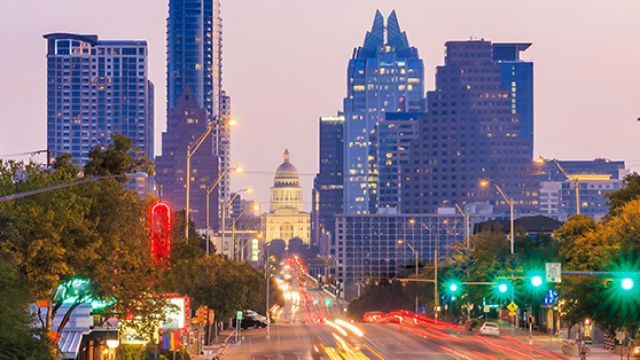 "About 50 people move to Austin every day, drawn to the Texas capital's music, outdoor spaces and cultural institutions. Austin was established along the Colorado River on the edge of the Hill Country in 1839. Originally named "Waterloo," Austin remains rich in history, from the bronze statue of Stevie Ray Vaughan that greets visitors near the river, to the stately Capitol that anchors downtown, to the LBJ Presidential Library at the University of Texas at Austin," added U.S. News.
Austin Mayor Steve Adler posted the following on Facebook in response:
"It's official. U.S. News and World Report has named Austin the best place to live in the United States. We celebrate what we're doing right to be ranked first, recognizing it also highlights the accompanying affordability, equity, and mobility challenges that our city faces. Inherent in that ranking is the strength to manage growth so we can preserve Austin's special spirit."
---
RELATED STORIES:
---
Join the Discussion:
Follow Spectrum News Austin on  Facebook | Twitter | Instagram