This year's Consumer Electronics Show was online only, but the largest-ever digital event still managed to showcase products from almost 2,000 companies. As much as CES is known for big announcements about televisions, gaming systems, and other products that have a screen, it is also a place where smaller companies show off their big ideas. Following are some of our favorite finds at this year's show.
If you're a person prone to losing things, Foxsmart Systems offers a solution with its Findy. Billed as the world's smallest tracking device, it is a small and lightweight device that fits on the temple of a pair of eyeglasses or at its end behind the ear. Available in black or transparent, it uses Bluetooth to locate a person's eyewear when it is called upon to find the last location where they were worn and then transmits that data to a smartphone or makes them beep if they're nearby.
People who are tired of cooking for themselves during the pandemic might be interested in the British startup's robotic kitchen, Moley. The system uses five robotic hands equipped with pressure sensors to exert the right grip on utensils and ingredients. Users select a recipe from a nearby computer or program in one of their own, and the arms get to work, chopping, scooping, and stirring. Just don't expect them to do the dishes.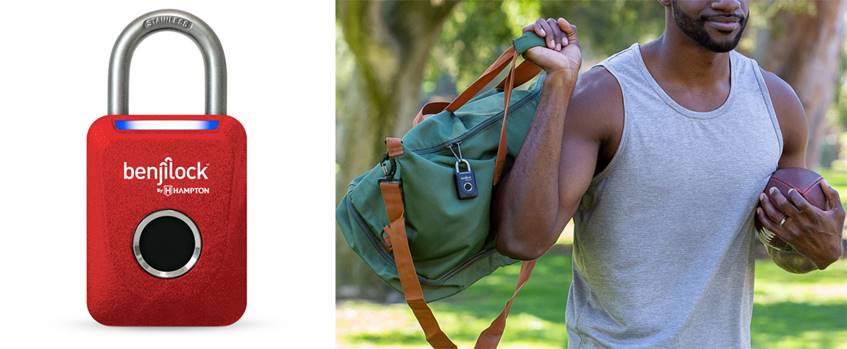 Almost three years after inventor Robbie Cabral appeared on ABC's "Shark Tank" to show off his fingerprint padlock prototype, the company that bought his idea has introduced a new fingerprint sport lock. BenjiLock by Hampton opens with the touch of a user's programmed fingerprint instead of a key and can store up to 10 fingerprints, so friends and family can also use it. Hampton Products also make a fingerprint padlock, travel lock, bike lock, and door lock.
They say necessity is the mother of invention, but commercial director Ira Rosensweig said his inspiration for Crew in a Box was fear. In March, when the pandemic shut down most film and television production, "I panicked, thinking what would this do to my career." Realizing it could be a long time before things returned to normal, he partnered with industry friends on a solution. Crew In a Box is the world's first professional-quality, plug-and-play, remote video production solution. As soon as the camera is plugged in, the box automatically connects over the internet to a remote operator who controls every single component in the box: the cinema camera, LED light, two microphones, and a teleprompter. Clients can join a video conference where they view a high-resolution feed and participate as if they were on set.
Lipsticks can be tricky to buy, especially at a drugstore where it's impossible to try the color before buying. Lip Factory uses a smartphone app called Color Tailor that suggests the best lip color for a customer using artificial intelligence to assess skin tone and then uses a lip makeup pigment dispenser to produce custom makeup in the desired color on the spot.
Robotic pets have been around for years, but the new Moflin AI pet from Vanguard Industries uses artificial intelligence to evolve its emotional capabilities as if it were a living animal. With warm fur and cuddly sounds and movement, the Moflin uses sensors to monitor its interactions and adjust their behavior accordingly. The company says the pet has an infinite number of mobile and sound pattern combinations so it can respond to its owner and express feelings, much like a living, breathing animal.
A lot of people adopted pets during the pandemic and have had the luxury of caring for them while they work at home. But there comes a time when a pet owner needs to leave the house, and the myQ Pet Portal offers a way for them to let their dogs safely outside when they're away. The pet portal is a dog door that includes safety sensors that communicate with a sensor worn on the dog's collar and automatically opens for the dog to go out, closing it and locking it behind him so other critters can't sneak in. The system also has a two-way camera and audio, so pet owners can see and hear a pet's comings and goings with a companion app on their smartphones.