ST. PETERSBURG, Fla. — A decade-long odyssey involving the Tampa Bay Rays, the City of St. Petersburg, Hillsborough County, Major League Baseball and even Montreal, among other parties, appears to be nearing an end.
The Rays, joined by officials with the city of St. Pete and Pinellas County, announced on Tuesday plans for a new stadium to be built near the current Tropicana Field.
The team has played at the Trop since its inaugural season of 1998.
"Major League Baseball is here to stay. Right here," the team's principal owner, Stu Sternberg, said to applause. He then joked, "Technically it's in the parking lot over there."
Sternberg, who bought the team 18 years ago when they were still called the Devil Rays, called the journey a "bumpy one."
"Things don't always progress in a straight line," he said.
Mayor Ken Welch said the new development will fuel progress in the city and county for decades to come.
"I believe in our community and the quality and vision of our leadership and partners," he said. "This is what the community was promised."
He added: "We are duty bound with our intentional efforts to honor the broken promises made to the Historic Gas Plant community, an incredibly special place that my own family called home."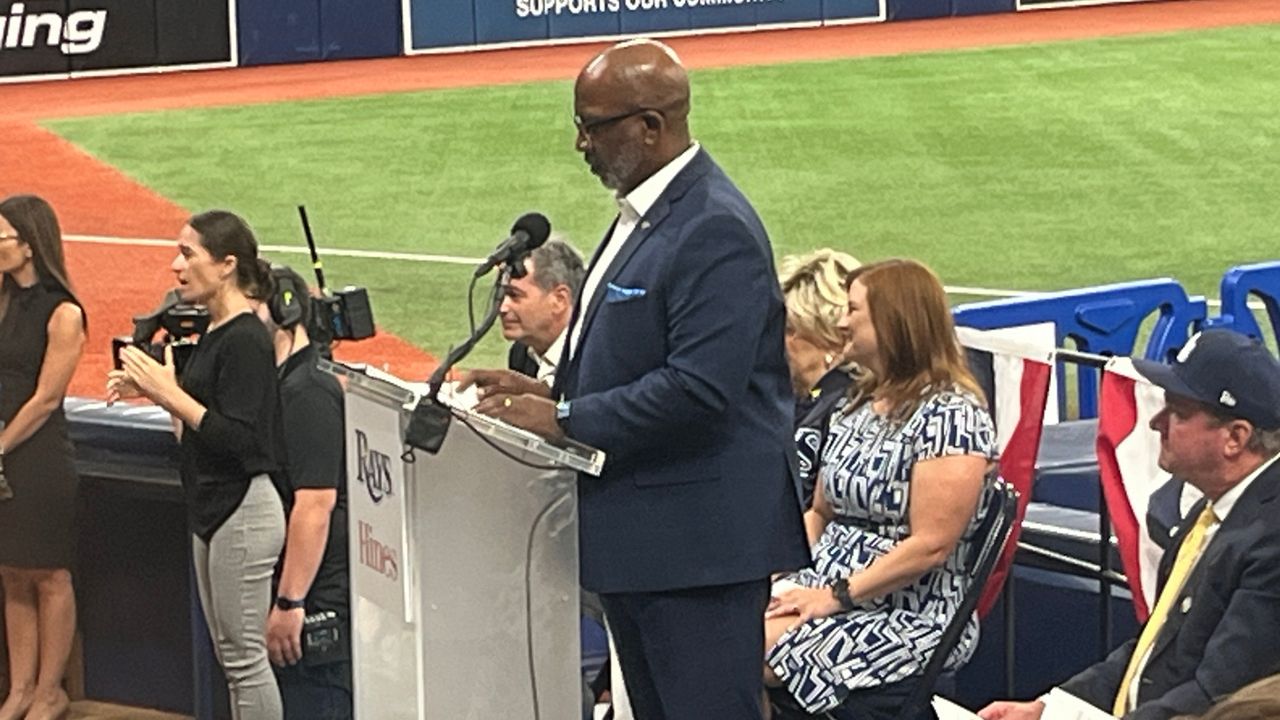 St. Pete Mayor Ken Welch speaks during Tuesday's stadium announcement. (Angie Angers/Spectrum Bay News 9)
Commissioner Janet Long said the new stadium would create 4,500 construction jobs and more than 15,000 annual jobs.
"Pinellas County is now a true sports destination," she said. "This project is a home run."
"This is an unprecedented opportunity with huge economic, workforce, and quality of life potential for our residents," Long said. "This is the largest economic development project in this County's history. It goes without saying how proud we are to be a part of creating a new venue for Pinellas County families to enjoy for generations to come."
Tampa Mayor Jane Castor also joined in on the celebration on social media saying a win for St. Pete is a win for all Tampa Bay.
HOW DID WE GET HERE?
The team's stadium pursuit has been an ongoing adventure that has prompted ballpark ideas in Pinellas County, Hillsborough County and surrounding areas.
In 2016, the team received permission from St. Petersburg to pursue a stadium in Tampa but despite a site location being determined in the Ybor City-Channelside area, no financing could be worked out.
There was even a more recent flirtation with the city of Montreal over a split-city plan. That idea eventually was shot down by Major League Baseball.
In January, St. Pete Mayor Ken Welch announced his choice of the Hines-Rays team to redevelop Tropicana Field and the surrounding Gas Plant District, ending the years-long search for a developer. Part of the Hines-Rays plan includes building more affordable housing, outdoor space and entertainment, in addition to a new stadium. Officials with the Hines team spoke at Tuesday's news conference.
The new ballpark is expected to cost $1.2 billion. The 30,000-seat domed facility will be built near the current Tropicana Field site as part of the 86-acre Historic Gas Plant District redevelopment.
WHAT WILL BE INCLUDED?
Once fully built, the project is planned to include:
4,800 residential units
1,200 affordable/workforce residential units (on and off-site)
600 senior living units
1,400,000 square feet of office, medical and commercial space
750,000 square feet of retail
750 hotel rooms
100,000 square feet of entertainment space, including a concert venue to seat up to 4,000
50,000 square feet of civic space, namely a new home for the Carter G. Woodson African American Museum
90,000 - 100,000 square feet of conference, ballroom and meeting space
14 acres of public open space
14,000 parking spaces
"It is a major commitment for our organization to fund $700 million or more into this ballpark and that shows the confidence that we have in being here," said the Rays' Matt Silverman. He said he wants the stadium to be the crown jewel of Tampa Bay.
Construction on the transformational development is expected to begin in late 2024 in the first of two phases. The team will continue to play in the existing ballpark on the site until the end of its current lease with the City of St. Petersburg in 2027. Phase 1 of the development and the new ballpark are projected to be ready by Opening Day 2028.
"Hines, in partnership with the Tampa Bay Rays, is honored to bring this transformative, city-defining project to life. Our goal is to create St. Petersburg's next great place to live, work, and play for all of St. Petersburg, while also generating one of the most exciting mixed-use placemaking destinations in the world," said Michael Harrison, senior managing director of Hines.
He added: ""Here's a great opportunity to do an affordable housing project that when it's complete can actually offer opportunities for some of the Gas Plant residents that once lived there to come back if they so choose."
INTERVIEW: Alexis Muellner of the Tampa Bay Business Journal speaks with Spectrum Bay News 9's Jeff Butera about the project.
Sternberg told our partners at the Tampa Bay Times that the team is willing to contribute half the cost of the new stadium which is estimated at roughly $600 million.
The rest of the money would likely come from the city of St. Pete and Pinellas County.
HOW DOES THIS COMPARE TO OTHER NEW STADIUMS?
Spectrum News did some research into the three most recent new ballparks in Major League Baseball.
Atlanta's Truist Park was completed in 2017. It is a public-private partnership.
The stadium cost $672 million, and $452 million for the area around the stadium. Taxpayers paid about $400 million for that stadium.
In 2012, Marlins Park opened in Miami. It's also a public-private partnership. They spent between $515 million and $630 million. The city and county paid for more than 75% of it.
And in Minnesota, Target Field was built back in 2010. The stadium cost was $435 million. Taxpayers covered more than half, mostly through a county-wide sales tax.

So taxpayers covering less than half of the cost here would be about average, maybe a little less than average than the recent deals.
HOW DOES THIS AFFECT THE ON-FIELD PRODUCT?
For now, the new stadium announcement does little to help the 2023-2027 Rays.
But everybody likes to drive and ride in a shiny new car, right?
With a new ballpark and the Rays' commitment to an increasing payroll because of it, free agents in future years might view Tampa Bay as their new home.
Combine an increased payroll with the team's recent success – five straight postseasons counting this year – and the Rays become attractive.