GULFPORT, Fla. — Fashion designer Tayler Sallee and her partner make it a habit to shop at local thrift stores. Sallee's specialty is creating zero-waste fashion.

"Everything that I make comes from thrifted and vintage materials, it's very important for the planet, fair treatment of people,'' said Tayler Sallee of Tailor Sallee Sustainable Fashion Studio. "By taking this, cutting it up and reworking it, we're saving natural resources."

---
What You Need To Know
Tayler Sallee is a fashion designer that creates zero-waste fashion


Sallee started off making clothes for people and now she's creating outfits for dogs


Along with her dog, Lolly, Sallee coordinates with local animal shelters to hold fashion shows featuring dogs up for adoption wearing Sallee's designs
---
Sallee first created clothing for people, she now caters to pets, too.

Her furry diva, Lolly, stands in as a supermodel for fittings.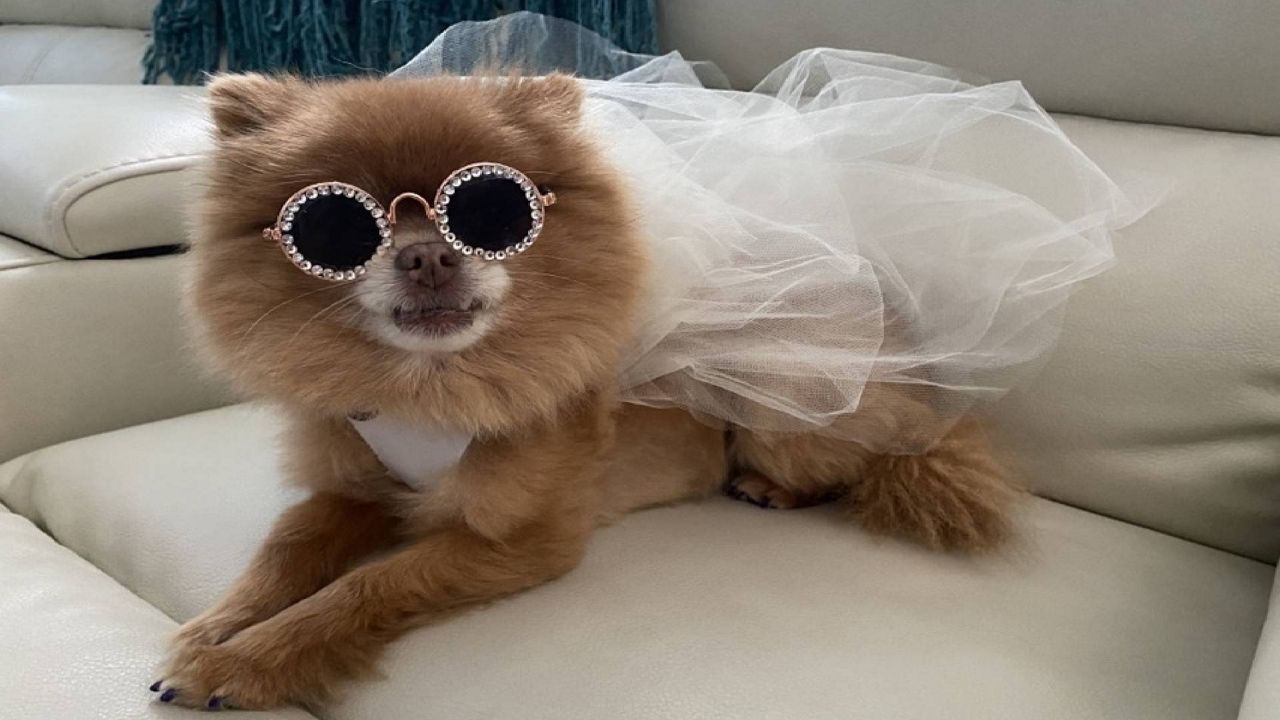 "We're trying to get more florals and definitely some tulle for the train," said Sallee.

The Pomeranian princess isn't the only super model to go from rescue to the runway. The couple coordinates with local animal shelters to hold fashion shows featuring dogs up for adoption wearing Sallee's designs.

"Everybody gets a chance to see the dogs on the runway and get a chance to adopt them." said Sallee.
With the perfect fabric find at the thrift store, Sallee heads back to her home studio where all of her designs are handmade.
"I usually use her old dresses as kind of like a template," said Sallee as she works to cut and sew a new dress for Lolly.

The 25-year-old from Kansas City, Missouri was self-taught before heading to the Art Institute of Tampa.
"I started re-working denim in middle school and then in high school, I started really putting pieces together and accessorizing and playing with prints and color," said Sallee.

Her sustainable fashion still focuses on re-working pre-loved pieces that can now be re-loved.

"What I like about designing fashion is that I know it was made with love. I know exactly where my clothes are coming from and I love the process of sewing, (it's) very meditative to me and very humbling," said Sallee.

Made with a lot of love, Lolly's re-worked dress is runway ready. A final fitting and styled with sunglasses, Sallee hopes designs like this help bring dogs happiness and get them adopted during the next sustainable fashion show this summer.

And with every piece of clothing she creates for pets or people, Sallee takes comfort knowing she's doing her part to help protect the planet.