July has been relatively quiet in the tropics thanks to strong winds aloft and dry, dusty air coming off the coast of Africa.
Strong winds higher-up in the atmosphere help prevent thunderstorms from further developing into potential tropical systems while the dry, dusty air helps stabilize the atmosphere.
But, we are now approaching August. This is normally the month where the dust subsides, and the environmental conditions across the Atlantic Basin become more conducive for potential tropical development.
We have had three named storms so far through mid-July in the Altantic. All the systems have peaked at tropical storm strength.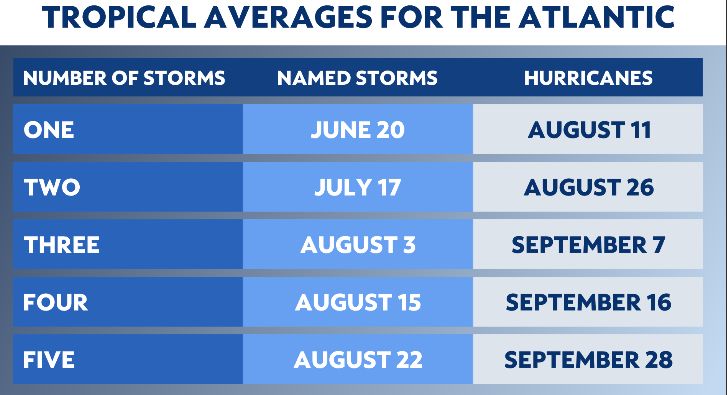 The average number of named storms through mid-to-late July is two. So we are slightly ahead of the climatological calendar in the Atlantic Basin, but not by much.
You may then be wondering when is the usual time we see the first hurricane develop in the Atlantic?
Well, the current 30-year average (1991-2020) for the first hurricane is Aug. 11.
Four of the past five seasons, the first hurricane has formed in July. The earliest of those was Elsa, which formed on July 2 last season.
You have to go back to 2017 to find the last hurricane to develop in August. This was Hurricane Franklin, which strengthened into a hurricane on Aug. 9.
Once we approach the end of August, that is when we normally have had two hurricanes develop.
The average first major hurricane, meaning a category 3 or stronger, rarely occurs until Sept. 1. This is close to the statistical peak of hurricane season, which is on Sept. 10.
Hurricane Grace was the first major hurricane in 2021. It became a major hurricane on Aug. 21.
While the tropics have been relatively quiet through most of July, we still have yet to enter the peak of the season.
It is always important to have your plans in place well ahead of any approaching storm.
As we always say on Spectrum News, don't be scared, just be prepared.