Ah, spring! It's the time of year when flowers bloom and we get to enjoy time outdoors before temperatures get too hot again. It's also the season of severe weather.
The number one storm-related killer in Texas is also one of the most avoidable weather hazards: flooding.
Flooding of rivers, lakes and other waterways takes a while to develop but the worst kind happens in a very short amount of time following a heavy deluge of rain, what we call flash flooding.
During a flash flood, water levels rise several inches or even feet in a very short amount of time, minutes, not unlike a tidal wave or tsunami.
While they can occur any time of year, day or night, flash floods most frequently disrupt our lives during the spring storm season.
Some of the worst flash flooding in the country historically happens in Texas in what we call Flash Flood Alley, an area from San Antonio to Dallas along and west of the I-35 corridor.
Why here? The combination of heavy rain events and impermeable limestone, along with hilly terrain and increased urbanization, means water from downpours can run off and channel faster than absorption into the ground. That turns dry creeks into what look like rivers, for example, with little notice.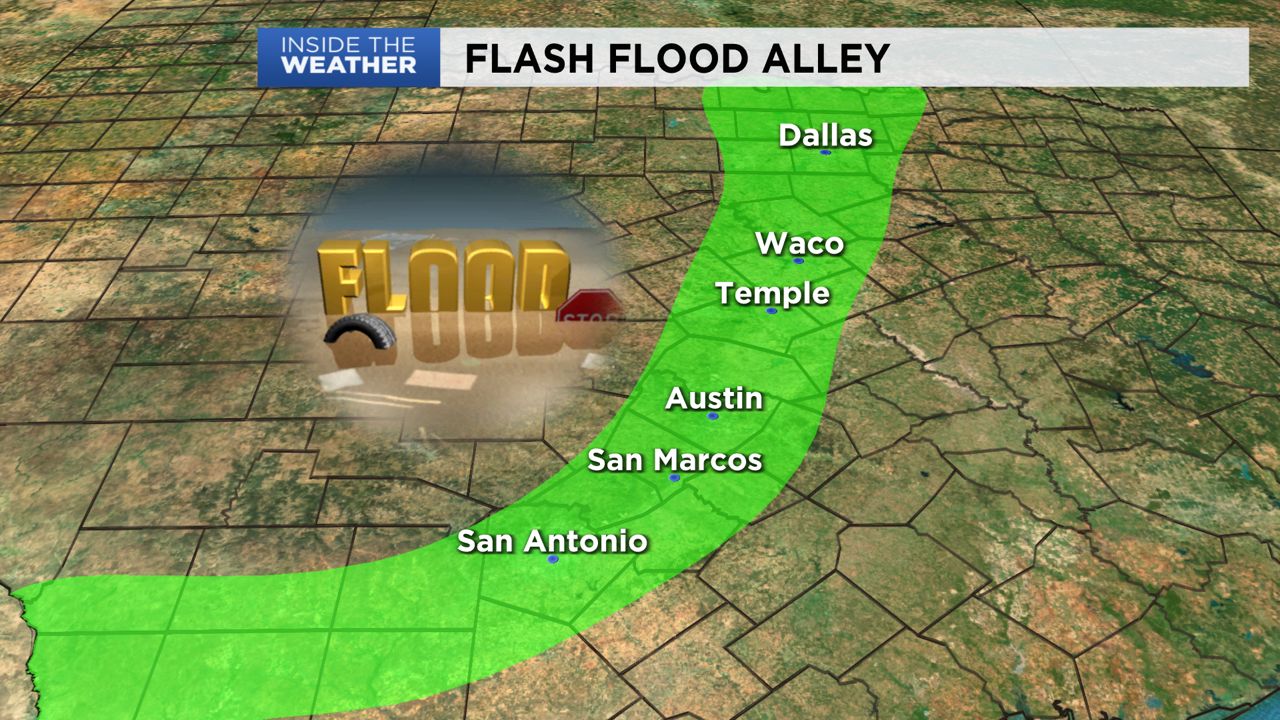 To stay safe during a flood, you have to pay attention to water levels and stay on high ground.
Preparedness tips
Get familiar with the waterways around you. Take note of the streams, creeks, rivers you travel near and across during your normal routine – the closest might be in your own backyard. Keep in mind, some of these waterways might be dry except during rain events.
Take special note of any low water crossings, and know alternate routes around these potentially dangerous intersections of road and water.
If you live in a low-lying or flood-prone area, make sure your family has a plan to get to high ground and into a safe shelter should water levels rise.
During a flood event, avoid travel especially at night when it's hardest to see where roads could be flooded. It's a fact: during floods, more people die in cars than anywhere else.
Never drive through water when it is flowing over roadways – turn around, don't drown! A foot of moving water can sweep a car off the road, and a person can be swept off their feet in as little as six inches.
Find out the elevation of your home, and evaluate whether or not your property needs flood insurance. Keep in mind, new development and construction can change the floodplain.
Flood alerts to be aware of:
Flood Watch: Conditions are favorable for flooding to occur in the watch area. Keep an eye on the weather, and watch for rising water.
Flood Warning: Flooding is occurring or imminent. Do not drive in the warning area. Stay indoors and on high ground. Stay back from fast-flowing waterways.
Be sure you have a reliable way to get weather alerts should they be issued for your area, including the Spectrum News app.
For the 2022 spring season, the long range forecast calls for drier-than-normal and warmer-than-normal conditions across all of the Lone Star State. The primary reason? La Niña continues in the Pacific ocean, which historically means drier conditions for Texas.
La Niña is a cyclical phenomenon that occurs every few years near the equator, where waters turn cooler than normal. It's a teleconnection between the ocean and atmosphere that alters the path of the jet stream or storm track. While typically not as impactful as spring, Texas historically experiences a secondary severe/flood season during the fall months, as well.
Enjoy the outdoors but remember to stay weather-aware!
For more information:
USGS TX Water Dashboard https://txpub.usgs.gov/txwaterdashboard/
Texas Water Development Board https://www.texmesonet.org/
LCRA Highland Lakes Flood Status https://hydromet.lcra.org/floodstatus