TEXAS — Parents feel safe allowing their children to return to in-school learning, but, at the same time, most fear their child will catch COVID-19. This seemingly contradictory revelation is part of an exclusive Spectrum News/Ipsos poll released this week.
As the debate about how to handle getting children safely back to school continues nationwide, Ipsos, a global research insight and analytics company, gathered data on this and other current news topics from more than 1,300 Texans, including more than 400 parents of school-aged children.
The poll found that two-thirds of parents (64%) said they feel their child would be safe returning to school, yet two-thirds (66%) also fear their child will catch COVID-19.
In the age of the delta variant, the virus permeated every issue on the survey, including parents' concerns over the mental health of their children during the pandemic and whether their children are behind in school after being off from school last year.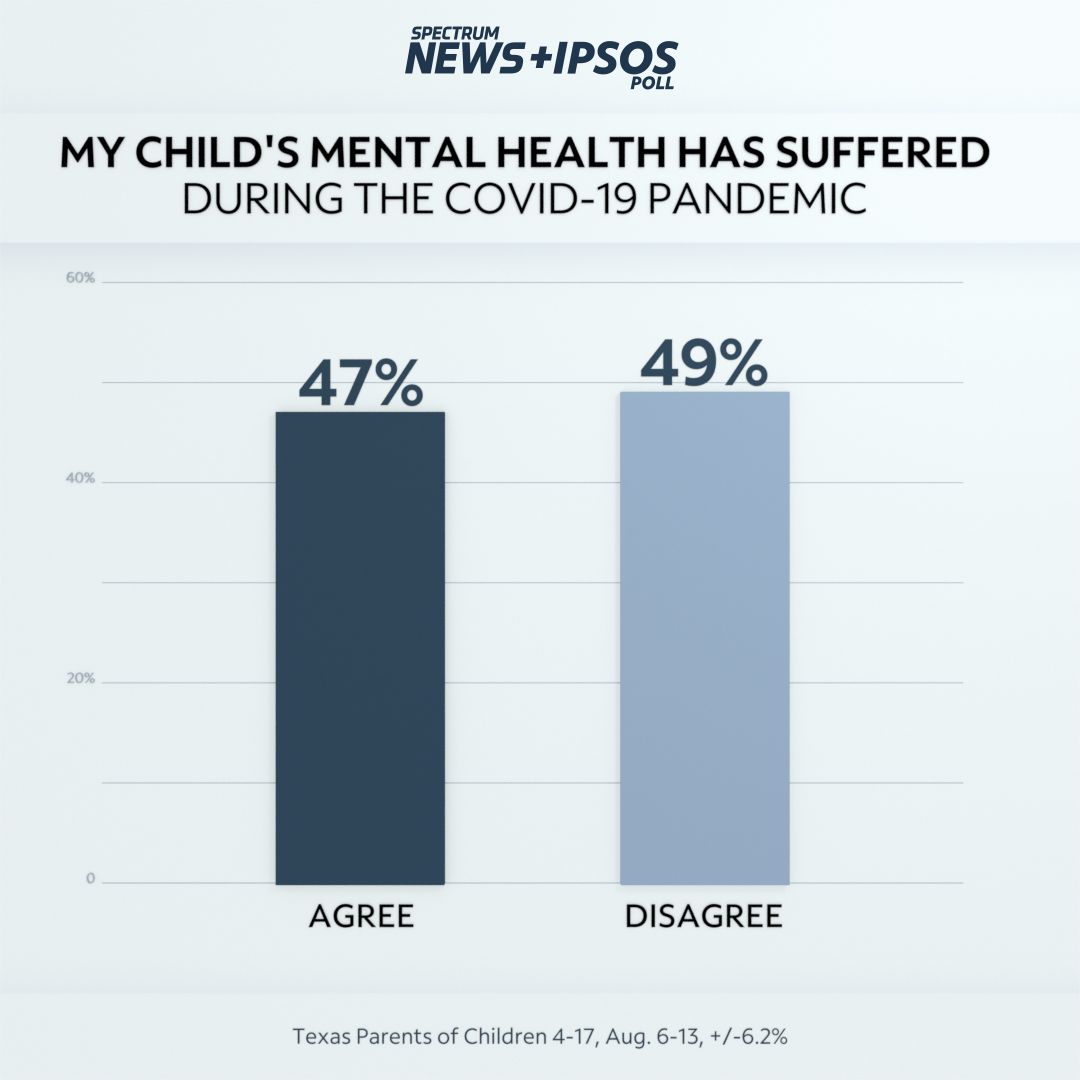 The poll revealed that Texans' feelings toward COVID-19 don't generally align with Gov. Greg Abbott's orders, but they are still supportive of classrooms being open — for those who want it.
"COVID-19 remains a top-of-mind issue for Texans, and one that is front and center," said Mallory Newall, vice president of U.S. public affairs for Ipsos. "They're certainly looking at how the governor's handling it, but they're also looking at policies being enacted, what's happening in schools and what's happening with businesses. It kind of all plays into their view that COVID is still very much a main issue in the state right now.
"Parents' concern isn't necessarily outweighing their desire for their kids to return to in-person schools," she continued. "However, most parents want to see common-sense policies in place to protect their kids and to keep them safe. And for those that want them, they feel that virtual options should still be made available."
Around half of parents, 49%, approve of Abbott's plans for sending children back to school, and parents do not differ from the general public on this (47% of parents with kids 4-17 approve). Notably, just 39% of Texans agree that policymakers in the state are making decisions about COVID-19 that are based on science. Republican parents are the only demographic group in the survey in which a majority agree with this statement.
The survey found about half of Texas parents say they are worried about their child right now (49%), that their mental health has suffered during the pandemic (47%), and that they do not/would not have enough time to help with remote learning (49%).
Young people's mental health deteriorated during the pandemic when cabin fever exacerbated family conflicts and closed schools left children isolated from normal activities and peers.
At last count, there were on average only 9.75 U.S. child psychiatrists per 100,000 children under age 19. The American Academy of Child and Adolescent Psychiatry says we need more than four times that many. The psychiatrists also congregate in big cities. More than two-thirds of U.S. counties don't have even one.
In K-12 classrooms, where children's problems are often first identified, there is only one school psychologist for every 1,211 students, when the ratio should be 1 to 500, according to data from the National Association of School Psychologists.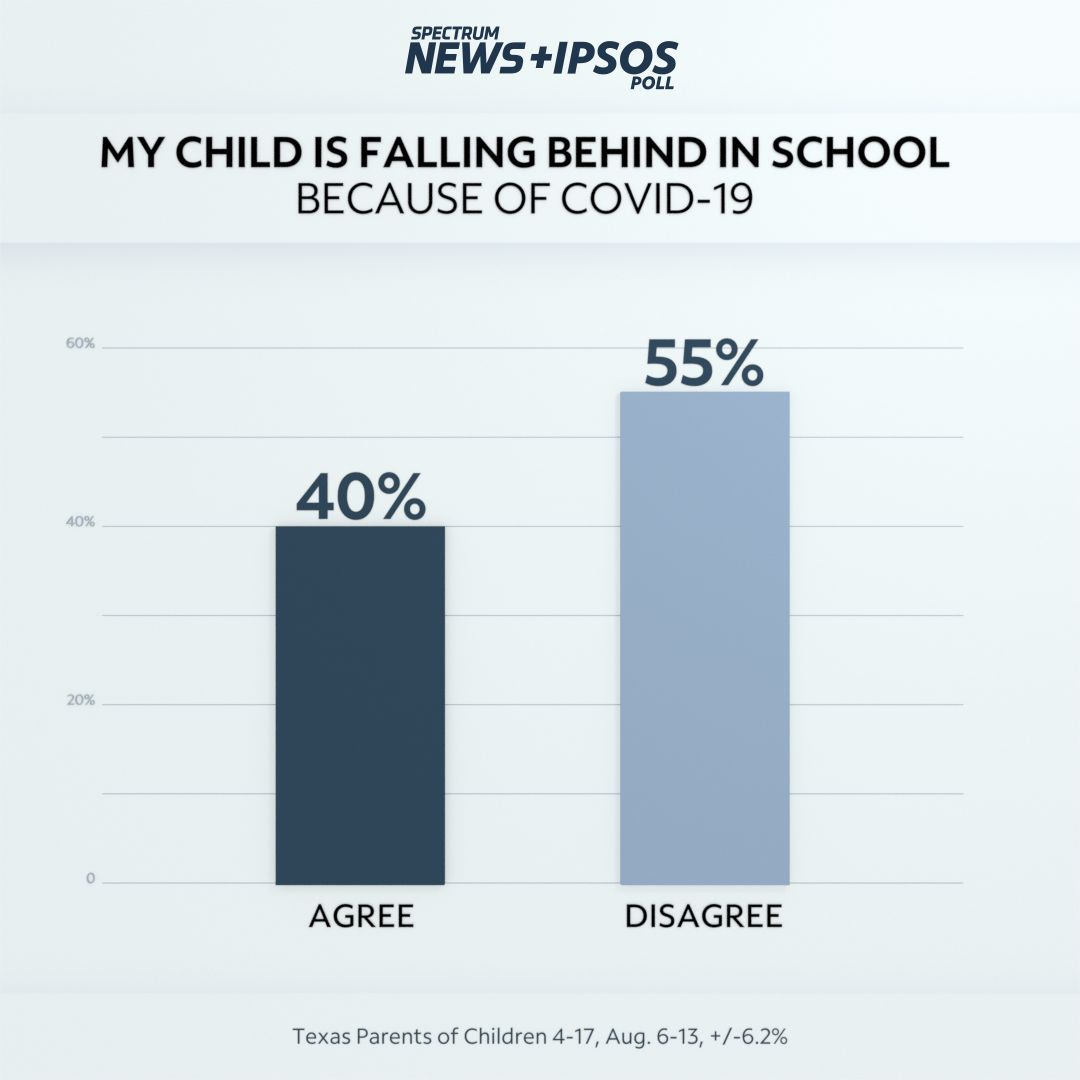 The poll showed two-thirds of parents believe their children will make up lost ground from last year's COVID-related shutdown.
New research suggests some students have lost the equivalent of a full school year's worth of academic gains. Racial and socioeconomic achievement gaps will most likely widen because of disparities in access to computers, home internet connections and direct instruction from teachers. High school dropout rates could increase, researchers say, while younger children could miss out on foundational concepts in phonics and fractions that prepare them for a lifetime of learning and working.
"When it comes to education and COVID, I think the biggest point of intersection is how we are able to get students back in the classrooms safely and how the state can continue to reopen with common-sense measures in place," Newall said. "And importantly, what this data tells me is that right now, Texans are not aligned with the governor."