Global weather patterns are nothing new, and meteorologists can predict them by knowing the state of the current climate.
El Niño, La Niña and Neutral states oscillate every few years across the globe, and another change is on the horizon, according to the National Oceanic and Atmospheric Administration (NOAA).
Different phases of the El Niño-Southern Oscillation, or ENSO for short, dictate these global climate patterns.
ENSO is a recurring climate pattern that is dictated by the sea surface temperatures across a specific region of the Pacific Ocean. This change in water temperature influences global circulations by creating pockets of rising and sinking air.
These pockets of rising and sinking air have major implications on wind shear, temperature and precipitation forecasts across the globe.
You are most likely familiar with ENSO when it comes to hurricane season.
During La Niña years - like the past three years - sea surface temperatures remain colder than average across a pocket of the Pacific Ocean. This area leads to enhanced sinking air and wind shear. This limits hurricane development in the Pacific basin while enhancing rising air and tropical system development in the Atlantic basin.
La Niña has also led to drier and warmer winters these past several years across the deep south and northeast United States. The reason is because the jet stream remains more variable and building ridges across the deep south can heavily influence it, helping to pump warmer tropical air into the United States.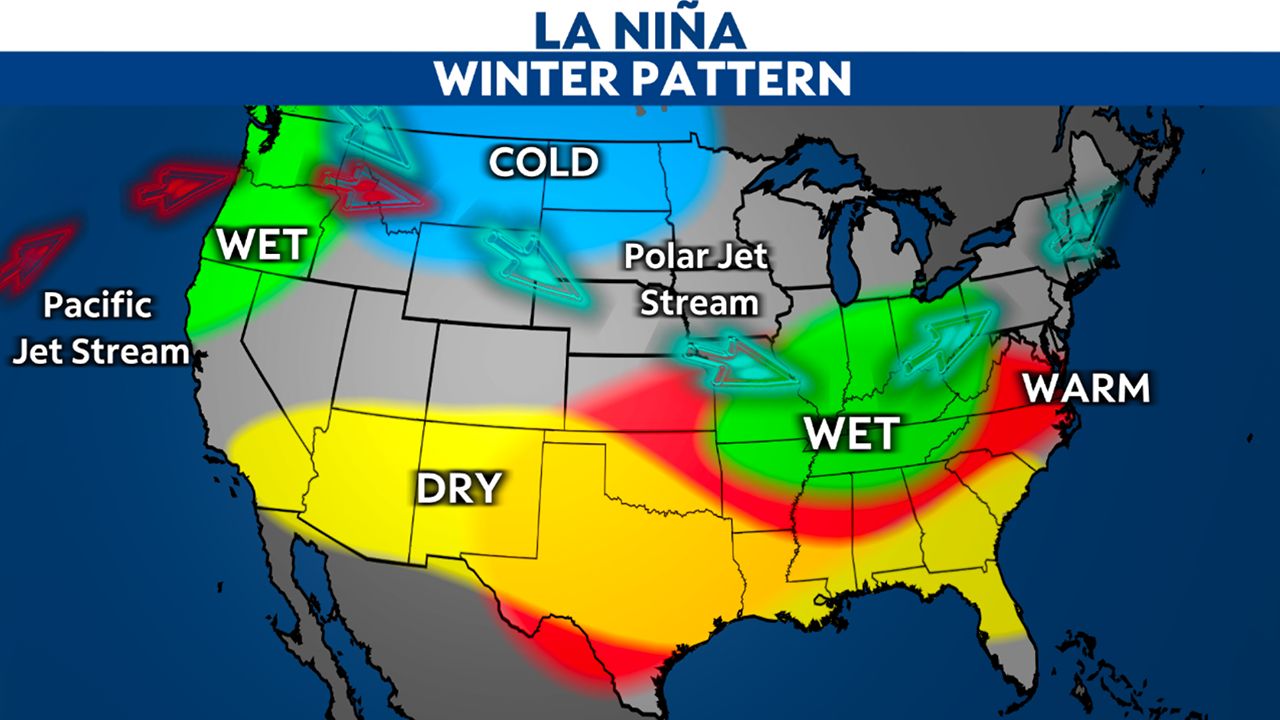 According to the Climate Prediction Center's (CPC) ENSO Diagnostic Discussion published on Jan. 12, NOAA and the CPC expect La Niña to fizzle out by March or April, transitioning to neutral conditions.
A neutral state implies that sea surface temperatures across a pocket of the Pacific Basin will remain near average. We declare El Niño or La Niña when sea surface temperatures rise or dip beyond half a degree.

These neutral conditions are likely to last into early summer before odds increase of a potential El Niño development just in time for the peak of hurricane season.
Neutral conditions lead to near normal weather patterns for the globe.
If El Niño develops later this summer, we could see a slight decrease in hurricane development for the Atlantic basin.
The ENSO pattern would also likely produce more moisture for the southern United States and Gulf Coast, and a greater flooding threat may develop by late summer into early fall.
For the past few weeks, rounds of deep tropical moisture have inundated California. These bouts of moisture, known as atmospheric rivers, produce excessive rainfall and snowfall rates to the Golden State of California.
During neutral or El Niño events, climatologists with NOAA's CPC say millions of residents in the Golden State are susceptible to excessive rainfall which can lead to mudslides, flooding and several gloomy days.
NOAA says the northern and central parts of California are most important to focus on during these times, as most of the western region's reservoirs reside in these locations. While drought continues for the western U.S., there has been some improvement over the past several weeks.
As we eye a change in our ENSO pattern in the next few months, those out west will hope for more improvement as we work our way toward spring and summer.
Our team of meteorologists dives deep into the science of weather and breaks down timely weather data and information. To view more weather and climate stories, check out our weather blogs section.