ANAHEIM, Calif. — As California's economy reopens Tuesday, Disneyland and other theme parks across Southern California have updated their face coverings and social distancing policies to adhere to the state's new guidelines.
Starting Tuesday, Disneyland and Universal Studios Hollywood visitors who are fully vaccinated can ditch the masks.
Knott's Berry Farm will not enforce social distancing at the marketplace and their Buena Park theme park.
And out-of-state visitors can now buy tickets to visit Universal Studios Hollywood, Disneyland and other theme parks across the state.
"Starting June 15, face coverings will no longer be required for fully vaccinated guests both indoors and outdoors," said Dr. Pam Hymel, chief medical officer at Disney Parks, Experiences and Products, in a letter to cast members.
Hymel said guests would not be required to show proof of vaccination.
"Vaccinated guests will self-attest that they are in compliance," she said.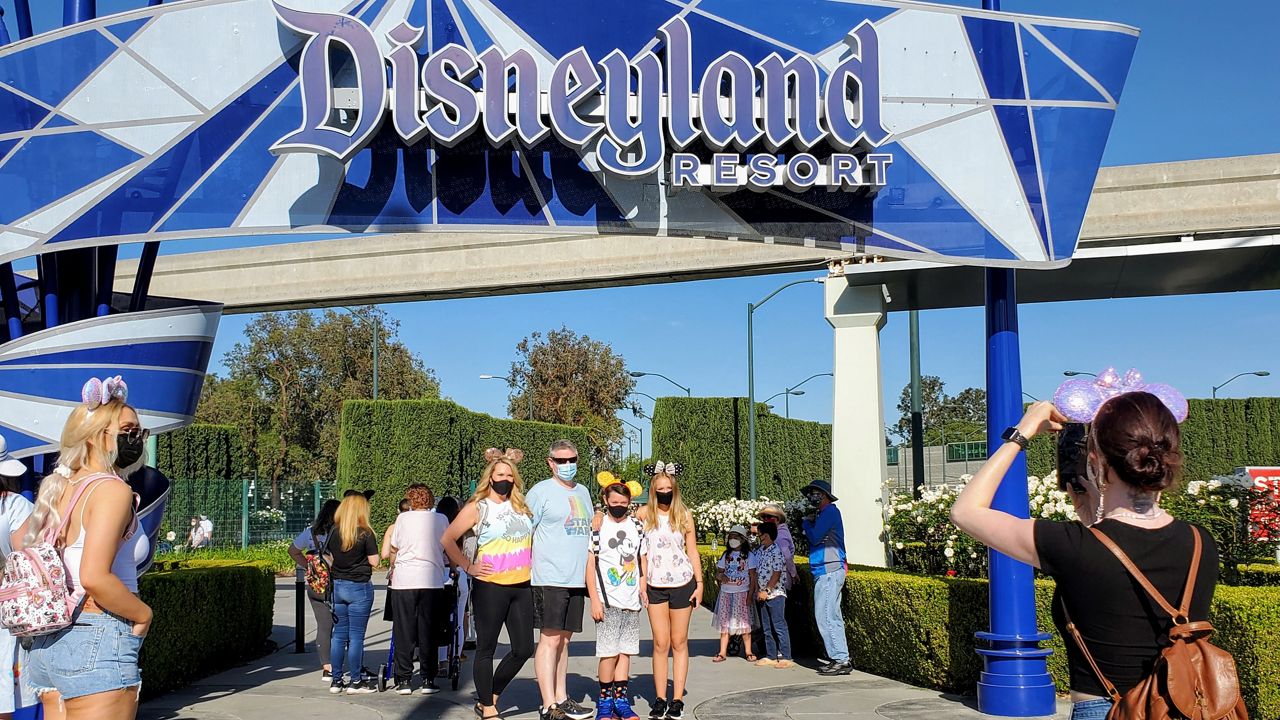 Disney, Knott's and other theme parks' new protocols come as California reopens its economy after more than a year of pandemic-related shutdown restrictions and eliminates certain public health mandates that were part of an effort to curb the spread of coronavirus.
On Friday, Gov. Gavin Newsom lifted the pandemic orders after 15 months.
Residents will no longer need to abide by a stay-at-home mandate, capacity and social distancing restrictions have been lifted at businesses and vaccinated residents will no longer need to wear face coverings indoors. Unvaccinated people, state officials said, should continue to wear face coverings indoors.
Newsom's action comes as the state's vaccination rates continue to rise. Meanwhile, infections and hospitalizations from COVID-19 drop.
On Sunday, Newsom tweeted that more than 70% of adults in the state have received at least one dose of the coronavirus vaccine. Infection rates are at an all-time low.
"California is turning the page on this pandemic, thanks to swift action by the state and the work of Californians who followed public health guidelines and got vaccinated to protect themselves and their communities," said Newsom on Friday in a news release. "With nearly 40 million vaccines administered and among the lowest case rates in the nation, we are lifting the orders that impact Californians on a day-to-day basis while remaining vigilant to protect public health and safety as the pandemic persists."
The state's new guidelines finally clear a path for theme parks, one of the industry's severely hampered by the state shutdown orders.
The state closed theme parks for a little more than a year as part of an effort to prevent large gatherings and slow the spread of the coronavirus.
Under the state's former Blueprint for a Safer Economy guidelines, which track's a county's coronavirus metrics, theme parks couldn't reopen until their home county reached the yellow tier, the state's most minor restrictive level.
When the state allowed theme parks to reopen, they had to limit capacity to 15%, 25% or 35% depending on the county's tier level, and only to in-state residents. Theme park operators also had to make other changes, such as putting up social distancing signs, limiting ride capacity and requiring visitors to wear a face covering.
But starting Tuesday, there will be no capacity limits, physical distancing requirements or face-covering requirements for vaccinated guests or those who test negative.
However, some theme parks will take the newfound freedom slowly.
Knott's Berry Farm, Legoland and Disney officials said they would continue with their new visitor reservation system and gradually increase attendance over time.
Disney officials said they are beginning to remove social distancing markers in the theme park.
While vaccinated visitors won't need face coverings, their employees will continue to wear masks and maintain six feet of physical distancing from others.
Additionally, at Disneyland, visitors ages two years old and up, who are not fully vaccinated, are expected to continue wearing face coverings indoors, except when dining, officials said.
Disney will discontinue temperature checks for visitors and cast members.
And all of the theme parks Spectrum contacted said they would continue intense daily cleaning procedures.
A Universal official summed the state's new reopening plans:
"We're thrilled that we can welcome our guests and employees back to the theme back," the spokeswoman said.