LOS ANGELES — If your family plans to visit a theme park in Los Angeles County this holiday, be prepared to show your and your little's ones COVID-19 vaccination card.
Following orders from the LA County Department of Public Health, Universal Studios Hollywood officials said visitors ages 5 and older must show proof of full COVID-19 vaccination or provide a negative COVID test to enter the theme park. The new proof of vaccination requirement updates the county's original age requirement of 12 years and older.
Along with requiring visitors to show proof of vaccination or a negative test, visitors to Universal Studios, regardless of vaccination status, will need to wear a face-covering or mask indoors and outdoors while inside the theme park.
"We continue to comply with updated changes to COVID-19 vaccination/testing requirements being implemented by LA County Department of Public Health," a Universal Studios Hollywood spokesperson said in an email to Spectrum News. "To assist guests in planning their visit, we want them to know that a third-party COVID-19 testing site is available and offering rapid tests on our property."
The Universal Studios Hollywood spokesperson said the COVID-19 rapid tests are free.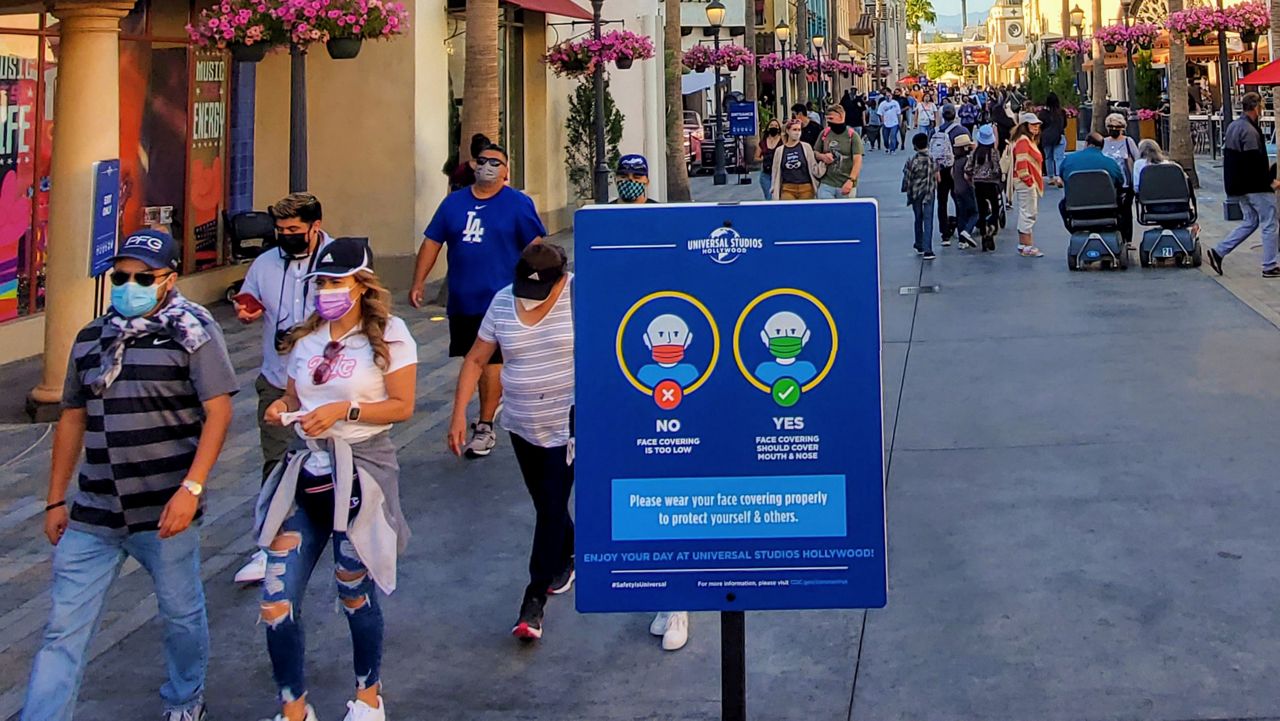 The new health protocol issued by the county's department of public health Thursday comes amid rising cases of COVID-19 in the county and a surge of new patients infected by the more contagious omicron variant of COVID-19.
Since Thanksgiving, the county says there have been 2,275 new coronavirus cases, and positivity rates and hospitalizations have gone up.
The county on Thursday reported 30 cases of omicron, which is a mutation of the coronavirus, and warned that more is likely coming.
"Given what we know, omicron does pose a significant threat to our community in LA," said Barbara Ferrer, the LA County Public Health director, the LA Times reported. "Unvaccinated individuals appear to remain at the highest risk. But all the evidence to date indicates that those fully vaccinated are also at increased risk, particularly for getting infected and infecting others."
The county's health department said it modified its health order to better align with the state's public health order and slow the virus's spread. On Dec. 13, the state health department began requiring people to mask up in public indoor settings regardless of vaccination status.
Under the county's new health order, operators of mega-events, defined as events that draw more than 10,000 people outdoors or 1,000 indoors, must verify the full COVID-19 vaccination status of attendees ages 5 years old or older or a negative COVID-19 test before entry.
The county lumps theme parks, festivals, fairs, concerts, sporting events, and conventions in the mega event category.
With school not in session, the winter holidays are among the busiest times for theme parks such as Universal Studios Hollywood and Six Flags Magic Mountain. It's unclear how this new health protocol will impact attendance.
The new health mandate does not impact Disneyland and Knott's Berry Farm since they are located in Orange County.
An official from Six Flags Magic Mountain, a theme park in Los Angeles County, did not return a request for comment.