It's hard to believe Groundhog Day is upon us. After growing up here in Rochester, I can guarantee you there will be six more weeks of winter. At least six more weeks of winter...
---
What You Need To Know
The holiday originated as a Pennsylvania Dutch superstition


If the groundhog doesn't see its shadow, an early spring is on the way


If the groundhog sees its shadow, then six more weeks of winter will follow


Weather Man Mike says at least six more weeks of winter to go
---
There are many different kids of weather folklore that have developed since humans first walked the earth. Groundhog Day is one of them and occurs on February 2.
Thousands of years ago when worshipping of animals and nature was more prevalent, people from what is now Germany believed the badger had the power to predict the coming of spring. They watched the badger, which guided them in planting their crops.
When German immigrants settled in Pennsylvania, they may not have believed the folklore but they carried on the tradition. Not too many badgers were in Pennsylvania, so they switched to the groundhog.
Tradition has it that if the groundhog sees its shadow on February 2, it will be frightened by it and return to its burrow, indicating that there will be six more weeks of winter. If it does not see its shadow, then spring is on the way.
While Staten Island has 'Chuck,' West Virginia has 'French Creek Freddie,' and Wisconsin has 'Jimmie,' the the most famous is Punxsutawney Phil in Pennsylvania.
Punxsutawney Phil lives at Gobbler's Knob in Punxsutawney and draws a huge crowd each year. Due to Covid restrictions, the event will not have many in-person visitors, but it will be streamed online.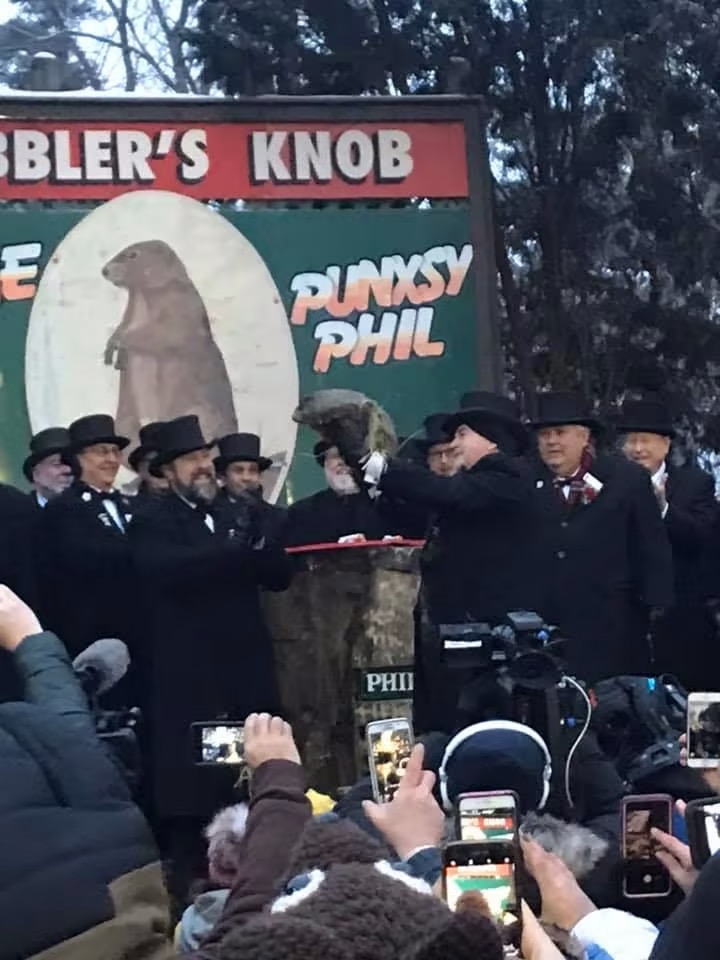 The celebration of Groundhog Day at Gobbler's Knob prior to Covid would draw some 20,000 to 40,000 people to a town with a population of a little under 6,000. People gather during the night and the celebration begins at roughly 3 a.m. with live music, silly hats, singing, and dancing.
It amazes me the amount of attention this rodent receives and was a brilliant marketing move by that community. Well over a million dollars of revenue is generated during the event.
As a follower of weather, I can guarantee six more weeks of winter. Here is a link to a blog I wrote about February in Rochester and the Finger Lakes.