The 2018 Belmont Stakes horse race takes off June 9 at Belmont Park in Elmont, N.Y., just east of the border between Queens and Nassau County. It will be the 150th running. Whether you're planning to attend or just want to sound smart in the hallways at work, here is everything you need to know for race day as a New Yorker.
What is and when is the Belmont Stakes?
The Belmont Stakes is the third competition in the Triple Crown series. In 2018, it's scheduled to run at approximately 6:37 p.m. on Saturday, June 9.
Here are the post positions for the race:
1. Justify
2. Free Drop Billy
3. Bravazo
4. Hofburg
5. Restoring Hope
6. Gronkowski
7. Tenfold
8. Vino Rosso
9. Noble Indy
10. Blended Citizen
What's the buzz surrounding Justify? (Is he the next American Pharoah?)
Only 12 horses have won the Triple Crown series. American Pharoah was the most recent winner, in 2015. Justify is looking to be number 13 after dominating the Kentucky Derby and pulling out a tight win at the Preakness.
Can I get tickets?
Pricier packages may be still be available, but with a bid for the Triple Crown on the line, the event is expected to be sold out.
Tickets for this year's Belmont Stakes are available through Ticketmaster or through the Belmont Stakes website. You can go on a virtual tour of the views from different seats at the Belmont here.
If you just want to get into the park, you can show up unannounced, but those tickets are likely to be standing-room only. You may not be able to see much, but you'll be part of the moment.
I like to daydream – what's the best experience I can afford?
We can't answer that, but if you want to watch like a VIP, resale tickets for reserved seating and hospitality could still be available on Ticketmaster. They could cost you more than $1,900 each and get you everything from private betting terminals and gourmet meals to exclusive entertainment, and arena-like views of the final turn.
How do I get there?
There are a few ways to get there via public transportation. The LIRR will run a limited number of trains from Penn Station to Belmont Park on the day of the Belmont Stakes, with one stop at Jamaica in between. See the full list here.
Three different buses stop inside or in front of the park: the N6 (an MTA Long Island bus that stops in front of the park), and the Q110 and the Q2 (which stop inside Belmont at the west end of the track).
F train commuters can transfer to the N6 or the Q2 at either the 169th Street or 179th Street F train stops. E train commuters can transfer to the Q110 at Jamaica Center (Parsons Boulevard). (F train commuters can also transfer to the Q110 at the F train's Parsons Boulevard stop.)
LIRR commuters who take an LIRR train to Queens Village will be able to board a Q27 bus at Queens Village, which they can take to Springfield Boulevard and Hempstead Avenue, where they can get on a Q2 bus.
Just how many people take the LIRR to Belmont Stakes?
LIRR ridership spikes during the Belmont Stakes. This is especially true when there is a Triple Crown contender like Justify.
Here is a look at how many people arrived via the LIRR during the Belmont Stakes over the years:
Can I drive?
Yes. Belmont Park is located right off the Cross Island Parkway – there are four exits that will get you to a variety of Belmont lots. View transportation directions for Belmont Park for more info.
Advance parking is sold out, and $40 parking on Belmont Stakes day will be sold on a first-come, first-serve basis.
Is tailgating allowed?
No. Alcohol will also be prohibited on LIRR trains to Belmont Park, and you will not be allowed to bring alcohol into Belmont Park itself on race day (though alcohol will be sold at concessions).
If you're watching from home, there's a signature cocktail called the Belmont Jewel. It's a combination of bourbon, lemonade, pomegranate juice and orange zest. Just don't bring it on the train!
Where can I get food in the park?
The concession options noted on the Belmont Stakes website include a full service bar, burgers, paninis, salads, sandwiches, coffee and breakfast fare.
Specific concessions include:
· The Heritage Club Food Court
· The Crop and Saddle
· Paddock Terrace Bar
· The Knob and Creek Saloon
There will also be a food truck village in the Backyard of Belmont Park, and there will also be stands in the backyard that sell pretzels, ice cream bars, hot dogs, soda, water and beer.
You are also allowed to bring your own food into the park, unless you are sitting in a hospitality area, but remember – you cannot bring in alcohol or glass bottles, and any coolers that are brought in must be see-through.
What should I wear?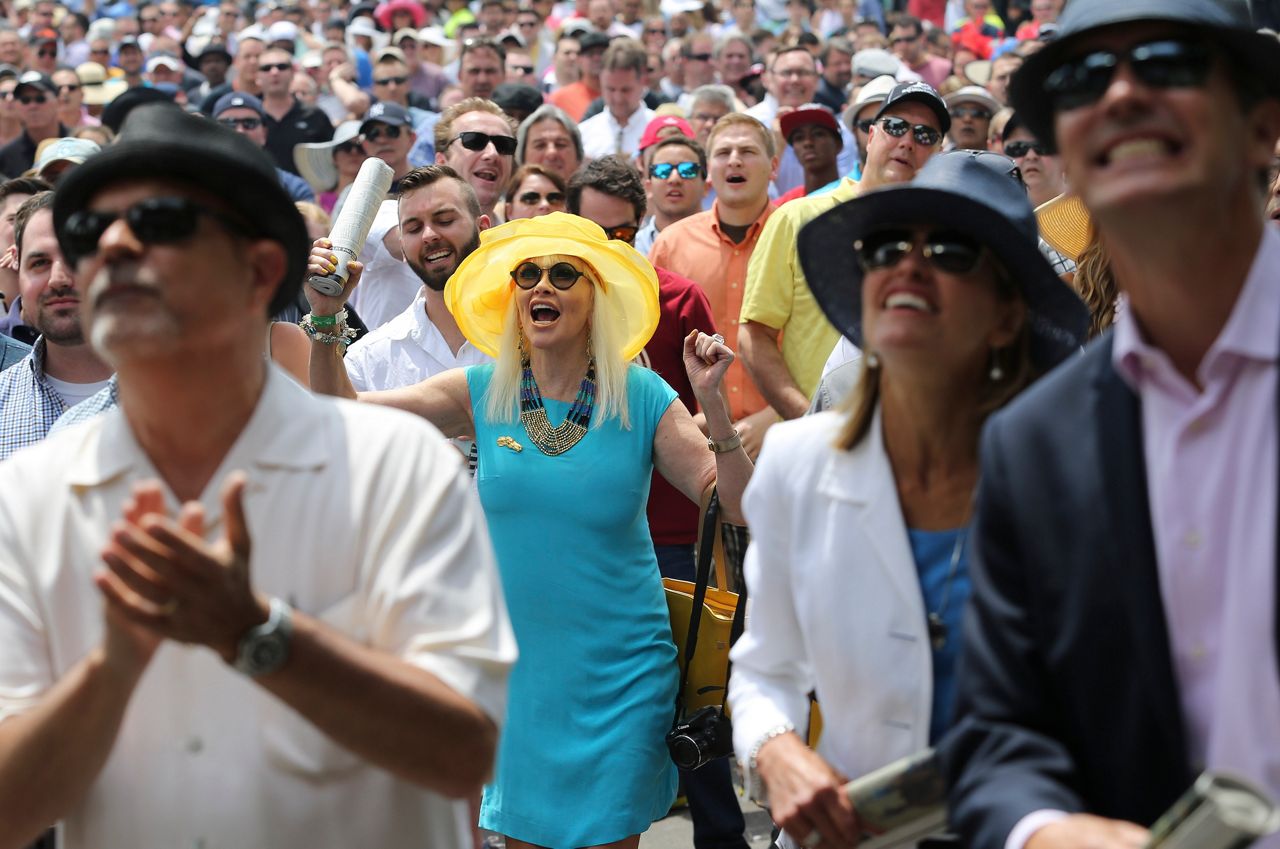 (AP Photo/Seth Wenig)
It depends on where you are going to be watching the races from.
"If you're out in the yard, you could technically go shorts with your lawn chair, get hammered on some Miller Lites, and Miller High Lifes, if you like a couple of those. Or you can go hat, just like the Derby or the Preakness, and sit in some of the nicer seats," said Paul Lo Duca, a former catcher for the Mets, Dodgers, Marlins and Nationals who is now a racing analyst for NYRA. "So depending where you're at, it's such a big, giant place, but that's what I love about Belmont, the eclecticness of it. You're going to have a little bit of everything."
According to NYRA's website, Belmont Park has a tradition of elegant attire. Swimwear, tank tops and cut-offs are prohibited in most areas of the park.
Collared shirts are required for men in box seats, in the Garden Terrace, and in the paddock and the winner's circle. Women who sit in box seats are required to wear dresses or pant suits. This is also a great track for heels. Level grounding and escalators make it easy to walk and not sink your feet. Your best bet? Think Derby.
What's the weather going to be?
There are threats of passing rain in the morning on Belmont Stakes day, but the forecast calls for a mainly dry day otherwise, and the two days before the race are expected to be dry as well.
The high on Saturday will be 78 degrees, which is pretty close to the normal high for this time of year (76 degrees).
This year's Kentucky Derby and Preakness Stakes were run on muddy tracks after rain hit the Lexington, Kentucky and Baltimore areas, respectively, before each race.
Can I bring my dog?
No.
Are fancy hats a thing at Belmont Stakes?
You bet.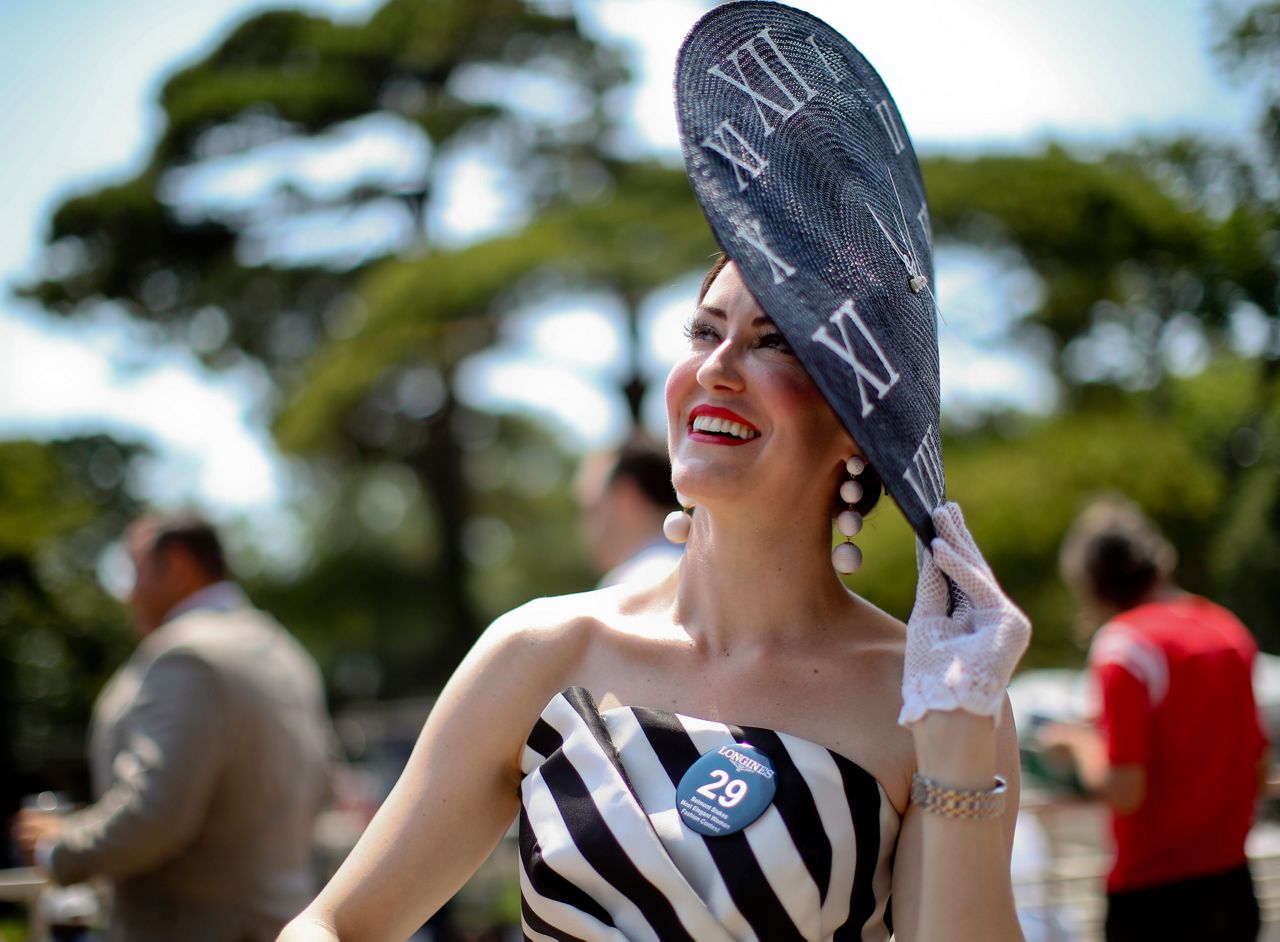 (AP Photo/Mary Altaffer)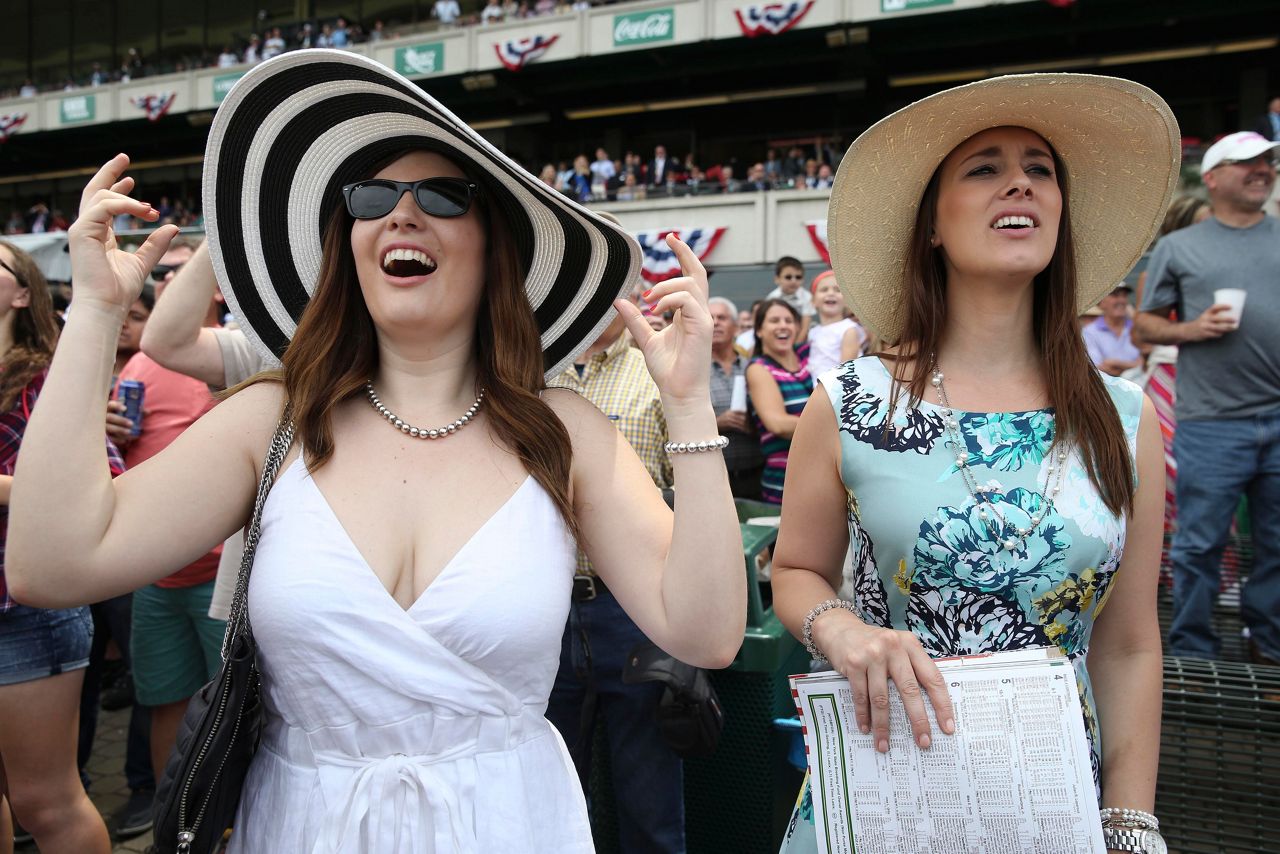 (AP Photo/Seth Wenig)
Speaking of…how do I place a bet?
The Belmont Stakes says wagering windows and self-serve terminals are located throughout the racetrack. First-time better? Think about the jockey. And, the trainer is just as important. Baffert has 14 Triple Crown race victories, won three Breeders' Cup Classics and has earned a fourth Eclipse Award as the year's outstanding trainer.
Should I bet on Justify?
Triple Crown-winning trainer Bob Baffert says Justify looks stronger and fitter than he did before his earlier two races. But if you bet on Justify, you may not get much from your dollar. As a heavy favorite, the odds of making serious money off a win are low, simply because everyone else is betting on the same horse.
Then who should I bet on?
"If you want to make money, I think you bet on Hofburg. I think he's the most likely upsetter of Justify," former jockey Richard Migliore told NY1. "And Vino Rosso. If you look at trainer Todd Pletcher's record in the race, he's got three wins in it, but he's a head, a nose and a head away from winning three others. So he knows how to prepare a horse for the Belmont."
You can also bet on Gronkowski, named after and co-owned by New England Patriots star Rob Gronkowski. However, that wouldn't be very New York of you.
Are there any betting terms I should know?
There are plenty, but you should at the very least know these three:
Win: you're betting on a particular horse to win the race.
Place: you're betting on a horse to finish in 1st or 2nd place.
Show: you're betting on a horse to finish in 1st, 2nd or 3rd place.
What lies ahead for the future of Belmont Park?
Belmont Park's racing calendar for spring and summer 2018 began on the last weekend of April and carries through mid-July. The park generally has a fall season as well, but the schedule for that has not been released yet.
However, Belmont Park could soon become a year-round destination. The New York Islanders recently won the rights to develop the land next to Belmont Park and plan to build a new arena that is expected to open in three years. The $1 billion plan would also include a new hotel, restaurants and stores.
The horse racing facilities at the park may look different soon as well. According to Newsday, the New York Racing Association, which operates Belmont Park, is drawing up plans to renovate those facilities.
The Islanders' plan also has some opposition. Newsday reported last week that opponents want an environmental impact study of the proposed development to include traffic measures during this year's Belmont Stakes.