This past Monday, Bernie Ment heard his doorbell ring. It was a UPS delivery that contained an envelope with the seals of the White House and Mar-a-Lago, the Florida resort owned by former President Donald Trump.
The handwriting style is unmistakable. The letter scrawled in black marker over a newspaper article about Ment, the leader of the Onondaga County Conservative Party, was announcing plans to dump Republican Rep. John Katko in next year's election.
"Imagine getting a letter from your favorite author or your favorite actor, or whatever excites you in life," Ment said in an interview this week.
The letter from Trump called the initiative to dump Katko — who had months earlier voted to impeach him following the Jan. 6 riot at the U.S. Capitol — "a great move." He named-dropped Conservative Party leaders known largely in New York political circles.
"Find a candidate," Trump added, with an underline for emphasis.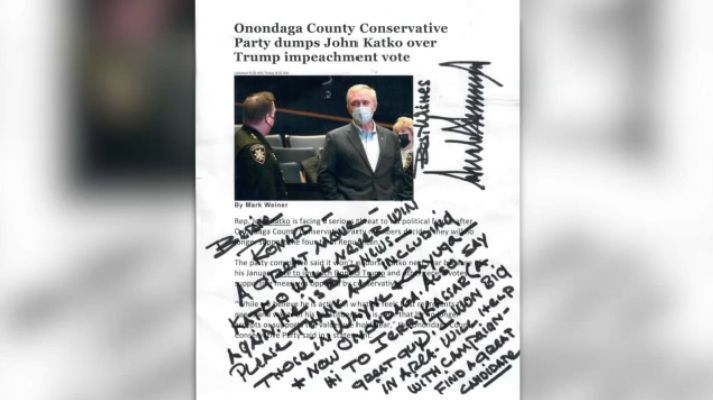 The letter underscores the extent to which Trump remains active in U.S. House races of Republicans who have crossed him. And Katko, whose office did not return messages seeking comment, is in an especially lonely position.
To the north of his Central New York district, Rep. Elise Stefanik has risen in prominence as an ardent backer of the former president, replacing Trump critic Rep. Liz Cheney as the number three lawmaker in the House Republican conference. To the east lies the district of Rep. Claudia Tenney, a Republican who has received fundraising support from Trump's family and Trump himself while he was in office.
And in the Southern Tier, another Republican moderate, Rep. Tom Reed, is retiring at the end of the year following accusations of sexual harassment.
A former federal prosecutor, Katko is now the top Republican on the House Homeland Security Committee. Given the potential of a GOP takeover of the chamber next year, Katko would be handed the chairman's gavel of the prominent committee that's facing a range of policy challenges, including cybersecurity and terrorism.
Katko represents and has held onto a swing district in the Syracuse area that had reliably changed parties for several cycles until he won it in 2014. Voters there are willing to split their ballots for a Democratic presidential candidate and re-elect the Republican Katko.
Ment, the Onondaga County Conservative Party leader, sees it differently. Yes, a split with conservatives could lead to a Doug Hoffman-style scenario, in which a Democratic candidate is victorious. But he's willing to live with that if it means Katko doesn't secure another term.
And for Ment, it's not just Katko's impeachment vote. He pointed to Katko supporting legislation bolstering rights of LGBTQ people and against a repeal of Obamacare. He also voted to strip Rep. Majorie Taylor Greene of her committee assignments.
"There are too many controversial votes that John Katko has made that have basically required us as conservatives to stand on principle and commit to not endorsing him for re-election," Ment said.
Trump lost New York, his native state, twice. And yet there are pockets of support for the former president.
"New York is an example of how the president can cherry pick congressional races around the country and have an effect," said state Conservative Party Chairman Gerry Kassar.
Kassar anticipates Trump can be helpful with spotlighting candidates, and in turn, revving up a base of voters in the process heading into the midterm elections next year.
"You really need to excite this base, this base which is more expansive than the actual enrollment with candidates that reflects their actual views," Kassar said. "President Trump really speaks for a lot of those people."