The grueling evacuation of Americans and the military's Afghan allies continues, weeks after Afghanistan fell to the Taliban and amid recent bombings and violence.
President Biden's top military generals testified that they advised keeping 2,500 U.S. troops in Afghanistan as a transition force, a contradiction of what Biden had asserted.
U.S. veterans are now helping to try to rescue those left behind, and a large part of these dangerous rescues are being spearheaded from Upstate New York.
---
What You Need To Know
The U.S. military vacated the Bagram Airfield in Afghanistan on July 6


The Taliban entered the Afghan capital as U.S. diplomats fled by air on Aug. 15


Veterans implemented mission "Pineapple Express," shepherded hundreds of at-risk Afghan allies, as well as their families, to safety on Aug. 25


13 U.S. soldiers were killed in an attack at the airport in Kabul on Aug. 26
---
Zac Lois, a former Green Beret and a teacher in the Syracuse City School District, strategized on a morning overseas call.
"There might be a couple of small groups and assets that actually have passport in hand that would take that," said Lois, a key force in the Pineapple Express.
He and other veterans are working to evacuate every American and American ally left behind in Afghanistan. Lois now works as an Afghanistan Operation recovery lead.
"We built some very close relationships with our Afghan counterparts," Lois said. "So, I had been in contact with them, probably a few weeks leading up to the fall of Afghanistan. We were trying to get them out. I was also trying to get my combat interpreter out."
The issue burdened Lois so much that he left his summer vacation with his family, and has taken a year leave from his job as a social studies teacher.
"They were reaching out to me, asking for support," he said. "They were trying to go through the proper channels of the state department. It would go up to the state department, and that's kind of where they would die off. So, I got frustrated."
That's when he connected with the Pineapple Express mission.
"And then, we started coming up with a plan to help get these people out on the three consecutive nights of the Kabul airport operations," Lois said.
Last month, Pineapple Express was able to rescue more than 600 Afghan special operators, as well as their families, he said.
Lois continued negotiations over the phone.
"I don't know if you'd be able to take action on this, but I just wanted to run it by you in case, you know, there's any networks that we can get those people out through," he said.
He said another big motivation to get the families out of harm's way is his students.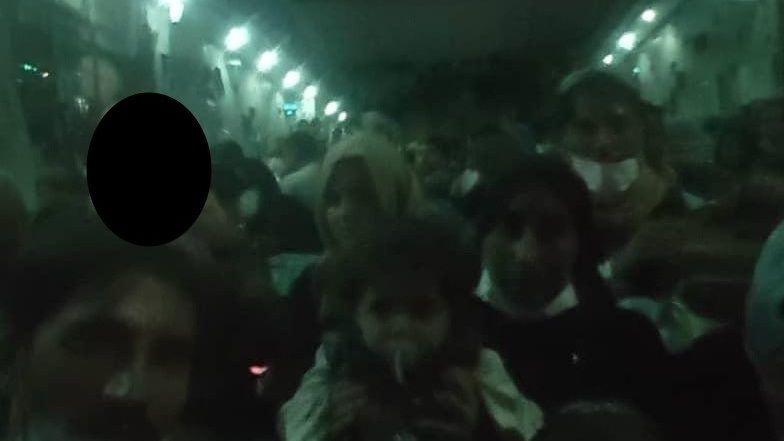 Spectrum News 1
"When I stand in front of a class ... and I look out into my class, and I see a lot of young Muslim girls or young Muslim boys, specifically from that region, I really couldn't live with myself if I knew I walked away when I had the skill set and the experience to make a difference," Lois said.
On the phone, you can hear a booming voice on the other end.
"So, we're not, we're not trying to be refugees, we're not trying to stay there," Lois said. "We just want to cross the border, get to an airfield and get on a flight..."
In a committed tone, he says, "And the operation has really just begun. So, we're kind of on the one-yard line. And we're, we're looking to play the long game."
The best way to help the rescue is to contact your local representatives and the U.S. State Department.
Operation Recovery is a group of veterans that work to repatriate Americans and Afghan Allies. If you want to learn more and support them you can connect with them here.