New Yorkers know snow better than most, but that doesn't mean that winter storms can't pose a threat to our communities. Every year, snow, sleet, or freezing rain falls across the Empire State, often creating whiteout conditions that make roads difficult to navigate safely or dropping temperatures to dangerous levels. This guide, with helpful information from the National Weather Service, is dedicated to teach you how to stay safe before, during and after a winter storm hits:
Extreme Cold
When arctic air mixes with brisk winds, dangerously cold wind chill values occur. People exposed to extreme cold are susceptible to frostbite in just a manner of minutes. Areas most prone to frostbite are uncovered skin and extremities such as your hands or feet. Hypothermia is another threat during extremely cold situations, and occurs when the body loses heat faster than it can produce. Signs of hypothermia include confusion, shivering, difficulty speaking, sleepiness and stiff muscles. The best way to counter these dangers is simply be prepared, and plan before it arrives.
Check the forecast — During winter, checking the forecast should be part of your regular routine so you'll know when to expect cold weather, and just what those conditions might be like.
Adjust your schedule — If possible, avoid being outside during the coldest part of the day (typically the early morning). Parents should also try and find a warm spot for children waiting for their school bus outside.
Protect your pets and property — If you have pets or farm animals, make sure they have plenty of food and water, and try to not leave them overly exposed to extreme cold. Additionally, take precautions to ensure your water pipes do not freeze.
Dress Appropriately
This seems obvious, but is often overlooked in winter. Dress for the outdoors, even if you don't think you'll be out much.
Chilly weather calls for one or two layers, including an outer layer to protect against wind and precipitation, a long layer to cover your legs, and warm shoes, preferably water proof.
Cold weather calls for two to three layers, including that outer later, and an extra layer for your legs. When cold weather hits, gloves, a warm hat and waterproof boots are also advised for outdoors.
Extreme cold is when you'll want three layers for the torso, including an inner, insulated layer plus the outer layer to keep the wind off your body. You'll also want two layers for the legs, waterproof boots, gloves, a warm hat and a face mask when these extreme conditions occur.
Preparing for the Storm
Before a storm strikes, make sure your home or office are stocked with the supplies you might need. Your primary concern at home or during a winter storm is loss of heat, power, and telephone services, as well as a shortage of supplies — especially if storm conditions continue for more than a day. Here's what you should have:
Flashlight and extra batteries.
Battery-powered NOAA Weather Radio and portable radio to receive emergency information.
Extra food and water such as dried fruit, nuts, granola bars and other food requiring no cooking or refrigeration.
Extra prescription medicine.
Baby items such as diapers and formula.
First-aid supplies.
Heating fuel. It's important to remember to refuel before you're empty — fuel carriers may not be able to reach you for days after a severe winter storm.
Emergency heat source like a fireplace, wood stove or space heater (that's properly ventilated to prevent a fire.
Fire extinguisher and smoke alarms. Home fires are common each winter as residents try to stay warm. Test smoke alarms regularly to keep your home and loved ones safe.
Make sure your carbon monoxide detector is working correctly and that the outside vent is clear of leaves and debris. During or after the storm, make sure it's cleared of snow.
Review generator safety guidelines if you have one, and remember, never run a generator in an enclosed space.
When The Storm Hits
If you get caught outside when a severe storm strikes, follow these guidelines:
Find shelter — try to stay dry and cover all exposed body parts.
When there is no shelter available, build a lean-to, wind-break or snow cave for protection from wind. Build a fire for heat and to attract attention. Place rocks around the fire to absorb and reflect heat.
Melt snow for drinking water — eating un-melted snow will lower your body temperature.
Exercise, move your arms, legs, fingers and toes vigorously to keep blood circulating and to stay warm. Avoid overexertion such as shoveling heavy snow, pushing a car, or walking in deep snow if you are not in good health. The strain from the cold and the hard labor may cause a heart attack and sweating could lead to a chill and hypothermia.
If you're stuck inside during a storm and your heat goes out, remember these survival tips:
Close off unneeded rooms to avoid wasting heat.
Stuff towels or rags in cracks under doors.
Close blinds of curtains to keep in some heat.
Eat and drink. Food provides the body with energy for producing its own heat. Drink lots of water and other non-alcoholic drinks to prevent dehydration. Cold air is very dry.
Wear layers of loose-fitting, lightweight, and warm clothing, but remove layers to avoid overheating because of perspiration and the subsequent chill.
After The Storm
When the snow and ice melt, it's tempting to relieve that cabin fever and hit the roads, but melting snow can cause floods, partially cleared roads may be icy or blocked, and waterways often overflow from the rushing of melting snow and ice. Additionally, heavy snow may have knocked down power lines and caused gas leaks, both of which can be deadly, but are not obvious at a first glance. Follow these tips to stay safe:
Stay tuned to Spectrum News for updated information on road conditions.
Check with your local water company to make sure water is safe to drink, cook and clean with.
Check with your utility companies to find out when electricity or gas services may be restored.
Standing water hides many dangers including toxins and chemicals. There may be debris under the water and the road surface may have completely collapsed underneath the weather.
If it is likely your home will flood, don't wait to be ordered to leave. Evacuate when you know you are in danger. Make alternative plans for a place to stay with a relative or friend. If you have pets, take them with you. Many hotels will take pets, but check in advance to be sure.
Carbon monoxide poisoning is one of the leading causes of death when areas are dealing with power outages. Make sure your detector works before, after and during the storm.
Let your family and close friends know that you're OK so they can help spread the word.
Potholes are a common road hazard following winter precipitation — as us New Yorkers know all too well — and can be difficult to see after significant snowfall. Potholes can cause serious damage to your vehicle, so be sure to report them to your local Department of Transportation office.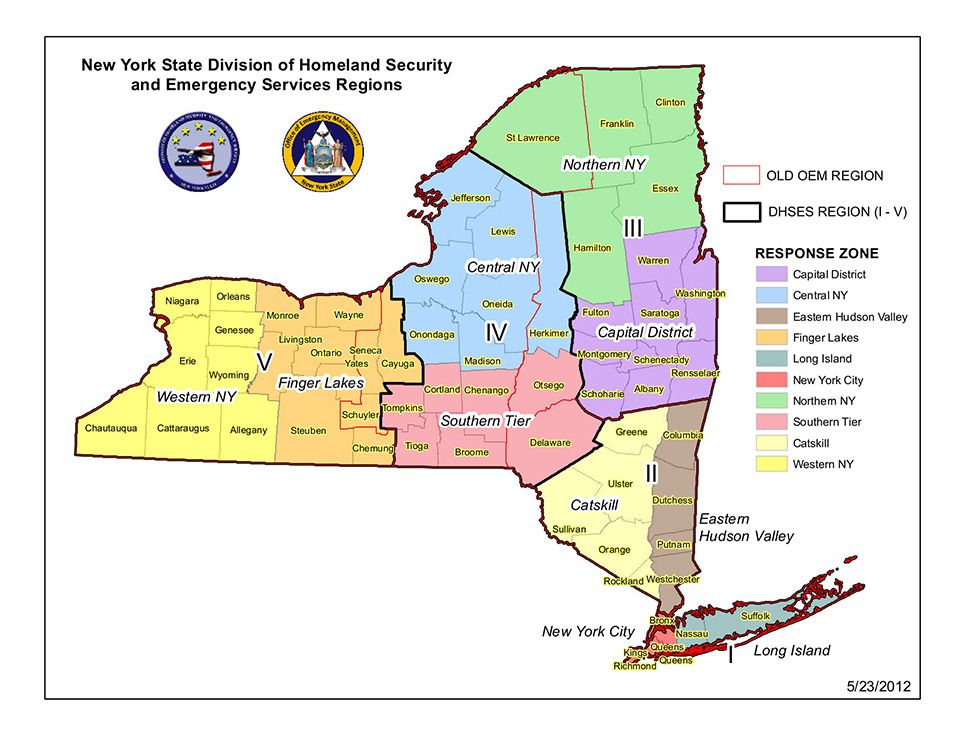 New York State Office of Emergency Management Contacts
Region I — New York City and Long Island
Phone: (631)-952-6322
Fax: (631)-952-6322
Email: OEMRegion1dl@dhses.ny.gov
Counties: Bronx, Nassau, New York, Queens, Richmond, and Suffolk
Region II — Hudson Valley
Phone: (845)-454-0430
Fax: (845)-454-4620
Email: OEMRegion2dl@dhses.ny.gov
Counties: Columbia, Dutchess, Green, Orange, Putnam, Rockland, Sullivan, Ulster, and Westchester
Region III — Capital Region and Northern New York
Phone: (518)-763-6646
Fax: (518)-763-6647
Email: OEMRegion3dl@dhses.ny.gov
Counties: Albany, Clinton, Essex, Franklin, Fulton, Hamilton, Montgomery, Rensselaer, Saratoga, Schenectady, Schoharie, St. Lawrence, Warren, and Washington
Region IV — Central New York and Southern Tier
Phone: (315)-438-8907
Fax: (315)-438-3350
Email: OEMRegion4dl@dhses.ny.gov
Counties: Broome, Chenango, Cortland, Delaware, Herkimer, Jefferson, Lewis, Madison, Oneida, Onondaga, Otsego, Oswego, Tioga, and Tompkins
Region V — Finger Lakes and Western New York
Phone: (315)-331-4880
Fax: (315)-331-3934
Email: OEMRegion5dl@dhses.ny.gov
Allegany, Cattaraugus, Cayuga, Chautauqua, Chemung, Erie, Genesee, Livingston, Monroe, Niagara, Ontario, Orleans, Schuyler, Seneca, Steuben, Wayne, Wyoming, and Yates
New York State Resource Links
National Weather Service Resource Links
If you follow this guide, you and your loved ones can make it through even the most severe of winter storms.