A winter storm is set to bring snow, sleet, freezing rain and rain across North Carolina on Sunday.
Make plans to spend a lot of time at home, perhaps into Monday too. Dangerous travel conditions are possible in much of the state.
Some locations should begin preparations for the likelihood of power outages.
The latest forecast data suggests wintry precipitation will begin to spread across the western half of North Carolina late tonight. It will then spread into the eastern half of the state through Sunday morning.
Precipitation will last throughout the day Sunday. Winter weather alerts have been issued across the state.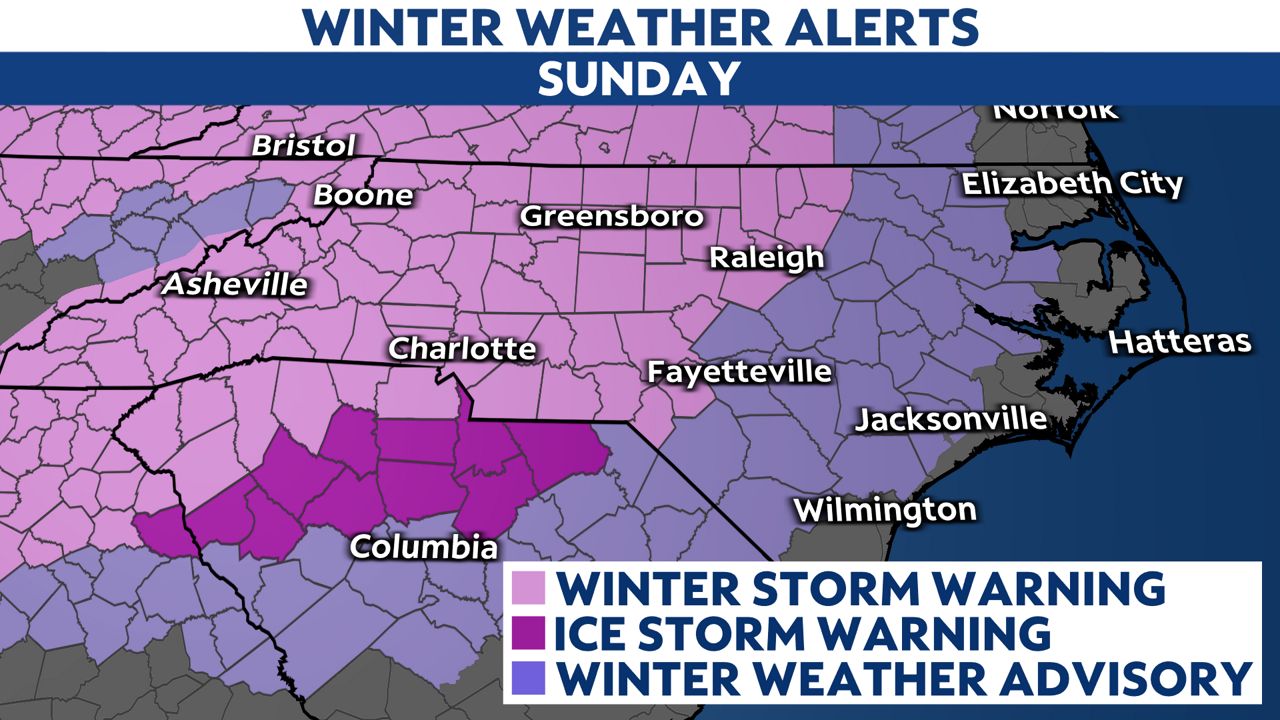 As is often the case with winter storms, the highest chance for accumulating snow is expected for the mountains of western North Carolina.
Snow should fall starting early Sunday morning across parts of the Piedmont and central North Carolina. That snow should, however, become more of an icy mix with sleet and freezing rain.
A brief period of a wintry mix may even be possible just inland from the coast Sunday morning before quickly transitioning to all rain.
The transition to all rain should move farther inland, just west of I-95 around midday on Sunday. Some model data suggests rain could move as far inland as Raleigh Sunday evening.
Sunday's storm may produce an extended period of freezing rain for some locations in central North Carolina and the Piedmont.
Freezing rain falls as rain but freezes on contact with trees, power lines and some road surfaces because the air temperature is at or just below freezing.
If at least a quarter-inch of ice accumulates on tree branches, those branches and even whole trees could fall, potentially causing power outages.
The most significant ice accumulation that could lead to extended widespread power outages is now expected for communities between Charlotte and Fayetteville, as well as those between Greensboro and Raleigh.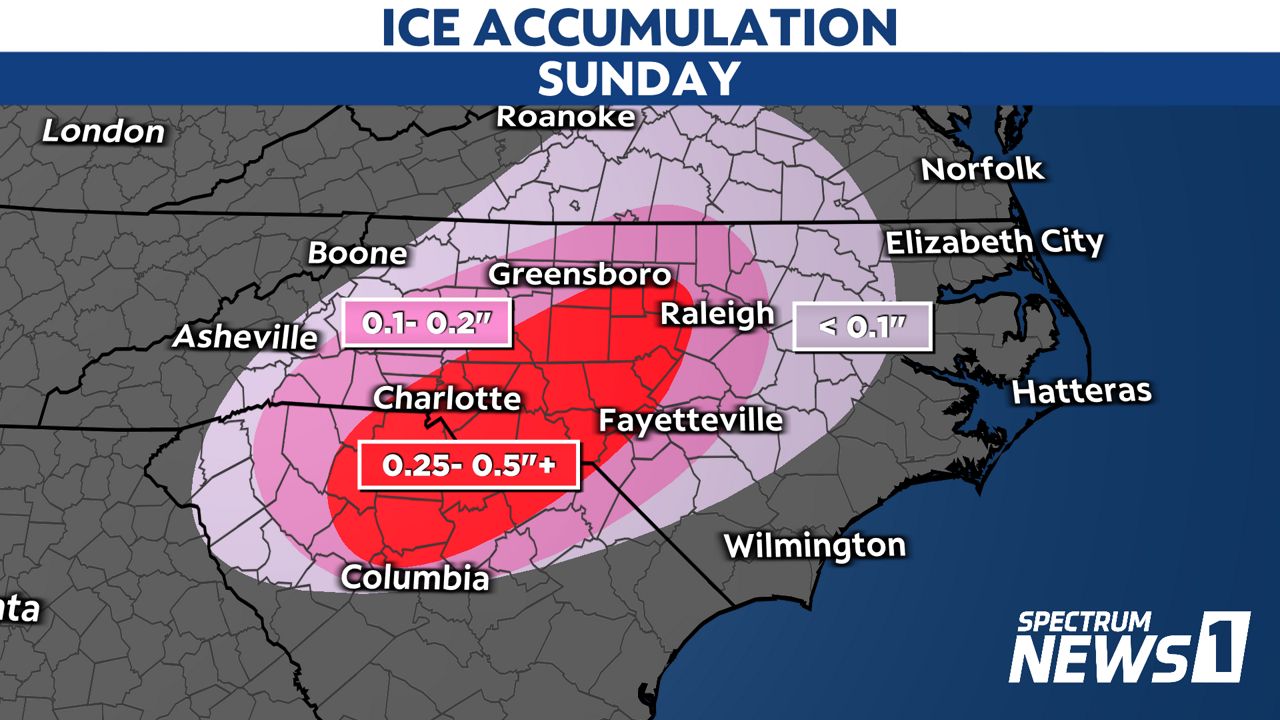 Residents in and near these areas should collect supplies like batteries, flashlights and non-perishable food items just in case the power goes out and stays out for days.
Power outages will likely also be a problem across western North Carolina as heavy snow is expected in the High Country.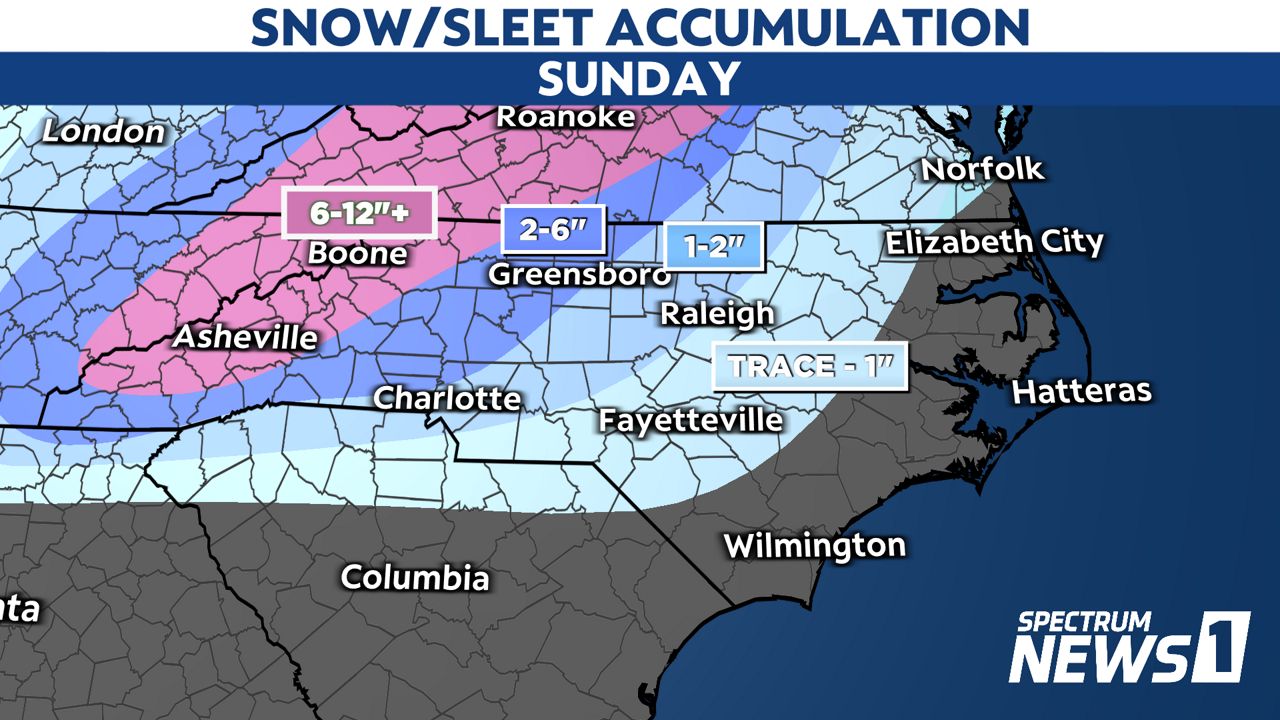 That will likely make travel very difficult if not impossible, starting late tonight and continuing through Sunday.
Some communities in the mountains could see up to a foot or more of snow.
Communities between I-95 and the coast should see at least 1 to 3 inches of rain through Sunday's storm.
That could lead to isolated flooding in eastern North Carolina.
Thunderstorms are also possible with the heavy rain near the coast. There's a marginal risk for severe weather with a primary threat for damaging winds and an isolated tornado during the afternoon and evening.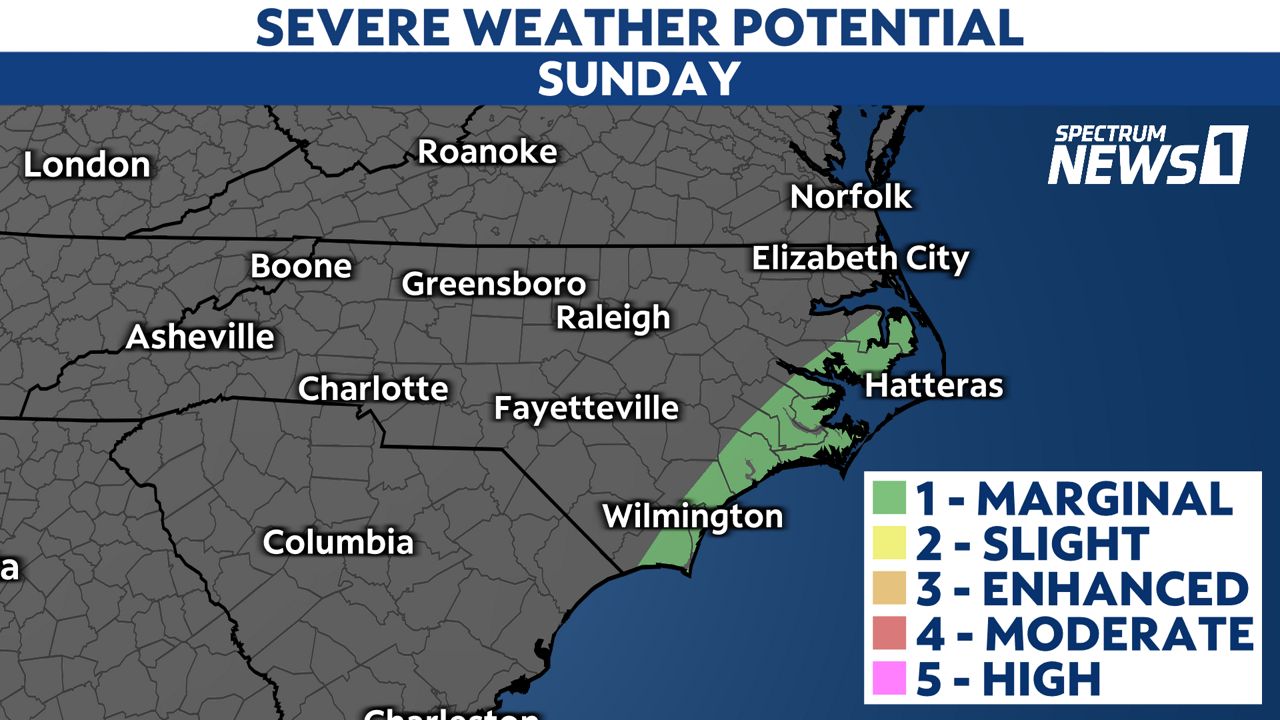 Winds, not associated with thunderstorms are expected to increase especially Sunday afternoon. Wind gusts could exceed 60 mph over the Outer Banks resulting in over-wash on NC Hwy 12 and coastal flooding in favored areas.
Stay tuned to Spectrum News 1 and the Spectrum News app for updates.