An employee at Duke-Raleigh Hospital is recovering after a violent attack from a patient early Thursday morning, hospital officials say. And the hospital's COO says the incident is an example of a nationwide issue.
What You Need To Know
A patient who physically assaulted an employee at Duke-Raleigh Hospital was arrested, according to police
The Duke University Health System COO says the attack is part of dangerous trend
The COO emphasized that safety resources are in place and more signs addressing aggressive patient behavior are going up
According to a Raleigh police incident report, Stanley Scarboro, 41, was arrested on multiple counts of aggravated assault and communicating threats against a worker.
Duke Health released a statement about the alleged attack:
"The incident is under investigation, and hospital staff are being provided support. We are deeply concerned about these escalating incidents of violence in health care settings nationwide, and we are making every effort to protect our patients and staff, whose safety is our highest priority."
The American Hospital Association reports an increase in workplace violence within the health care field.
The executive vice president and chief operating officer of Duke University Health System said this dark moment represents a dangerous trend across the country.
"Health care settings are a place for hope. A place for healing. A place for a sense of community of the staff getting together to answer the call for a mission that is most admirable," Dr. Craig Albanese said.
The doctor said the safety of their workers is always under review.
"Health care violence is just unacceptable. It's (an) unacceptable risk. It has no place in health care. It impedes how folks are able to care for the community. It affects how one thinks about doing their job, and our staff shouldn't be subjected to that. Any risk is (an) unacceptable risk right now," he said.
Albanese believes this incident should draw the attention of the public. He said staff safety is always under evaluation. Since coming to the position in January, Albanese said his mission has been the same.
"My job is to keep people safe. I want Duke to be the employer of choice for anyone who wants to work in health care. Part of that is you need to feel respected. You need to feel like you belong. Feel like you have a voice. Feel safe," he said.
The COO told Spectrum News 1 new signage will be posted at Duke Health Hospitals over the next week.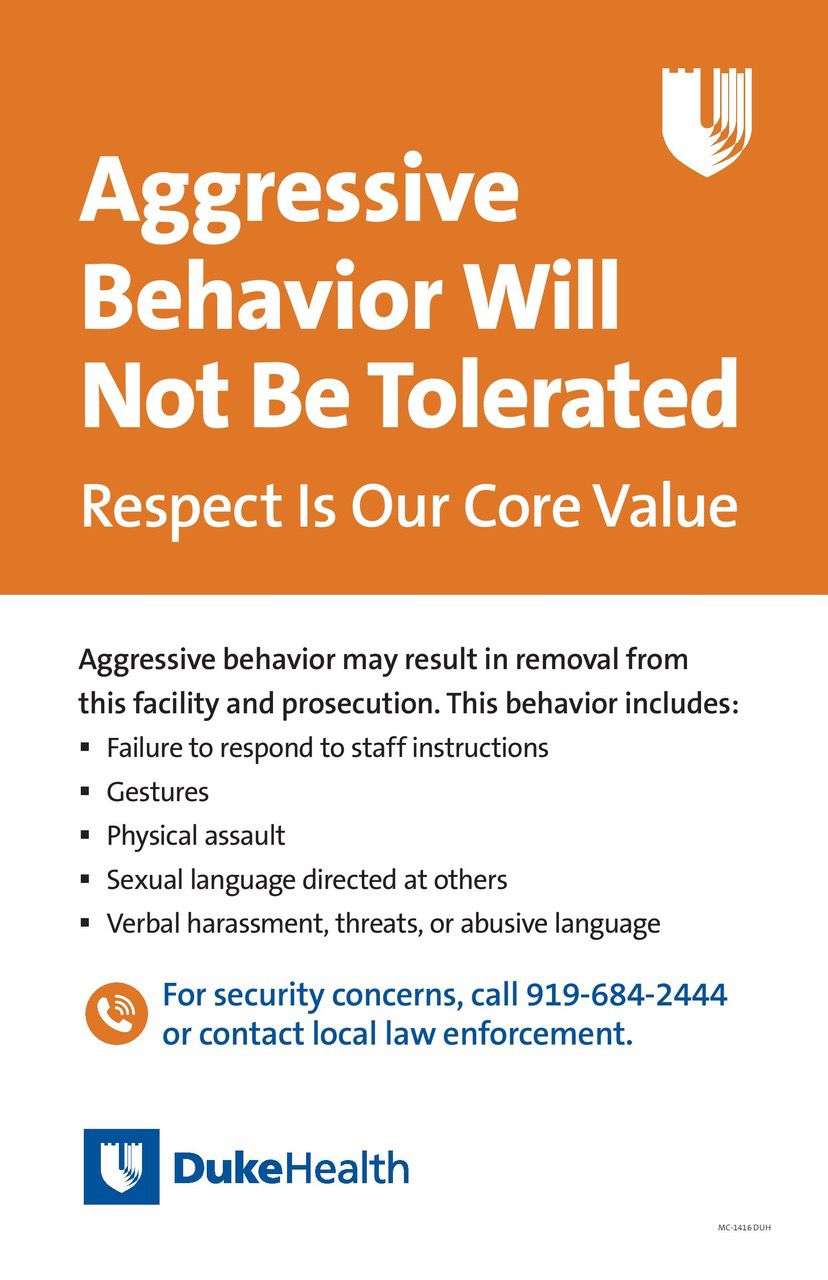 Each sign is an attempt to address the consequences of aggressive behavior toward staff before it begins. Visitors who come to the hospital face sign-in sheets and metal detectors.
In terms of a threat to staff well-being, Albanese acknowledges that certain wards may be more well-known than others for erratic patient behavior. However, he emphasizes danger can manifest at any wing of a medical center.
"The risk is everywhere. It's absolutely everywhere. It's in our ICUs. It's in the Med Surge Wards. Everyone is trained. Security presence is readily available. Panic buttons, deescalation training, and we do understand the high risk times and the high risk factors," he said.
Some of those high risk factors include people who are in pain, those who receive devastating health news and patients with a history of violence or substance abuse.
Scarboro remained in custody Friday afternoon, Raleigh police said.