RALEIGH, N.C. – The Downtown Raleigh Alliance is bringing life back to the city in a safe way.
Raleigh Routes launched earlier this year, which is a series of walking and running trails that can be accessed through a QR code on your smart phone throughout Moore Square.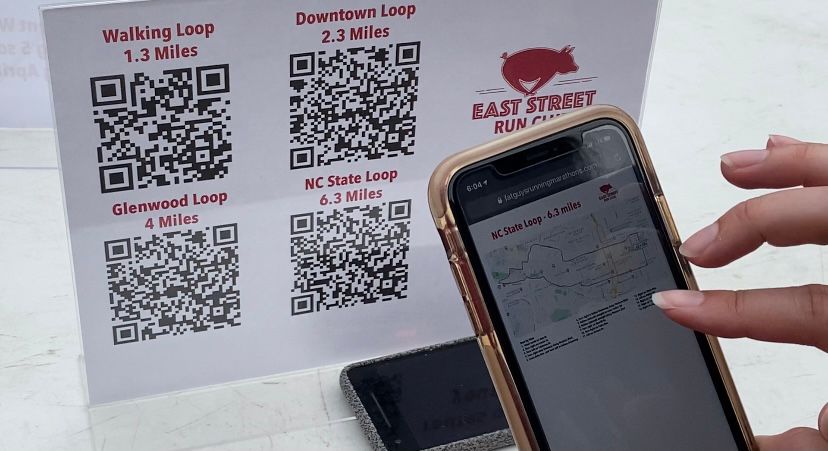 The East Street Run Club is running these routes on the third Wednesday of each month throughout the summer. But social running has been a weekly tradition for them since November 2020.
Every Wednesday at 6 p.m., the East Street Run club meets outside of Current Wellness on East Street in Raleigh. Ben Strunk leads the charge.
"For runners, it's such a solo activity in a lot of ways, so being able to create this run club is being able to have this social engagement with other runners, to help support and motivate each other," Strunk said.
Strunk started the group last November as a way to bring runners together in a social setting.
The Ohio native moved south to North Carolina seven years ago, and that is when he decided to make a lifestyle change.
"I was up about 300 pounds on the scale. I dropped about 100 pounds, and I needed a way to keep that weight off," Strunk said.
That's when he turned to running.
"I didn't really start the way most people do. I tend to jump into things pretty hard and actually started running ultra-marathons," Strunk said.
That was his first race, and he has been running ever since. One of his biggest accomplishments is the Mountains-to-Sea Trail. It spans 1,175 miles from the Great Smoky Mountains to the Outer Banks.
Back on East Street, after the run, the group gathers for a well-deserved cold beer.
"I know this year has been difficult for everyone and as we come out of this pandemic the run club is a way for us to build community, do something that's a safe activity outside," Strunk said.
Whether you are a walker or runner, there is a trail for everyone. The East Street Run Club has a variety of four different routes ranging from 1 mile to 6 miles.
Raleigh Routes also has a 1 mile and 3 mile self-guided running and walking route.
You can join the East Street Run Club on the third Wednesday of each month at Moore Square to run the Raleigh Routes or every Wednesday on East Street outside of Current Wellness at 6 p.m.