BEAUFORT, N.C. – Here along North Carolina's Inner Banks, the Global War on Terror seems far away.
What you need to know
Now-retired Col. Ralph Lyon was in Germany with the N.C. National Guard's adjutant general when the Sept. 11 attacks happened
Lyon and the other officers had to drive to a U.S. air base to catch a military flight home
Lyon said 9/11 showed the nation will always be at risk of attack from a determined enemy
On this tree-lined street near the shore, retired Col. Ralph Lyon can spend time on the front porches of any one of his neighbors, all military retirees. A short walk to the dock lets him watch some of North Carolina's wild horses off in the distance.
As the summer of 2001 turned to fall, Lyon was in his 34th year of service with the N.C. National Guard.
He had served in a medical battalion and an infantry brigade before becoming chief of staff to the adjutant general, the state's highest-ranking military officer. That September, Lyon accompanied the new adjutant, Maj. Gen. William Ingram, Jr., to Germany to visit soldiers stationed there.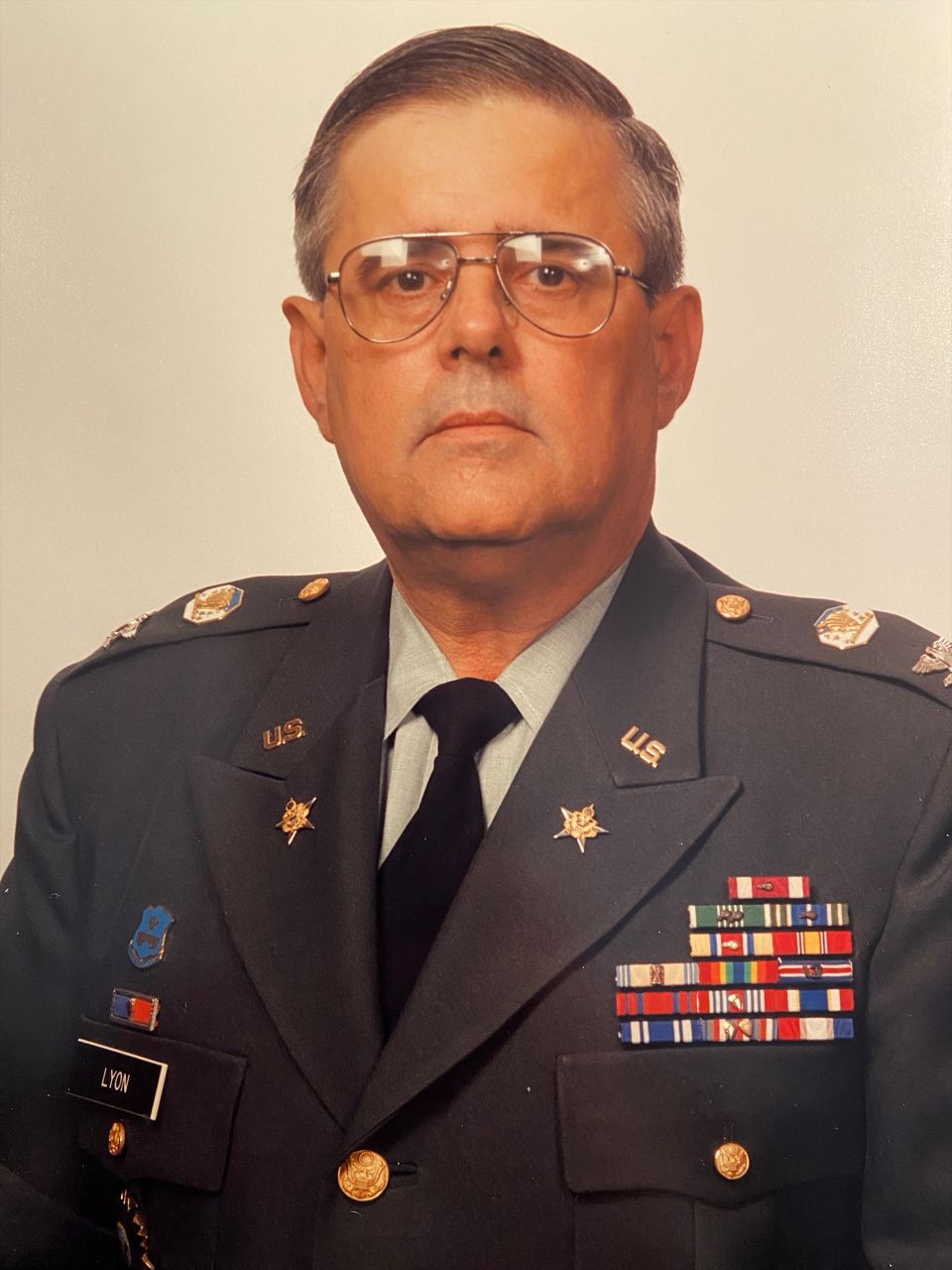 Col. Ralph Lyon, shown in uniform circa 2001, was the NC National Guard's chief of staff when the 9/11 attacks happened. Photo from Ralph Lyon.
On Sept. 11, 2001, Lyon and Ingram were in the town of Rothenburg ob der Tauber, a medieval-walled city famous for its Christmas market. Lyon said he noticed a sudden hubbub among the locals.
"I finally found one that I could get stopped to tell me what was going on, and he said America was under attack," he said.
Because of his position, Lyon had a cell phone capable of making international calls, an uncommon item in 2001. He called his secretary back at Joint Force Headquarters in Raleigh. As he was on the phone with her, United Airlines Flight 175 hit the South Tower of the World Trade Center.
"We bolted for Munich," he said.
As they left the town behind, the governor's office called to see where they were and to ensure they were on their way home. The Guard officers originally planned to get on the next civilian flight out of Munich. Those plans changed when they arrived to an empty airport.
"I turned around to Lt. Col. Jones and said, 'Go get our rental cars back,'" Lyon recalled.
Lyon said the officers finally made it to Ramstein Air Base. They flew out early the next morning on a KC-135 tanker. By the end of Sept. 12, 2001, they were back in North Carolina.
Although Lyon and his team had picked up snippets here and there, he said they did not understand the full extent of the damage until they returned to the States.
"We were more interested in what they did at the Pentagon from a damage standpoint," he said. "We had some people that were at the Pentagon that we worked with."
Lyon said the next task was to review the Guard's available resources and its ability to deploy. He said the Guard always has contingency plans so it was simply a case of executing them as needed.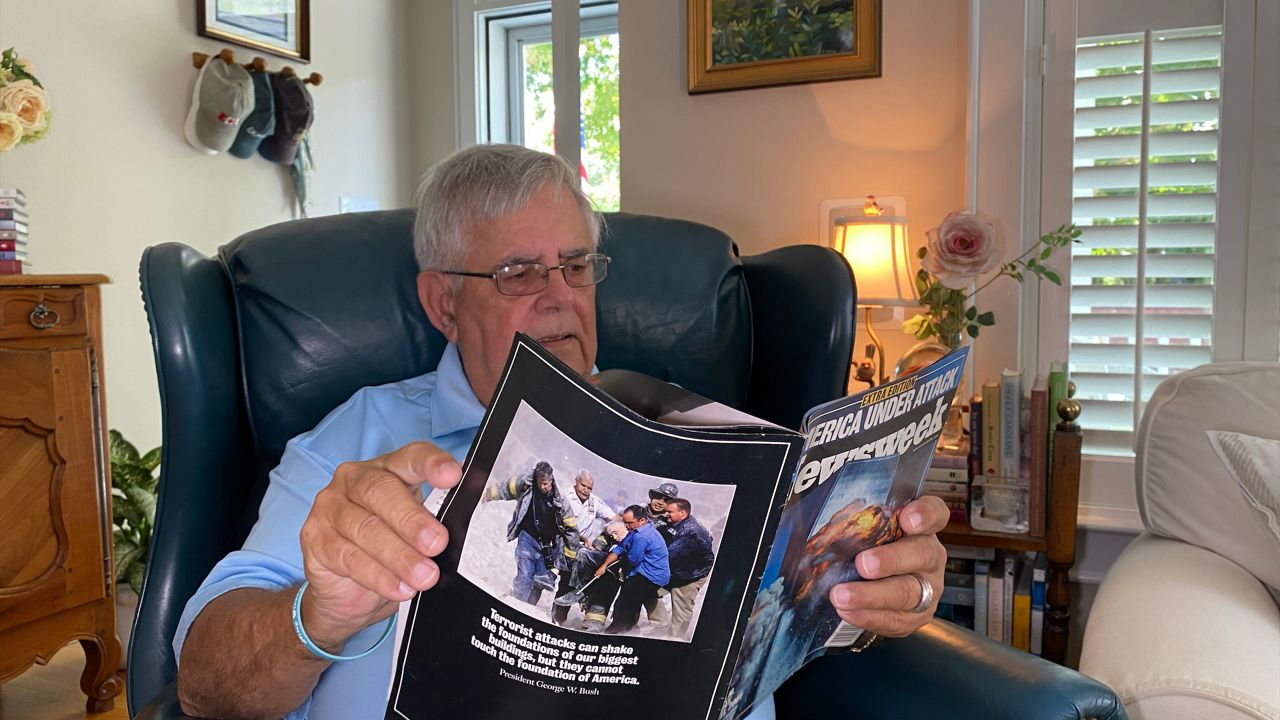 Ralph Lyon flips through a special issue of Newsweek published following the 9/11 attacks. Lyon said he plans to give it to his children and grandchildren so they can remember the attacks.
"It got kind of routine pretty quick," he said. "We just needed to know who, what and where before we said this would happen or that would happen."
Lyon retired in 2003, though he continues to serve as a consultant to Army units getting ready to deploy. After two decades, he said it seems many people have forgotten about the Sept. 11 attacks, a group he admitted sometimes includes himself.
Lyon said the attacks hold many lessons for Americans, but perhaps the most important is the need for continual vigilance, especially in light of the Taliban's return to power in Afghanistan last month. It was in Taliban-controlled Afghanistan that the 9/11 attacks were plotted.
"If you've got a willing enemy, willing to sacrifice his life, it's going to be hard to stop him," Lyon said. "We've just got to be very vigilant."