LOS ANGELES — Just when it seemed things couldn't get any crazier with the used car market, some pre-owned vehicles are now worth more than the equivalent car purchased new.
Fifteen lightly used car models are now more expensive than buying new, according to a study from the search engine iSeeCars.com.
Topping the list is a low-mileage, pre-owned Mercedes-Benz G-Class luxury SUV, which now commands almost $41,000 more than a new one, but models from Chevrolet, Toyota, Kia and Hyundai also made the cut.
"There's always been a narrow amount of cars that were in high demand and had low supply, but that was usually new vehicles that had just come out that were really exciting to people," said iSeeCars.com Executive Analyst Karl Brauer. "What changed in the last year is that Toyota Corollas were more expensive. That's where things became very weird."
Last April, iSeeCars.com was one of the first to report that used cars were increasing in value, reversing their longstanding status as a depreciating asset. Chalk it up to a microchip shortage that has made new cars difficult to find and forced more buyers into the pre-owned market, the average price for a lightly used car was 24% more in April compared with a year ago.
The average transaction price for a one- to five-year-old car last month was $34,392 — just 1%, or $454, less than the same model purchased new. A year ago, the average lightly used car cost 17% less than new.
For its study, iSeeCars.com analyzed asking prices for more than 1.5 million cars sold between April 1 and April 30, 2022. New cars in the analysis were from model years 2021 and 2022, while lightly used cars were from model years 2020 and 2021.
"When you can't get a new car, you don't get rid of your used car," Brauer said. "That means that you're restricting the used car supply for used car shoppers."
That's keeping values at elevated levels, though used car prices have stabilized since February. The cars defying that trend by commanding even higher prices than their new counterparts are a mix of luxury vehicles and fuel-efficient models. Lightly used Chevrolet Corvettes and Porsche Taycans now fetch almost $14,000 more compared with new, largely due to long waiting lists for ones that have never been driven.
Brauer said the waiting list for the Taycan is six months, and the 2022 model year mid-engine Corvette is backlogged, driving up demand for lightly used versions.
"People who don't have money issues, they don't care what they have to pay," Brauer said. "They want their car now."
Even bargain basement models like the Kia Rio are getting more, according to iSeeCars.com, netting 9.7%, or $1,824, more for lightly used than new. The lightly used Kia Seltos also made the list, netting 9.2%, or $2,441, more than new.
"What's helping them on this list is fuel prices," Brauer said. "If I'm trying to save money on fuel and on buying a car, I don't just buy a used car. I buy a highly efficient used car."
The Kia Rio has an EPA-estimated fuel economy of 36 mpg combined, while the Seltos front wheel drive gets 31 mpg combined. The national average per-gallon gas price Wednesday is $4.40, according to the American Automobile Association.
In California, the average is $5.83.
Record-breaking gas prices are the reason several used hybrids made the list, including several Toyotas: the Sienna minivan ($4,065 more than new), Corolla sedan ($2,138 more), RAV4 SUV ($5,002 more) and Toyota Prius Prime ($2,508 more). In total, five Toyota models made the list, including the Tacoma midsize pickup truck ($3,405 more).
Brauer's advice to car shoppers: Wait to buy if at all possible.
"If you have to get a new car, be flexible, and try to be as open to different models and trims and colors as you can," he said.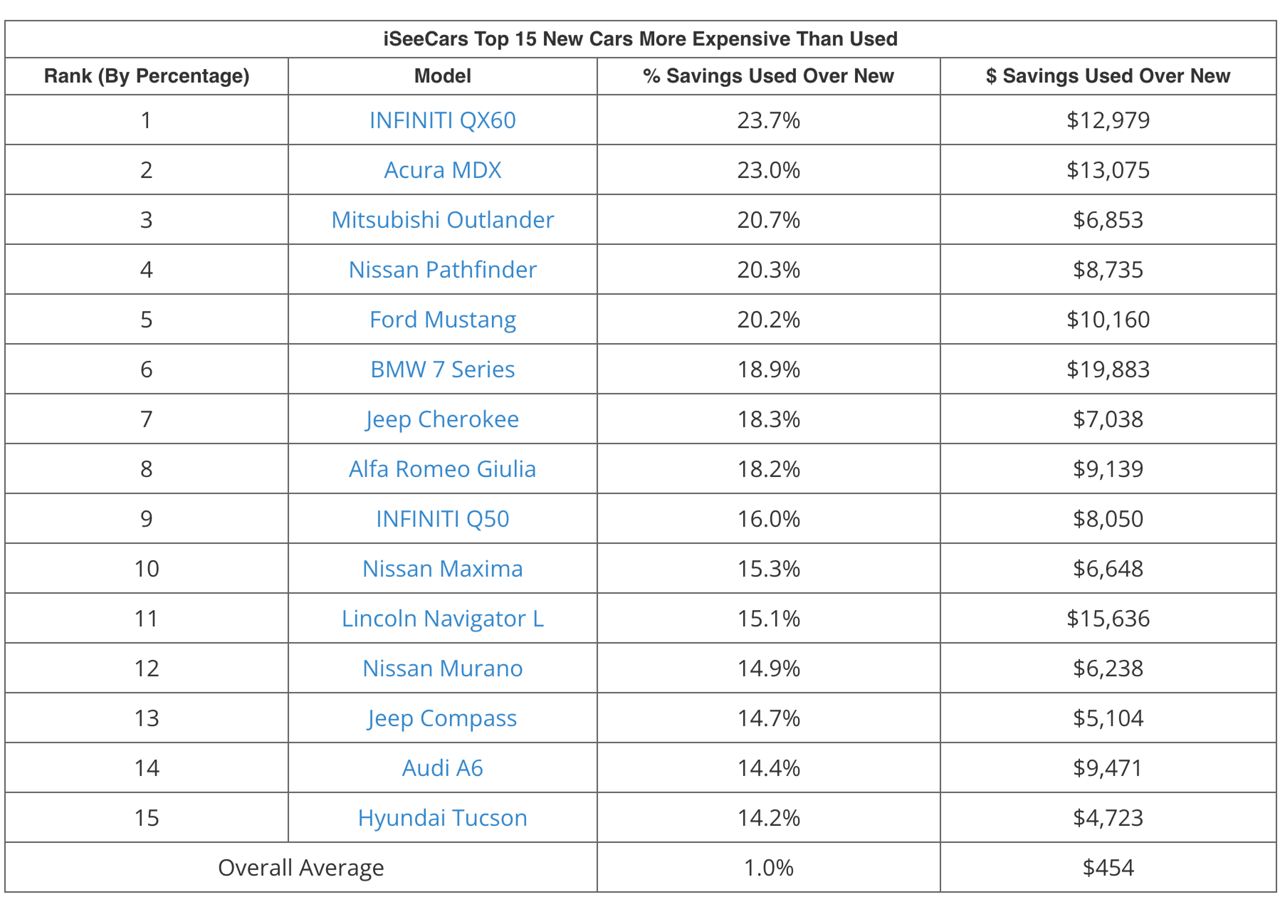 He also recommends widening the search area geographically because a car might be available for less money farther away from where a person lives.
For its study, iSeeCars.com also identified the top 15 used makes and models that provide the most savings compared with buying new. The Infiniti QX60 topped the list, followed by the Acura MDX, Mitsubishi Outlander, Nissan Pathfinder and Ford Mustang.