LOS ANGELES — Fresh from spending the night at a soon-to-open tiny home village in Tarzana, Los Angeles City Councilmember Kevin de León picked up a shovel to break ground on another homeless housing development in Highland Park.
"If LA is the nation's epicenter of homelessness, then our district is ground zero," de León said just a few hours after he'd woken up in the same sort of 64-square-foot building that will soon be installed for the Arroyo Seco Tiny Home Village and showered in a mobile trailer.
---
What You Need To Know
The Arroyo Seco Tiny Home Village is a complex of 115 tiny homes that will be built in Highland Park


Construction is expected to be completed in September


Northeast LA has the largest concentration of homelessness in the city


Each tiny home is 64 square feet and includes a locking door, folding bed, electricity, heat and cooling
---
"We have more unhoused people in Council District 14 than Chicago or Houston, the No. 3 and 4 most populated cities in America," said de León, who represents the district encompassing the Northeast neighborhoods of Boyle Heights, Eagle Rock, El Sereno, Garvanza, Glassell Park, Highland Park, Lincoln Heights and Monterey Hills.
Calling homelessness LA's "mark of shame" and "the moral crisis of our time," de León explained that the new tiny home village in Highland Park is part of a plan he calls A Way Home, intended to bring 25,000 new homeless housing units online by 2025. More than 41,000 Angelenos are currently unhoused.
Situated on Arroyo Drive in Highland Park, the Arroyo Seco Tiny Home Village will consist of 115 prefabricated housing units with 224 beds serving a population of unhoused individuals living within a 3-½ mile radius. When it's completed in September, it will be the largest complex of its kind in the country.
Made by the Washington-based company Pallet, each tiny home measures eight feet by eight feet and has a locking door, four windows with screens, heating, cooling and electricity, as well as a fire extinguisher, smoke detector and carbon monoxide monitor. The company also provides storage and a folding bed that can be doubled up into a bunk and stowed away when not in use.
"We believe that homelessness has reached a humanitarian crisis scale, and that's why Pallet was founded: to treat this like the crisis that it is by building shelter at speed and scale," said Pallet Communications Director Brandon Bills. Pallet has helped the city of LA build four tiny home villages so far, the newest of which will open in Tarzana on July 5.
Each tiny home costs the city about $8,000, including delivery and assembly, according to Bills.
"The streets can not be the waiting room for our neighbors to wait for permanent housing to be built. We can't allow the trauma, the addiction and displacement to continue," said Rowan Vansleve, president and chief financial officer of Hope of the Valley Rescue Mission, which will operate the Arroyo Seco Tiny Home Village, and provide services to treat residents' mental health issues and addiction before they're placed in permanent supportive housing.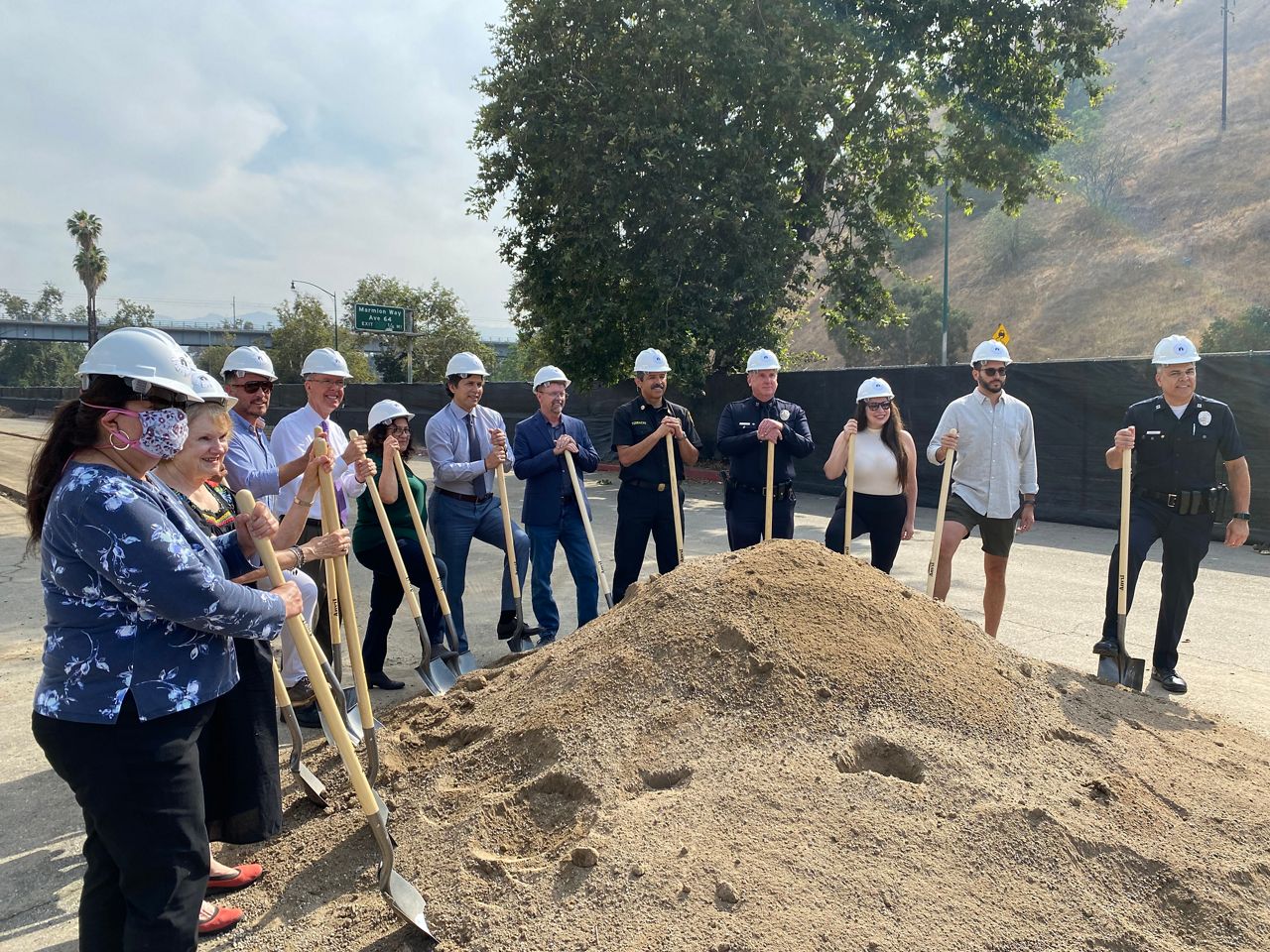 Founded in the San Fernando Valley 12 years ago with the goal of breaking the cycle of homelessness and poverty, Hope of the Valley opened LA's first tiny home village in North Hollywood six months ago and has since opened additional villages in North Hollywood's Alexandria Park and Reseda. Next week, it will open one in Tarzana. Later this year, another one is planned for Eagle Rock.
"I love the concept of tiny homes because of the locking door, especially for women who've been on the street," said Vansleve, whose mission operates multiple types of congregant shelters, including for families and youth. "I've been doing this work for 20 years and cannot remember one woman I know who's been in homelessness who hasn't been a victim of violence. So often, walking into a congregant shelter is overwhelming and becomes the barrier for them to get housed. Coming into a Pallet shelter and being able to lock that door is just another level of dignity."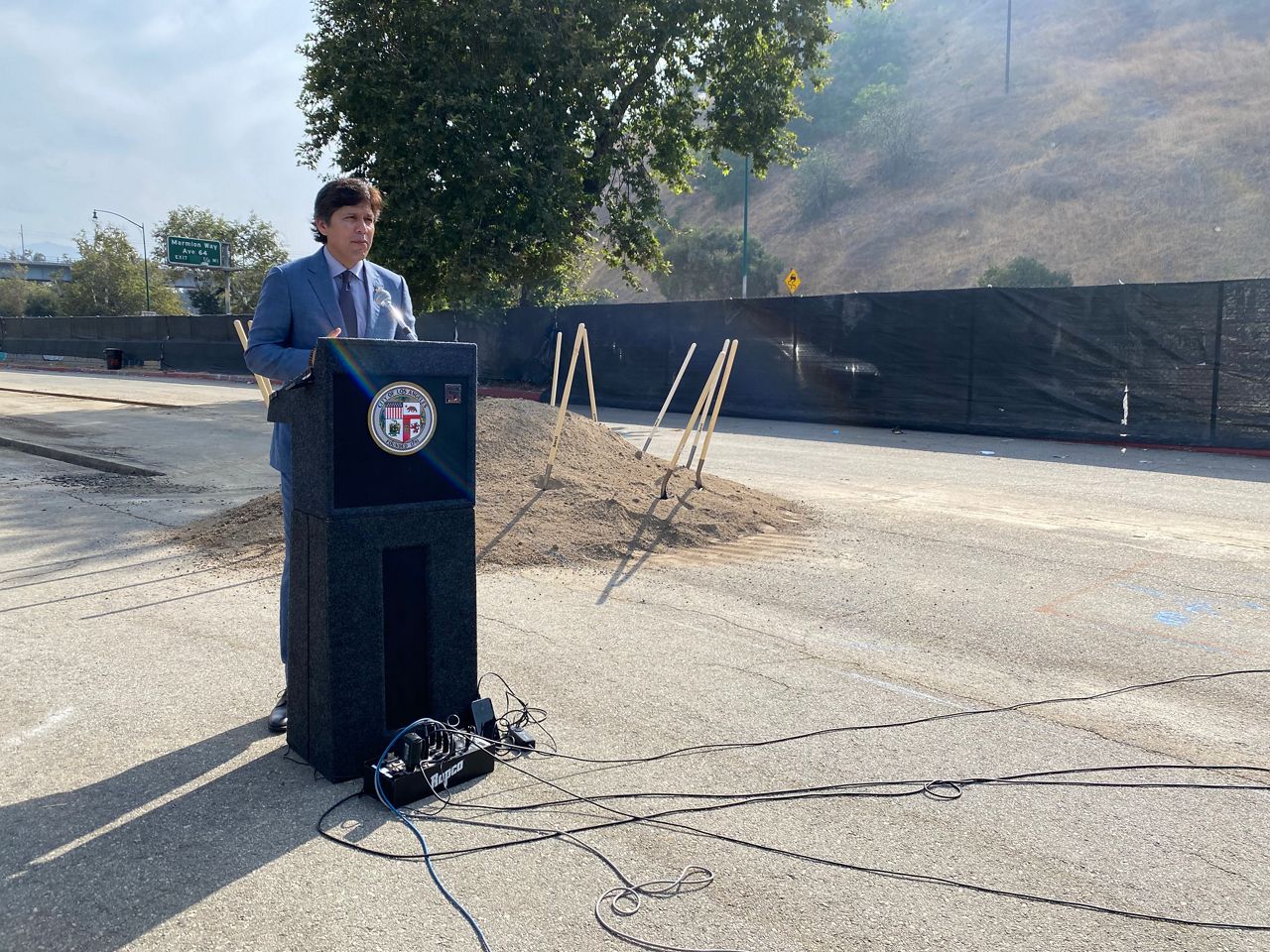 De León's office has been conducting town halls with community members to get their input on the Arroyo Seco Tiny Home Village and has won the support of various stakeholders, including the Historic Highland Park Neighborhood Council and Highland Park Heritage Trust.
Situated between the 6.8-acre Arroyo Seco Park and the 110 freeway, the tiny home village will be built on asphalt to prevent the destruction of any trees. A hedge will be planted to blend the village with the park's landscaping, and a nine-foot-tall barrier will be installed on the freeway side to mitigate sound.
In addition to the homes, the city will supply three hygiene trailers, on-site laundry, water bottle filling stations, designated seating for food distribution and dining, as well as lighting and 24-hour security.
"The more people we can get off the streets, the less our firefighters will need to respond to emergency calls for help from people living on the streets," said LA Fire Department Chief Ralph Terrazas, one of several city agencies that worked with De León's office on the project.
Parks and Recreation and the Bureau of Engineering were also involved.