LOS ANGELES — Standing steps away from piles of garbage, Los Angeles City Council Member Kevin de Leόn announced his plan Tuesday to combat illegal dumping. Called Clean Streets Now, his initiative calls for speeding up the response time for removing trash, increasing funding for cleanups and expanding LA Sanitation staff.
"It pains and it angers me to see how dirty our city has become," de Leόn said, as he stood in cowboy boots next to a mound of discarded Capri Sun drink packs and 7-Eleven cups next to an Interstate 10 off-ramp in downtown LA. "We're never going to clean it up if we don't set high standards with the adequate allocated resources needed to reach those goals."
On Tuesday, de Leόn is introducing several motions in City Council to begin the process of cleaning up LA, starting with an assessment of city resources to combat the problem. LA Sanitation has long been underfunded and understaffed to meet the challenge, de Leόn said. For the entire city of 503 square miles, there are just six city staff members tasked with investigating individuals and businesses that illegally dump trash.
Over the last two years, LA Sanitation has issued 1,200 citations and referred 39 cases to the city attorney for prosecution. Still, thousands of cases have gone unreported simply because the city lacks adequate staff. There are currently nine two-person teams across the entire city of LA that respond to illegal dumping cleanups.
LA Sanitation and Environment General Manager Barbara Romero said the city had responded to 29,000 calls reporting illegal dumping and collected 50,203 tons of solid waste in 2019. But far more incidents go unreported.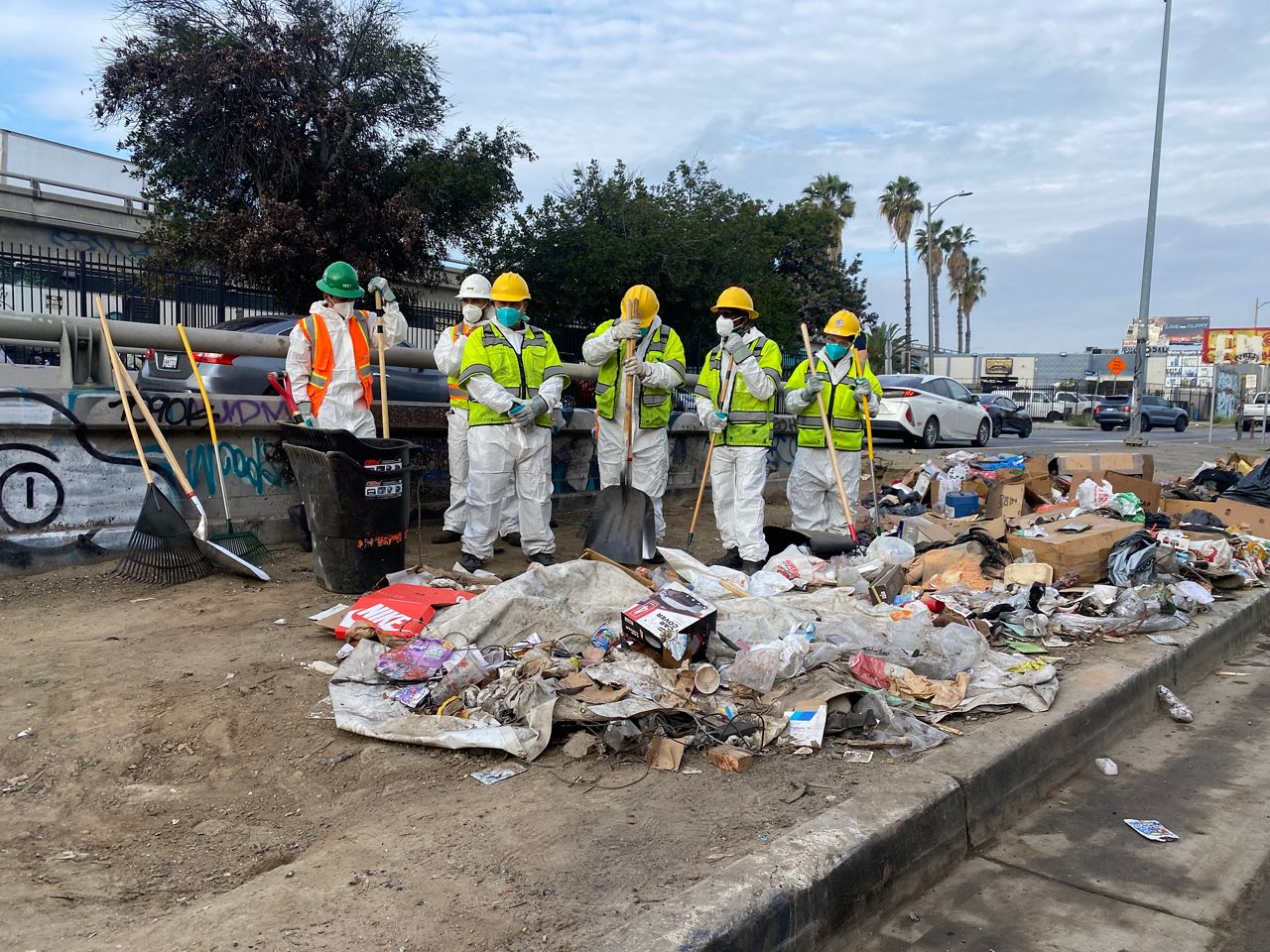 The Clean Streets Now plan calls for cleaning up illegal dumping within 48 hours of it being called in. It also suggests installing surveillance cameras and "implementing environmental design techniques" such as better lighting and tree trimming, de Leόn said.
Because some parts of the city do not currently receive street sweeping services, de Leόn is calling for StreetsLA to sweep those areas and coordinate with LA Sanitation to maximize resources.
While Tuesday's announcement happened on the same street as a homeless encampment, de Leόn said "homelessness is not the source of the trash. There are individuals who are deliberately dumping trash, most likely to avoid landfill fees."
Illegal dumping in the city increased 450% between 2016 and 2020, according to the LA city controller. Some of the hardest hit areas are in de Leόn's district. Last year, more than 2,700 tons of items were illegally dumped in the public rights of way in Council District 14, which includes Boyle Heights, El Sereno, downtown and Northeast LA.
"For years, people who illegally dumped have preyed on communities that lack the resources to fight back against this dumping in neighborhoods," de Leόn said, adding that in communities such as Boyle Heights and downtown LA, "families walk their children to school and have to step through all this trash."
Clean Streets Now, he said, is a first step to removing that trash and putting it where it belongs.