HUNTINGTON BEACH, Calif. — On a recent overcast afternoon in Huntington Beach a group of California State University Long Beach students and recent graduates were standing under a tent in front of a startling display of shark teeth, shark jaws, fins and giant shark eyeballs displayed in jars. Ostensibly macabre, the display was intended to educate not shock. Next to the tent was a massive tarp, emblazoned with a picture of an 11-foot Great White.
The students were hosting a "Shark Shack" — an educational pop up created by Christopher Lowe, director of the CSULB Shark Lab and a professor of marine biology. He started the Shark Shacks two years ago to help bring the research from his own shark lab to the public. Lowe wanted to create a fun, accessible way to share information about local marine life and help people stay safe at the beach. Kids on the beach who spotted the shack, which is bright blue with a giant picture of shark, were running up excitedly to find out more.
Lowe runs the Shark Shacks along with his students. They will be hosting 36 of them over the next three months at beaches from Santa Barbara to San Diego. "These shacks are meant to engage the public. We focus on animals they might encounter when they're at a local Southern California Beach," said Lowe. He and his team have also developed a comic book to help kids learn about ocean safety — highlighting potential issues they might encounter, like rip tides, sting rays and…sharks.
Initiating conversations with beachgoers and swimmers about sharks was important to Lowe because the shark population has increased in recent years. "Over the past 20 years, we've seen more sharks along our beaches, particularly white sharks, and when you say the word 'white shark', or 'Great White', that gets people scared," he said, adding that shark attacks are very rare. "In the last five years in California, there have been less than seven shark attacks. We're not talking a lot, when you think of the millions of people, particularly in the summer (at the beaches)."
Lowe oversees the Shacks but leaves a lot of the educational components up to his students. Everyone covers a different area of research. Erin Pierce explained shark temperature control to a group of surfers who stopped by the Shack. "Some sharks heat up the centers of their bodies, like their brains and their eyes, they can heat up certain areas to function better in the cooler temperatures," she explained.
Meanwhile, Eleni Wojcik brought younger kids over to the shark tarp, so they could lie down next to a Great White, to check out how they compared size-wise.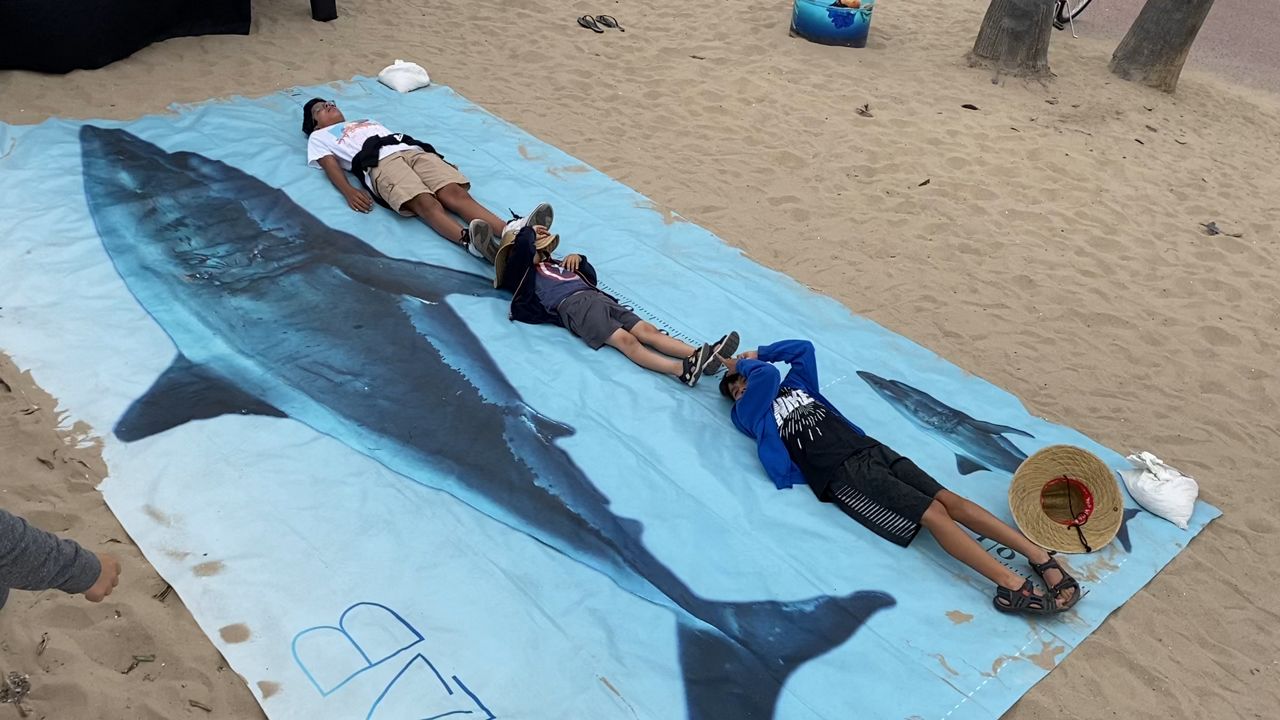 "I think sharks are kind of scary," said 10 year-old Kendall, visiting the beach with her family while examining the shark jaws on display and touching some of the spiky teeth tentatively. CSULB student Haylee Kramar taught Kendall the "sting ray shuffle," using a model, foam sting ray and demonstrating how to move her feet in the sand and scare off any lurking rays.
One enthusiastic marine biology graduate, Mariah Meyer, is spending her summer working with the shacks. "I like dispelling myths that sharks are cold-blooded killers," she said. Meyer's passion for sharks started in high school when she watched a documentary about shark finning. "It really affected me in a way I didn't realize a video could affect me, I was asking why no one was doing something about this, so I decided that someone would be me."
It's rewarding work for all the CSULB students and for Lowe, seeing young kids share their own enthusiasm. "What I'm excited to see is that so many kids are interested in sharks. I love doing the research, but I also love teaching, so for me this is the best combination of everything I love to do," Lowe said.