NATIONWIDE — Whether they're been shoved to the ground or told to "go back where you came from," Asian Americans have long felt the sting of racism. Now a documentary called "The Race Epidemic" is putting the history of Asian American Pacific Islander discrimination into context.
"Asian Americans face the stereotype of being considered foreigners in their own land," Rep. Judy Chu, D-Calif., said in the film, which premieres next week during the Asian American film festival, CAAMfest.
Created by local filmmakers Ron Wong and Tony Shyu, the documentary contends that racism has always existed in the United States. It's just constantly shifting between different minority groups depending on what's happening geopolitically.
With COVID-19 continuing to ravage the world — and President Donald Trump repeatedly referring to it as the "Chinese virus" and "kung flu" before he left office — AAPIs are simply the most recent target of racist attacks. In March, California State University's Center for the Study of Hate and Extremism reported that hate crimes against Asian Americans had increased 149% from 2019 to 2020, despite hate crimes declining overall.
Featuring interviews with prominent Asian-American politicians, historic film footage of Japanese-American internment camps, and recent videos of AAPIs being physically attacked in the street, "The Race Epidemic" began in 2018 as a documentary about first-generation Taiwanese American John Chiang and his campaign for California Governor.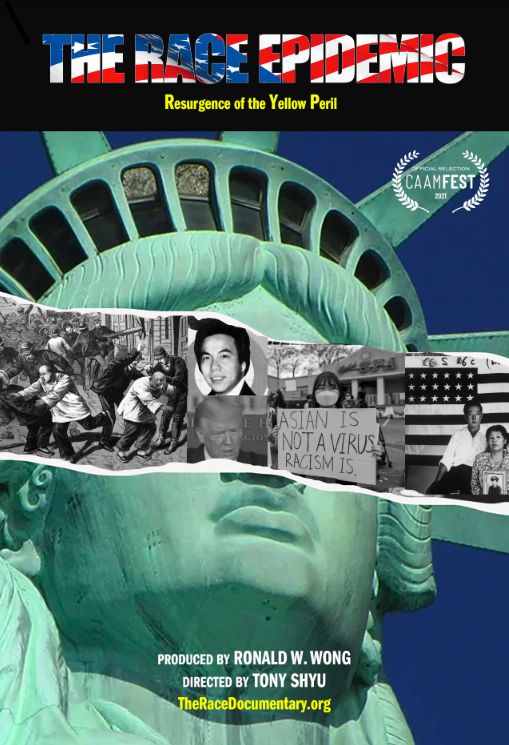 "I thought it would be good to do a documentary not just about his race but exploring the intersection of race and politics," said Wong, who wrote and produced the film. A native of Monterey Park who has worked in politics for 35 years, he understood "there are unique challenges Asians face in running for office: the perception they're perpetual foreigners more loyal to other countries and that outside foreign influences are controlling their campaign," he said. "I wanted to unpack all that."
So Wong reached out to his longtime friend, director Tony Shyu. Being a Taiwanese immigrant who had experienced racism and bias after moving to Pasadena as a 12-year-old, "I wanted to do this film for my kids so they will understand about racism against Asian Americans," said Shyu, who is now the father of a 13-year-old son and 9-year-old daughter.
Like the AAPIs they feature in their documentary, Wong and Shyu both experienced racism growing up in Southern California.
Shyu did not speak a word of English when he first moved to the U.S. and started attending a school that was mostly Caucasian. "Occasionally, I'd get called names," he said, not understanding until he was older that those names were actually racial slurs.
When he was in high school, he said, strangers would come up to him and ask if he was Long Duk Dong, the Asian foreign exchange student in the 1984 coming-of-age movie, "16 Candles."
"There was a lot worse racism I faced because they looked at me as some kind of enemy," Shyu said. "I think it's better now, but with all the recent events, I feel like everything has taken a wrong turn and is almost going backwards."
Wong was also affected by anti-Asian racism growing up in Monterey Park in the 1980s, when people in the area tried to ensure the city's signs were only in English. The laundromat his family owned was often vandalized with rocks, and his dad was chased down the street and spat upon. The experience drew him to politics.
"There's all these stories where we felt less than," Wong said. "Based on my experiences and that of my family, I chose to be a part of politics in response to that."
Having served in President Clinton's administration working on hate crime policies in the U.S. Department of Justice Community Relations Service, "We think the solution is politics and policy making," Wong said. "To make not only California but the U.S. more equitable, it will take policy changes."
And those policy changes are made possible through political representation that has, so far, been hard won.
"Because your face looks different, therefore you must have been born in a different country," former LA City councilman Michael Woo said in the film. While running for LA mayor in the 1990s, he was routinely picketed with signs that read, "go back to China on a slow boat."
Woo is one of several Asian American politicians in "The Race Epidemic," including Rep. Chu, former LA city Councilman David Ryu, California Assemblymember David Chiu and California Assemblymember Evan Low.
At the time the film was shot in 2018, AAPI hate wasn't getting nearly as much attention as police killings and white supremacist violence against African Americans. Black Lives Matter was rising in influence, following the police killing of Stephon Clark in Sacramento, who was unarmed and standing in the backyard of his grandmother's house when he was shot eight times.
"The Race Epidemic" was finished before the mass shootings at Atlanta-area spas in March that killed six Asian women, drawing attention to a steep increase in anti-Asian hate crimes over the past year. But many of the interview subjects in the documentary foresaw it happening.
As California Assemblymember Low said in the film, "What I'm fearful of is that when you see all of these communities marching in the streets because of direct attacks, Asians say it's not quite us, but if you look at history, it's only a matter of time."