COLUMBUS, Ohio — The pace of COVID-19 vaccinations in the state has fallen by about 70%, and reports say Ohioans are dying of the virus at nearly the lowest levels since the pandemic began.
Gov. Mike DeWine announced Wednesday that Ohio is preparing for a full reopening and his administration will end the state's health orders, including the mask mandate, on June 2.
Seven-day average deaths due to COVID-19 dropped below 15 per day in Ohio this week, a more than tenfold decline from the early winter peaks.
DeWine announced he was ending restrictions across the state beginning June 2 in an evening address. Earlier Wednesday, the Centers for Disease Control and Prevention approved the Pfizer-BioNTech vaccine for 12- to 15-years-olds.
DeWine said in his address vaccination will begin in Ohio for children 12 and older Thursday morning.
Speaking with reporters Wednesday, Ohio Senate President Matt Huffman called for DeWine to announce the end of the health orders in his address.
The Centers for Disease Control and Prevention's 15-member Advisory Committee for Immunization Practices recommended authorization of the Pfizer-BioNTech vaccine for children 12 and older Wednesday afternoon.
A number of Ohio providers opened registration for the age group in advance of the final green light from state officials, including the Licking County Health Department, which is holding clinics Thursday, and Ohio Northern University, which is holding a special Pfizer clinic for teenagers Thursday.
Mount Carmel Health System Regional Pharmacy Director Virginia Ruef told Spectrum News that children ages 12-15 will have opportunities next week to register for the Pfizer vaccine.
Cincinnati Children's Hospital officials said they will hold a clinic Thursday evening and are ready to welcome teenagers for walk-in appointments.
Dr. Robert Frenck, the hospital's director of vaccine research, who is leading its participation in the Pfizer vaccine trial in children, said during a press conference Tuesday parental consent will be required for vaccination. During the ACIP meeting, officials clarified there are no federal laws requiring parental consent, but instead those laws are on the books at the state level.
A study by the Kaiser Family Foundation's COVID-19 Vaccine Monitor in April found that just 3 in 10 parents said they would be willing to get their children vaccinated as soon as it becomes available.
Dr. Pablo Sanchez, a neonatal infectious disease specialist at Nationwide Children's Hospital in Columbus, was among the 14 members who voted to expand authorization, while one member recused due to conflicts.
Sanchez inquired with officials during the meeting regarding the CDC's announcement that it will allow the vaccine to be coadministered alongside other shots as part of routine vaccination. Previously, the Pfizer vaccine was not authorized for use within 14 days of other vaccines.
"Coadministration, I have to admit, caught me off guard," he said. "On the one hand, I'm very supportive because I think it's critical that we vaccinate individuals including children at the time that they're there and not waste a single moment to provide the vaccine. But my question and I guess my concern is, what are the data? Do you have the data?"
Sanchez said the pivot will have implications for pregnant women regarding the Tdap vaccine and to homeless shelters that would like to administer COVID-19 vaccine alongside the hepatitis A vaccine.
CDC officials said the original recommendation represented an abundance of caution, but they now feel confident the vaccine can be administered without a two-week pause. Officials said the move will simplify back-to-school vaccination, which could help boost overall vaccination rates.
In Ohio, nearly 4.9 million people have been vaccinated, 42% of residents, as of Wednesday afternoon.
The state's seven-day average reported first-dose vaccinations ticked up a bit this week to 20.5k per day after it dipped under 17k this weekend. The current pace of vaccination reflects a nearly 70% drop from the peak in March.
Prior to DeWine's address, Rep. Scott Wiggam (R-Wayne County) said Wednesday he was filing a concurrent resolution that would end the state's mask mandate and social distancing requirement with a majority vote once Senate Bill 22 goes into effect on June 23.
Wiggam said it is time to end "the restrictive health mandates that have barred Ohioans from their freedoms and liberties granted to them under the Constitution."
The announcement comes after the Republican supermajorities in the General Assembly overrode DeWine's veto of SB 22 — legislation that limits the governor's powers to maintain health orders.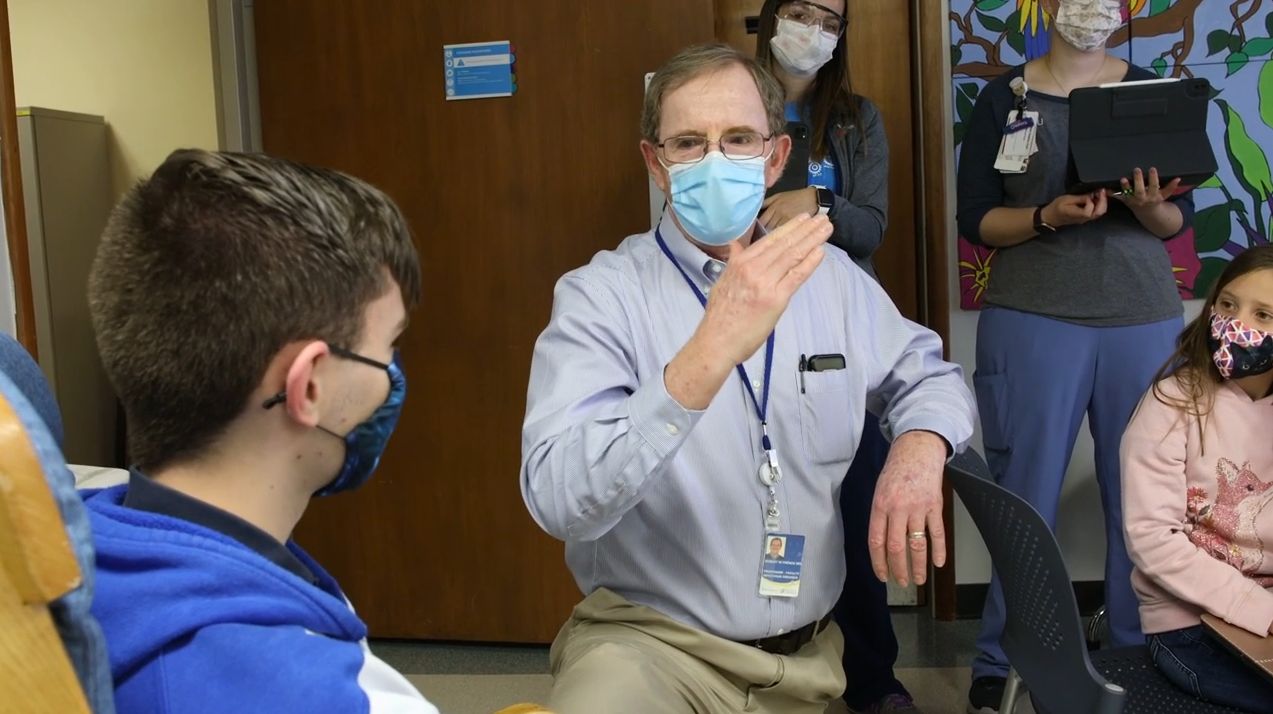 DeWine had said he would end health orders in Ohio when the case rate per 100,000 residents drops below 50 for a two-week period — a more difficult reopening metric than what many Republican leaders in the U.S. support. As of Wednesday, Ohio's case rate was 138.
Former Food and Drug Administration Commissioner Dr. Scott Gottlieb said on CNBC Monday states are waiting too long to reopen. Once the case rate drops below a rate of equivalent to 140 per 100,000 residents, health orders including indoor mask mandates can come off, he said.
"We're fast approaching the metric when a lot of public health officials said we should start relaxing these public health measures in a wholesale fashion, which is around 10 cases per 100,000 people on a daily basis," he said. "We've succeeded and met our own goal. We just are reluctant to relax the measures now."
Most of the sequenced samples of COVID-19 uploaded to the global database for tracking mutations have been variant cases so far in May.
Of 870 sequenced COVID-19 samples, there were cases of the B.1.1.7 discovered in the U.K. (417), the P.1 variant surging in Brazil (14), the B.1.427/B.1.429 discovered in California (10) and the B.1.617 variant discovered in India (3).
The B.1.1.7 variant, which is more contagious but is mitigated by vaccines, now represents a third of all COVID-19 cases that have been sequenced in Ohio.