PORTSMOUTH, Ohio — At the end of one of Dale King's workouts, you'll likely feel winded, sore, exhausted. He'll be the first to tell you they're not for everyone, but he believes the lessons they teach can be.
If you can make it through 30 minutes of his CrossFit training, King believes you're ready to tackle far bigger battles, whether that's addiction, unemployment or poverty. The key, he believes is finding a purpose to drive that work.
King grew up in Portsmouth, graduated from the local high school and then joined the U.S. Army. It felt like his calling.
He worked his way up to an Intelligence Officer position then deployed with the Special Forces, ultimately serving two tours in Iraq. All the while, King said he felt grounded. Military Service gave him a purpose, and when he returned home he felt something was missing.
"I loved growing up here and I loved the people," he said.
By 2010 though, his hometown looked different. Addiction, depression and poverty had taken hold. That was the year Scioto County declared a public health emergency related to opioids, the first in the entire United States.
Scioto County had the highest fatal overdose rate in Ohio, as well as the highest addiction rate, and Portsmouth was the epicenter.
As the county was launching a public health campaign to fight the growing epidemic, King picked up a kettlebell and started to swing.
King fell in love with CrossFit during his time in the military and thought offering a few lessons might do his community some good. He opened the Portsmouth Spartan Kettlebell Club in 2010, and it's only grown from there.
"Put effort into it and know that you don't have to do it by yourself," he told his class, as they huddled up on a Monday afternoon.
King teaches a handful of classes a day now. Several of them at The Counseling Center up the road from his gym.
"Let's talk about the most important part for your recovery," he said to them at the beginning of class. "OK? We're training effort."
The program started in 2018 and has grown to include dozens of clients and staff looking for a positive outlet, like Marcus Johnson, who is two months into the program.
"I came to rehab. That's what got me in this gym," he said. "I just wanted to feel better about myself relieve stress."
Johnson said the workouts are difficult but that's part of the draw, he knows he's going through the same thing everyone else in the class is going through, in more ways than one.
The gym isn't the only place King likes to get his community moving. Between Army Veteran and CrossFit coach, his resume also boasts the title entrepreneur.
"I didn't go business school. I had no concept of any of this stuff — investments and capital and this whole deal," he said. "But I knew I wanted to make cool things in our hometown."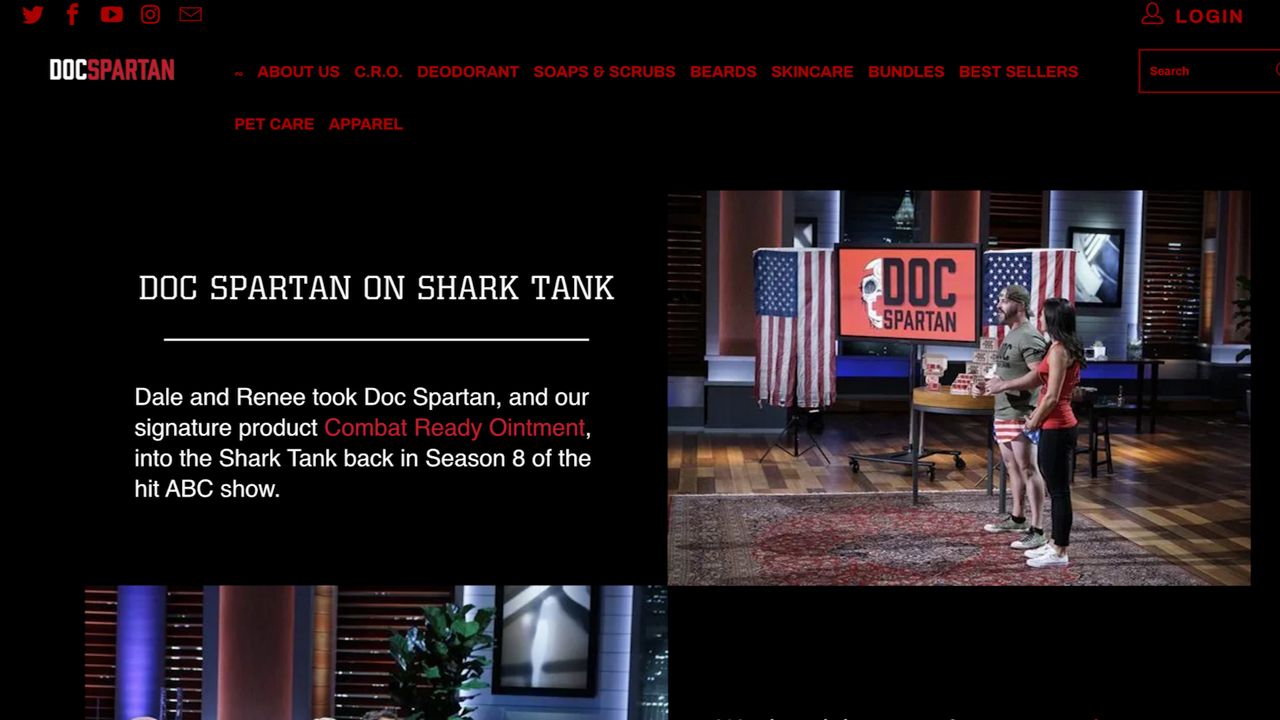 That's why when Renee Wallace came to him with an idea selling natural soap, skincare and grooming products, King wanted to see how far it could go.
"We would just sell it to folks here at the gym, members, and it rapidly kind of grew from there," he said.
They officially landed the company Doc Spartan in 2015. Then in 2017, it went from a side hustle to a full-fledged business. King and Wallace appeared on Shark Tank and secured a deal with Robert Herjavec.
Now, the company ships around the country and offers full and part-time employment for a handful of Portsmouth locals.
"Everybody that we employ is in some stage of recovery," King said.
In fact, King said he recruits from the hardest workers at his gym because he's seen first-hand the commitments they're willing to make.
By 2020 though, he decided one business venture wasn't enough. Late last year, King started a partnership with an Ohio-based sporting goods store to manufacture and ship his favorite tool, the kettlebell.
King said business ramped up during the pandemic as people looked to expand their home gyms.
"It's pretty cool because we'll have literally truckloads being picked up here of stuff that's made in Portsmouth being shipped out all across the country," he said.
Portsmouth has a proud history of local manufacturing, but after its peak in the 1950s, the city saw decades of industrial decline. King hopes other local entrepreneurs see the value in bringing some of that industry back.
For him though, it's more than the products they create. King said serving his community and providing opportunities is helping him as well. The battlefield is different, but King said training students in Portsmouth has brought back that sense of purpose he felt overseas.
"Having the sense of fulfillment, watching these guys work out, watching these guys work, watching them celebrate their successes along the way, that's really more rewarding then the business end of it."